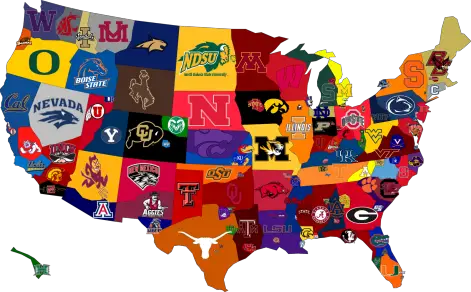 Finally, the season is here! After week 1 you are either really excited about the rest of the season (Oregon fans), or you cringe at what will happen next (Penn State fans). After Week 1, most Top 10 teams solidified their position and even showed that they should be moved up a spot or two, while others will be lucky to finish in the Top-25 by seasons end. Let's get into some news and thoughts from opening week.
Vanderbilt is either really good, or South Carolina has a lot of problems to work out before they get to deep into the SEC schedule. South Carolina needed a late touchdown to beat Vandy 17-13. Marcus Lattimore looks to be back to his old self, while Vandy looks like it will surprise a few teams if they get overlooked. No games are a gimme anymore in the SEC.
PAC-12 fans, do not fear. Mike Leach looks like he is going to need some time before his offense is up to par to compete with the rest of the PAC-12. BYU dominated WSU 30-6, and it could have been worse if BYU was not struggling in the red zone. He is also using the same group of athletes that produced less than ten wins over the past four years. This season will be a year of learning, next year they will have some close games, and by year three they will have their mojo going.
Coach Dooley saved his job and is off the hot seat, for now. Tennessee came out and got the job done vs. NC State 35-21. NC State committed a few errors early and just couldn't close the gap after that. Tennessee still will have to prove itself to the rest of the SEC, but Friday night was a good start.
NOTRE DAME IS BACK! That is what you will hear this whole week while watching or reading anything related to college football. Come on people, it's NAVY, not Alabama, who they beat 50-10. Notre Dame has a brutal schedule and if they get to 8-0, then you can start preaching about Notre Dame being elite and back again.
I don't think Stanford or California will be a threat this year to PAC-12 foes that they have been in the recent past. Stanford needed a late touchdown to beat San Jose State, while California lost to Nevada. I guess the WAC is trying to go out with a bang…a remember the Alamo type finish for WAC schools, but it's clear that both bay area schools have taken a step backwards.
Oh does get it any worse for Penn State? We still have a whole season to find out. Tough loss to Ohio Saturday. Ohio is a veteran squad looking to win the MAC and possibly be a BCS buster, so this was not an upset in some people's eyes. Time will tell how things go at Penn State, but I would not pay attention for four years or so if I were a fan of the Nittany Lions.
Another team looking to struggle this season is the Florida Gators. You are suppose to use your first game to beat up on the opponent (see: Oklahoma State vs Savannah State), not barely hold on for a last second win. Bowling Green gave the Gators everything they could handle until the Gators pulled away after a few lucky breaks. Gonna be a long year, should probably find a quarterback for starters.
The game of the year in Week 1 was Alabama vs Michigan, right? That's what it was billed as, with ESPN College Gameday broadcasting Saturday morning from Jerry' World. By halftime it was 31-7 Alabama and everyone tuned out. Alabama was up 31-0 before Michigan even knew what hit 'em. Welcome to SEC football. Final score 41-14… kind of reminds SEC fans of another match up–the 2006 National Title game finished with the same results. Florida 41 Ohio State 14. Guess the BIG-10 has some work to do when it comes to closing that gap with the SEC, or counting to 10.
The real game of the night was Clemson vs. Auburn. When those two teams go at it, there is a lot of hitting and non-stop action. Even without Mr. Do-It-All Sammy Watkins, Clemson's offense was able to get it done. Clemson's Ellington had a career night with 231 rushing yards, while he even gave Auburn a taste of their own medicine when it co

mes to players "being down" when they are tackled by a defender…

Déjà vu

2011 National Title game.
Is there a mercy rule in college football? I bet Savannah State wishes there was. Oklahoma State showed their offense is not going to miss a beat, Winning 84-0…one word…WOW! Oklahoma State was doing this all with a true freshmen QB, Wes Lunt. It was a cupcake game, but man did the Cowboys devour them up. We will have to wait and see with this team once BIG-12 play starts.
USC looked like the best team in the Pac-12, casually racking up 49 points on Hawaii. And then Oregon played, and racked up 50…in the first half! All signs point to the November 3rd matchup between these two teams as this year's "Game of the Century," and just like last year we'll probably get a rematch of the two teams competing again–in the Pac-12 Conference Championship.
The first week is in the books and we can already see Alabama fans booking their tickets to Miami for the title game. It was only one game and vs. Arkansas State, but I think Oregon fans can start thinking the same thing. Oregon will still need to get by a very talented USC team. Barkley and the Trojans look like they are ready to go and did not miss a beat from last year. Many more great match-ups to look forward to. Glad College Football is here, we missed you.
Until next week, college football nation.
NATIONAL NEWS:
1. WVU living and loving it in the 60s
2. Urban Meyer has found his new Tebow
3. FSU looking for Elite status
4. USC feeling like its christmas
5. Eureka QB has over 700 passing yards already
6. Another week with the Mailbag
OREGON NEWS:
1. Ducks run all over competition
2. Lady Duck basketball takes over the world
3. Ducks reward fans
4. Ducks show off new uniforms
5. Photos from the Arkansas State – Oregon game
6. Marcus Mariota looks sharp in debut

CAN YOU HELP US?
The pictures you see of the Ducks on FishDuck.com come from professional photographers that must be paid! Please donate through one click so we have pictures from all the games this fall to use through the year. All previous donations helped to pay our big Web Developing bills recently, and I do appreciate it.
Our staff and the photographers who have thousands of dollars invested into their equipment to provide the high quality pictures do sincerely thank you.   Charles Fischer