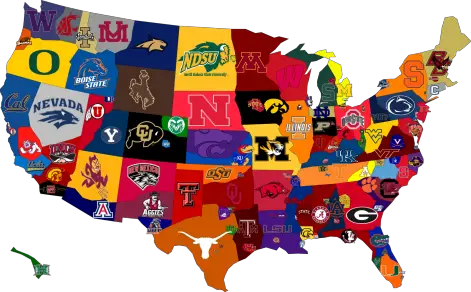 Let's just get our earplugs out now, because this week will be nothing but "Notre Dame is back!" talk after their win over Michigan State, a darkhorse national championship contender. Arkansas' disastrous season off both off and on-field issues just got a little longer after playing Alabama this past weekend, shutout in Fayatteville for the first time since 1966, 52-0.
Plus, Virginia Tech is just following usual protocol–lose to a team they are supposed to beat, but then win out and make it to a BCS bowl game. I did not see that upset coming, Pitt has looked horrible the last two weeks, but put it all together for that game.
There have been surprises every week so far, and it's only going to get more exciting as conference play gets underway. Here are just a few thoughts on this amazing weekend in college football.
Alabama proved they are the #1 team in the country by just smacking Arkansas all over the place. Yes, Arkansas was playing short-handed with Tyler Wilson out, but 52-0? Arkansas can officially push the panic button after that game. If John L. Smith wasn't fired tonight, he might want to start scanning the classifieds soon.
Lane Kiffin and Matt Barkley just screwed up the "Game of the Century II" this year by losing to Stanford. The joke will be that luck has not run out at the Farm just yet. Stanford still shows it has a stout defense and decent running game to be in any game, and the toughest team in the trenches on the west coast. Maybe that close call vs. San Jose State was a wake up call for them, while USC looked completely out-manned up front. Quick, off the top of your head, when was the last time you saw a 4th & 40? It may have been the Oregon effect, USC's defense seems to have transitioned to smaller, faster defenders to keep pace with Oregon's athletes, so to defeat them go big and play a power game–something Stanford is quite adept in doing.
LSU is still taking care of business, but it was against Idaho so it does not really count in my eyes. Shame on you LSU for even letting them score 14 points. Still, all signs point to yet again LSU vs. Alabama deciding things in the SEC West, and possibly in the whole country.
I don't know what I am more excited for next week: Oregon's new uniform combination, or the fact they are going to be playing a real opponent? By the looks of the way Rich Rodriguez has Arizona's offense humming, we could see some massive points next week. Final score prediction: Oregon 94 Arizona 75…at halftime. If two teams could do it, it's these two.
Florida State has been ragged on for beating up on FCS opponents so far, but after playing their first FBS opponent, Wake Forest, they showed it does not matter who they are playing. FSU is going to score a lot of points, and they are going to do it fast, while dominating in the trenches with one of the best defensive lines in the country.
Georgia and South Carolina both took care of their final cupcake games before diving into more SEC play. Both offenses seem to be churning out massive points and yardage. It will be an interesting race this year in the SEC EAST with Florida and Tennessee both showing signs of life right now.
West Virginia, we will get back to you once you start conference play. It is hard to know anything about your team while putting up 50+ points on nobody opponents, though certainly they can survive in a shootout.
Michigan State and Notre Dame battled it out on Saturday night. It was a statement game for both teams. Notre Dame wants to be elite again, and winning this game puts them one step closer to people possibly caring again. Michigan State will need to regroup and get ready for conference play in two weeks. Lou Holtz, say it don't spray it this week about Notre Dame.
Clemson quickly disposed of Furman 41-7, and looks to be ready for their showdown with FSU. Both teams can score some points so it will come down to which defense can make a stop when it counts. FSU will need to beat Clemson to get back into the "We belong" discussion.
Urban Meyer is not a perfect genius at Ohio State…yet. Meyer and his Buckeyes needed all four quarters to put Cal away. Cal has already been struggling this season, a team that is traditionally enigmatic to begin with under Tedford, so for Ohio State to struggle means Urban Meyer's squad may still have a few kinks to work out before conference play.
Virginia Tech has a master plan, do not let this loss to Pitt throw you off. Every year they get talked about as a national title team, then they lose games to Boise State or James Madison. Tech uses that loss to motivate them to win the rest of their games and make a BCS bowl. Frank Beamer has been doing this for so long, it seems like it should be scripted as part of their gameplan.
Kansas State and TCU did not dominate their opponents like I thought they would. K-State score over 50 on Miami, so for them to struggle vs. North Texas the next week either shows that this team still needs work or Miami is a lot worse than initially thought. It could have been a letdown game for them barring a few plays went different.
Michigan beat UMASS 63-13,….no comment. We all saw Michigan vs. Alabama and know what they can and can't do.
ESPN College Gameday had everyone pumped in Knoxville for the SEC showdown of Tennessee vs. Florida. Florida looked as though they were being outplayed and about to be run out of the building in the 1st half. The coaches once again made the necessary adjustments and shut down an explosive Tennessee offense. Both teams seem to be clicking and will provide us with an upset along the way vs. a higher ranked SEC team.
Louisville has an offense that can score some points, looks like the Louisville of old. But after watching the game vs. North Carolina, they have me worried about their defense. To lead 36-7 at half time and then barely win 39-34…Wow. Charlie Strong has some work to do if he wants to win what's left of the Big East.
The Holy War (BYU vs. Utah) is very quietly one of the most bitter rivalries in the country. Need evidence of this? It took the Utah crowd storming the field THREE times before it was finally decided. In a downright wacky ending, Utah redeemed themselves slightly in the wake of their loss to Utah State and retirement of quarterback Jordan Wynn due to injury to defeat BYU at home, but it took a blocked field goal, a subsequent doink off the crossbar, and twice having to remove a jubilant Ute crowd from the field so that play could continue before it was finally decided.
So much action happened in the Top-25, but let's not forget some of the other great games. Western Kentucky used a trick play going for two in overtime to upset Kentucky 32-31. Auburn is in for a long season after barely surviving UL-Monroe 31-28…in overtime. I bet Gene Chizik's seat is HOT! Wisconsin needed Utah State to miss a chip-shot field goal as time expired just to get the win.
What a week it has been. I always love the upsets. It seems nothing is a given anymore in college football. Let the chaos commence.
Until next week college football nation.
---
NATIONAL NEWS:
1. College football mailbag
2. Colorado needs to go
3. Pelini in hospital
4. Penn State gets it done…finally
5. Missouri lives up to SEC hype
---
OREGON NEWS:
1. Ducks just kicking it
2. PGA tour and the Ducks
3. PAC-12 network news
4. Undefeated Duck volleyball team in action
5. Everyone scores at Oregon

CAN YOU HELP US?
The pictures you see of the Ducks on FishDuck.com come from professional photographers that must be paid! Please donate through one click so we have pictures from all the games this fall to use through the year. All previous donations helped to pay our big Web Developing bills recently, and I do appreciate it.
Our staff and the photographers who have thousands of dollars invested into their equipment to provide the high quality pictures do sincerely thank you.   Charles Fischer