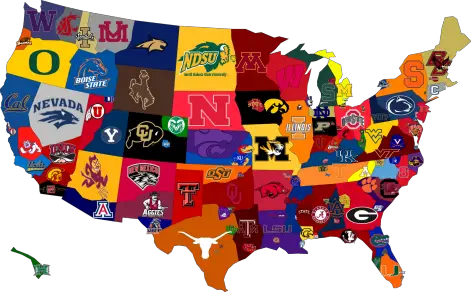 If offense is what you like, then this was certainly the week to be watching college football. Some teams scored so many points they made it look like a basketball score, all day and night defense appeared to be optional. With every new week it seems some new offensive player is putting up video game-like numbers, with every week also came some great upsets. It is truly what makes college football so great. After watching all of the the Top 25 teams in action, it seems that a lot of teams are more vulnerable than invincible as the season goes on.
As the haves and have-nots start to separate themselves from the rest of the pack, you have to appreciate how "nice" Oregon is, letting Arizona last week and this week Washington State hang around in the first half, graciously waiting until the second half to blow them out. Oregon likes to keep it close to help keep TV ratings up in the 2ndhalf. Finally Chip tells his players to get it done and…BOOM…they are up by 30 points on the other team.On another note, I can see why the west coast gets less love from voters and sports writers. If you want to watch most PAC-12 games out east, you have to stay up until 2 am. Most voters and sports writers are a little bit older and that's simply way past their bed time. Note to Larry Scott…please start

ALL GAMES

at 3:30.
Alabama was actually losing tonight for the first time this season, but it didn't last long. 15 seconds later they took the kick-off back 98-yards for a touchdown, and cruised from that point onward. Alabama looked a little more vulnerable tonight than usual, probably just an off-night as they looked ahead to their next opponent, the dreaded BYE week. Any coach would take a 33-14 win on an off-night.
I know Oregon fans hate Washington, but let's give them some props for the upset of Stanford on Thursday night. Washington upsetting #8 Stanford just shows not a single top team in the PAC-12 is safe. Washington is usually good for one upset a year, and used it Thursday night on the Cardinal. So Oregon fans have nothing to be worried about…right?
LSU and FSU both looked pretty sloppy and vulnerable after their wins over Towson and USF, both offenses and defenses doing just enough to get the job done. They better get things fixed fast, because the meat of their conference schedule is about to be thrown on their plate. The Florida Gators seem to have a better chance to beat LSU next week after watching them struggle today, the second less-than-stellar performance in a row from LSU after barely beating Auburn last week.
South Carolina showed teams what happens when they get caught looking ahead. South Carolina was just dominated by Kentucky in the 1st half until they realized "hey, we are way better than them" and then proceeded to dominate the wildcats. Poor Wildcats, they just can't win. Except in basketball, a lot. Oh, and in overtime too, they tend to do that.
Georgia showed that even after their defensive starters are back from suspension, they still have a lot of work to do, barely outlasting Tennessee 51-44. Georgia might have also been caught looking to next week's game vs. South Carolina, the winner of that matchup most likely to take the SEC East this year. After the loss, Coach Dooley will probably have to update his resume, the Tennessee faithful are losing patience on Rocky Top.
The BIG-12 isn't usually known for playing great defense, but that was ridiculous. West Virginia outlasted Baylor 70-63 in a game more like a video game or flag football. WOW! There were crazy numbers put up by both teams, records being set left and right. Geno Smith of WVU pretty much put himself as the front runner for the Heisman and it is his to lose–8 TDs, over 80% completion rate, new Big-12 record in passing yards. Put numbers up like that vs. Texas, Oklahoma, and Oklahoma State, and he will officially win the voters over.
Another BIG-12 shootout came down to the wire between Texas and Oklahoma State, Texas using a last-second touchdown to beat OSU 41-36. Texas QB David Ash showed everyone he is the starter and is there to stay now, while yet another Shipley seems to be catching everything within arms reach. QB controversy over.
Too bad Ohio State is on probation. After their 17-16 win over Michigan State, they pretty much could consider themselves a lock to make it to the BIG-10 title game. Ohio State looks to be Rose Bowl bound after that win, but will have to wait until next year because of the bowl ban. Ohio State's Braxton Miller is the QB of Urban Meyer's dreams and will lead them to the playoffs in 2014. Bank on that statement!
Two teams that are quietly flying under the radar and still undefeated right now are TCU and Oregon State. Oregon State took care of business very late in the game vs. Arizona 38-35, they must really like getting those postgame In-N-Out burgers, because they just keep winning somehow. TCU on the other hand had a little bit more trouble vs. SMU. They won 24-16, and need to work out some kinks as conference play continues for them.
Cincinnati will win the BIG EAST this year and their coach Butch Jones will leave at Season's end to a bigger BCS school (like, oh say, Arkansas). That is my prediction. After upsetting Virginia Tech 27-24, Cincinnati showed it is a legit contender for the BIG EAST title and will take on any challengers. Louisville and Rutgers look to be the only teams that can stand in their way later this season.
More action and records were also set outside of the Top-25. Miami QB Stephen Morris threw for a Miami and ACC record 566 yards to beat NC State 44-37. Texas A&M finally finished a game, beating the downtrodden Arkansas Razorbacks 58-10. Texas A&M QB Johnny Manziel helped the Aggies secure their first SEC win in school history, setting a SEC record for all-purpose yards with 557 total, and he's a true freshman. Also, Duke is 4-1 after beating Wake Forest 34-27, needing only two more wins to go bowling. Middle Tennessee showed everyone the ACC is not totally back, beating Georgia Tech 49-28. Last but not least, Louisiana-Monroe is done with its giant-slaying games and started conference play by beating Tulane 63-10.
A lot of action happening on the offensive side of the ball this past week. A few teams realized they are a little more vulnerable than they think after letting some no-name cupcakes beat up on them for a bit. After this last week of action I still see Alabama and Oregon playing for the title, while possibly an undefeated FSU could get left out of the picture–2004 Auburn can give them some comfort if that happens at season's end. With the majority of conference play starting up, we should really start to see the top teams separate themselves from the rest of the pack.
Until next week college football nation
---
NATIONAL NEWS:
1. Nebraska hold off Wisconsin
2.  Spygate at East Lansing
3. College football mailbag
4. QB controversy at BYU
5. Florida ready for LSU
---
OREGON NEWS:
1. Oregon beats Washington State
2. Lady Ducks beat Buffs
3.  Duck's soccer loses to Cal
4. Kenjon Barner speaks up
5. Ducks better lookout for Beavers

CAN YOU HELP US?
The pictures you see of the Ducks on FishDuck.com come from professional photographers that must be paid! Please donate through one click so we have pictures from all the games this fall to use through the year. All previous donations helped to pay our big Web Developing bills recently, and I do appreciate it.
Our staff and the photographers who have thousands of dollars invested into their equipment to provide the high quality pictures do sincerely thank you.   Charles Fischer