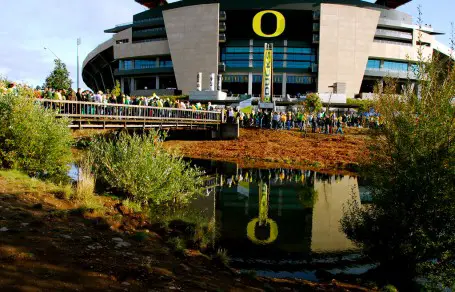 Who they are:
Fresno State Bulldogs of the Mountain West Conference
Head coach: Tim DeRuyter (1styear)
2011 record & rankings:
4-9 (3-4 WAC), NR
This year/Last week:
1-0, Hammered the FCS Weber State Wildcats (as expected) in a non-conference matchup at home, 37-10
How they rank: (National, Conference)
Total Offense: 65 plays, 7.92 YPP, 515 YPG (#25, #2)
Total Defense: 62 plays, 4.42 YPP, 274 YPG (#32, #2)
 The OTHER forecast:
Morning clouds and fog should give way to a picturesque, mid-80 degree day in the Willamette Valley. The mid-afternoon kick off will be hot, in a T-shirt and shorts kind of way. However, if those sought-after clear skies continue into the second half, temperatures could dip into the upper 40's once the sun goes down. You will have the A/C on while waiting in traffic on the way there, but cranking up the heater on the way home. A good long sleeve shirt or light coat should do the trick.
High 84 – Low 45.
Quick Quack, Stats, and Quotables:
The 9th meeting in the two team's history will kick off at 3:30pm Autzen Stadium Saturday.

Oregon leads the all-time series 6-2 against Fresno State. 

The Bulldogs last victory in the series was a 10-4 win in Autzen in 1982.

Last meeting: Autzen Stadium, 2007.
Jonathan Stewart, Dennis Dixon and company racked up 307 rushing yards as the new look Ducks cruised to a 52-21 decision. The highlight of the game came on an 88-yard touchdown run by Stewart. Dixon said after that game (which came the week after Oregon's now legendary beat-down of Michigan in the Big House), "The sky's the limit right now. This offense is really clicking."

This is the Fresno State Bulldogs first year without the iconic Pat "The Grumpy Walrus" Hill on the sidelines, after 15 successful seasons and a 112-80 overall record.




New head coach Tim DeRuyter enters the first year of installing a (suddenly trendy?) new "Up-tempo spread" and 3-4 defense.

DeRuyter played OLB at Airforce, And has been an assistant at Air Force, Navy, Ohio, Nevada, and Texas A & M, where he served as interim head coach for the Aggies after Mike Sherman was let go last season.

Fresno State is his first official head coaching gig, the game in Autzen being his 2nd ever.


Jr WR Isaiah "Purse" Burse (#1) on playing Oregon: I wouldn't mind getting into a shootout, because we have the athletes just like them…We've got the athletes to beat anybody. We just have to execute."

Coach DeRuyter on last weeks' game: "Heck of a start, huh?"

DeRuyter: "Our mantra if you will is Fast, Physical, Fanatical. By the manner in which we play, I hope when people see us play that those are the first 3 things they think of."

DeRuyter on Offensive Philosophy: "I don't worry about time of possession. To me, it's about quality of possession.

DeRuyter on his game plan against Oregon: "We are going to use our up-tempo offense to throw them off their game."

DeRuyter on Autzen: "I have never played in or been to Autzen stadium in my career." 

Chip Kelly on Twitter philosophy: "The people who get on there, tell you what they eat for breakfast, what color shoes they're wearing today… Get over it."
Here are some video highlights from Fresno State's win over Weber State-
"Their "Boy(s)"
Offense

#4 Derek Carr, QB
A returning starter who compiled 3,588 yards and 26 TD's to 9 INT's last season. The junior signal-caller got off to a hot start last week, completing 20-25 (80% completion rate) and throwing for two touchdowns, only being sacked once. He also carried the ball four times for 18 yards.
#8 Robbie Rouse, RB
The 5'7″190 lb. senior has been a rare bright spot for the Bulldogs since the 2009 season. Rouse pounded out 1,529 yards and 13 TDs on 329 carries (4.7 YPC average) last year. Like the rest of his team, #8 got off to a fast start last week, piling up 5.6 YPC for 123 yards and two touchdowns on 22 carries. He caught three passes for 22 yards, and serves as another receiving threat out of the backfield.
#15 Davante Adams, WR
A JC transfer with great size at 6'2″ 200 lb., quickly becoming a favorite target for Carr. Adams was the main beneficiary last week, snagging 7 balls for 188 yards and two touchdowns.
#1 Isaiah Burse, WR
The Fresno State faithful are expecting big things out of #1 this season, and the 6'0″ 179 lb. junior delivered with six catches for 86 yards, plus two carries for 6 yards. As evidenced by his bold remarks about Oregon and jersey number, he has pretty high reviews of himself–though an outsider might wonder why, as he can claim just three career touchdowns in his three seasons, and two of those came in 2010.
Defense
#16 Phillip Thomas, Safety
The savvy senior returns for the Bulldogs after missing all of last season with a broken leg, suffered in preseason camp. The 6'1″ 215 lb. safety brings a productive career resume, including nearly 100 tackles, 5 interceptions, two forced fumbles, and one interception returned for a TD.
#91 Anthony Williams, DE
Despite entering his fifth season on campus, the 6'2″ 296 lb. senior defensive end has only played in 12 games. Williams is a former high school standout from Humble, TX and although he did not play last season, he logged 16 tackles, 3 TFL's, and 2 sacks in 11 games in 2010.
#39 Shawn Plummer, LB
Yet another 5th year senior who did not make it onto the field last season in F-town. The linebacker from Clovis, CA looks to end his career on a high note. An athletic, 6'1″ 214 lb. player, he has demonstrated a range of skills on the field. Plummer has returned a punt, blocked a punt, forced two fumbles, and has recorded 5.5 TFL's and a sack among his 84 career tackles.
The Skinny:
Oregon faces yet another new coaching staff in their first season of trying to establish an all-new system that contradicts sharply with the team's traditional attack that the players were recruited to compete within at the program. Implementing and perfecting a new playbook and all new formations on offense, defense, and special teams as well as recruiting the aforementioned "better" suited players to consider for the program takes time, look no further than the number of seasons it took for Oregon to recruit the right kind of guys that fit Chip Kelly's system.
With all of the time spent focusing inward, a valid question remains how much time have they really had to study their opponents? The continuity of Oregon's coaching staff will continue to be a huge advantage for the Ducks, in virtually every game they play.
Predictions:
The fresh-look Bulldogs may have inspired their hungry (ok, Starving) fan base with the Weber State game, but those outside the Fresno State campus are not as impressed. The Bulldogs have not beaten a ranked opponent since 2004, and the new coaching staff has much work to do if his teams are going to be expected to matchup against Oregon.
Look for DeRuyter, Carr and Rouse to do some special things this season and beyond, but just not on this Saturday. Fresno State is about to experience just how much difference exists between facing a horrible FCS team at home versus going on the road to face a top-5 team, in one of the loudest and most hostile environments in the nation. DeRuyter has never been to Autzen, and after Saturday, it is doubtful he will ever want to come back.
Oregon, like last week, will look to slam the door on the dogs early, and not give them any false sense of confidence. However, like last week, Oregon will likely be tested with a veteran quarterback, dynamic receivers, a steady run game, and a tough(er) defense. The scary thought for opponents is that it is often thought teams make the most strides forward between week 1 and week 2, meaning the Ducks can actually do better than they did against Arkansas State, and it will be interesting to see how much of a jump is made now that the first game jitters are out of the way.
 While it may set up to be a more lopsided outcome this week, expect the game to unfold much differently. Look for Fresno State to come out early all fired up and perhaps even stop Oregon on an early possession or two. If they can find the endzone early against the Ducks or benefit from a few turnovers, the Bulldogs could make this interesting…for a time. And that may not be such a bad thing, giving the starters an opportunity to get some game work in beyond the first quarter like last week.

Oregon may be a little slower out of the gates, but once they establish exactly what Fresno State is doing on offense and defense, this one is going to get ugly. Once the Oregon "machine" gets humming, the points will come in bunches.
 Oregon – 64
 Fresno State - 19