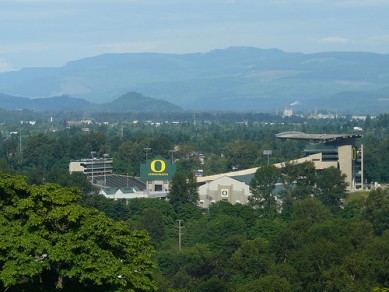 Who they are:
Tennessee Tech Golden Eagles – Ohio Valley Conference
Located:
Crookeville, TN

Head coach:
Watson Brown (6th year)
School Colors:
Purple and Gold
 2011 record and rankings:
7-4 (6-2 OVC), Shared conference title, lost in 1st round of FCS playoffs to Central Arkansas.
This year/Last week:
2-0. Chopped down a Division II foe at home, besting the North Greenville Crusaders 42-14.
How they rank: (National-FCS, Conference)
Total Offense:
148 plays, 6.93 YPP, 513 YPG (#7, #1) 41.5 PPG
 Total Defense:
129 plays, 3.92 YPP, 253 YPG (#20, #1) 22.5 PPG
The OTHER forecast:
This week could be the last gasp of summer in Eugene. The noon kick off will be hot, but not quite the near 90 degree days experienced on Thursday and Friday. It should be a bright and sunny morning, with some clouds mixed in later. High 80 Low 45.
A perfect day for football!
Quick Quack, Stats, and Quotables:
– The 1st meeting in the two team's history will kick off at 12:00 pm at Autzen Stadium Saturday.
– Tennessee Tech head coach Watson Brown is the brother of Texas head coach Mack Brown.
– Oregon defensive backs coach John Neal was formerly an assistant for Watson Brown at UAB.
– Tennessee Tech is 2-0 for the first time since 1989.

– The Golden Eagles are 0-28 all time against FBS schools.
– Since Watson Brown was named coach in 2007, the Golden Eagles have amassed a 25-31 overall record. He has coached since 1973, with an overall head coaching record of 119-182-1.
– Watson Brown played quarterback at Vanderbilt 1969-1972.
 – WR Da'Rick Rogers (#21), a transfer from Tennessee who played against Oregon in 2010, on playing the Ducks: "Hopefully we can come out and run our offense and get them on their heels."
 – Coach Brown on last week's game: "I don't think our offense was as sharp, but I still think our effort was better than last week." (41-31 win over Hampton)
– Brown on Offensive Philosophy: "We are the Fastest 60 Minutes in Football."
– Brown on Oregon: "We played TCU (a 62-7 loss) when they were ranked 4th, but this is the best team we've played since I've been here. They're just so big and fast everywhere."
– Brown on his game plan against Oregon: "We're just gonna try to hang on… We'll try not to give up too many gashes."
– Brown on playing in Autzen Stadium: "We'll come in, show a lot of pride, and give it our best shot."
– Chip Kelly: "We're not going to hang our heads and say, 'Boy, we lost John Boyett, we can't play anymore…We feel very, very bad for the individuals, but we've got to move on."
Here are some video highlights from Tennessee Tech's win last week over North Greenville-
Their "boy(s)":
Offense
#9 Tre Lamb, QB
2012 Stats:
42-61, 68.9%, 613 yards, (306.5PG), 7 TD's, 1 int, 4 sacks, 18 carries, 21 yards.
After redshirting in 2008, Lamb played sparingly as a freshman in 2009, before assuming the starting role as a sophomore, missing the last three games with injury. Undersized at 5'9″, Lamb has played big and led the Golden Eagles to the highest offensive output in school history, racking up 2,555 yards of offense and 23 touchdowns last year.
Known to be a little erratic and off-target at times, he generally makes good decisions with the football and will pull it down and run when he sees an opening. Lamb is on a roll to start this season, but how will he hold up to the unusually tall defensive line fielded by Oregon. The Ducks have more 6'5″+ players than any other team in the nation, many of them along the defensive line, which may make it difficult for the diminutive Lamb to find open passing lanes against Oregon's tall pass rushers.

#6 Adam Urbano, RB
 2012 Stats:
39 carries, 280 yards, 3 TD's, 3 catches, 23 yards
 A bowling-ball sized back at 5'8″, 195 lbs., the senior missed most of his first season of eligibility after transferring from Georgia Southern in 2009, but he still finished with 475 rushing yards and 95 more receiving. The clear-cut feature back this year, look for the Golden Eagles to go to the air over the middle and on screens early to try and loosen the Ducks defense enough to set up lanes for the tough running Urbano.
As one of the top offensive threats on the team, look for the coaches to get creative with getting the ball to #6 if the Oregon defense can stuff the Tennessee Tech inside run game.
 
#21 Da'Rick Rogers, WR
  2012 Stats:
8 catches, 163 yards, 2 TD's
 A transfer from Tennessee who led the talent-heavy SEC conference last year with 67 catches for 1,040 yards and 9 touchdowns. The rangy, athletic Rogers stands 6'3″, 205 lbs., and has elite potential.
The junior played against Cliff Harris and Talmadge Jackson in 2010 vs. Oregon as a Tennessee Volunteer. Rogers managed a 21 yard gain on a reverse that day, but was held without a catch. Fast forward two years and Rogers will provide as good a test to the Oregon secondary as they have seen this season. Rodgers is the second highly-touted cast-off from Tennessee to face Oregon in 2012, running back David Oku having also played for Tennessee in 2010 vs. Oregon, now the starting back for Arkansas State.
#8 Ryan Tilghman, WR
 2012 stats:
6 catches, 90yards, 2 TD's 
With all of the attention focused on fellow receiver Da'Rick Rogers, perhaps nobody is reaping the benefits as much as the former walk-on. A versatile athlete with good size at 6'2″, 200 lbs., he was overlooked coming out of high school as a dual-threat quarterback, but has refused to stay on the sidelines in Crookeville.
After little more than a few highlights on special teams in his first three seasons, Tilghman is stepping into a leadership role for the Golden Eagles this season.
 Defense
#14 Austin Tallant, S
 2012 Stats:
18 tackles, 2.5 TFL
The speedy sophomore from Texas led the team last season as a true freshman with 92 tackles, including two for loss. Standing at 5'10", 190 lbs., Tallant is a tackling machine for the Golden Eagles.
 #48 Tommie McBride, DE/OLB
 2012 Stats:
10 tackles, 1.5 TFL, 1 pass break-up

The 6'1″, 235 lbs. linebacker has played all four of his seasons at Tennessee Tech. The bulky senior has shown that he has the speed to run down plays, and moved from inside to outside this year.
The former multi-sport star in high school will have the strength, speed, and experience to be a major force on defense for the Golden Eagles.
#15 Caleb Mitchell, CB
 2012 Stats:
4 tackles, .5 TFL, 3 pass-breakups
 The four-year player originally started out at safety before making the switch to corner as a sophomore. Relatively big in stature for a corner at 6'1″, 195 lbs., he is considered to be among the very best defensive backs in the Ohio Valley Conference.
Posting 28 tackles and two interceptions last year, he also served as the team's primary punt returner. Injured in multiple seasons in his career, the Golden Eagles are looking for a healthy Mitchell to build upon his already high level of career production.
The Skinny:
The Ducks will line up against the third team in as many weeks running some version of a fast tempo spread offense. Of the three non-conference home games, Tennessee Tech is traveling the furthest to reach Autzen, nearly 2,500 miles.
The Golden Eagles are recognized as the fastest 60 minutes of football back in the Ohio Valley conference, but how fast will they look against the Ducks with a little jet-lag?
Sure, it's not quite the same as if a Mack Brown coached team is visiting Autzen, but the fact that Watson has probably given Mack a few dead-arms and sleeper holds over the years has count for something, no?
Predictions:
 This game is obviously a total mismatch. The Ducks should be able to "name their score" in this one. However, Duck fans shouldn't be expecting a perfect game.
This Saturday, though, will be a great opportunity, and one of the last ones for fans to watch many of the younger players still sitting further down the depth charts.
 With the Oregon depth chart shifting early on due to injuries, keep a close eye on the secondary, particularly the coverage of former Tennessee receiver Da'Rick Rogers. Having this caliber of athlete split wide will be a good thing for the Oregon secondary heading into Pac-12 play, where they are likely to face elite receivers each week.
 Oregon should have a speed and strength advantage at each and every position, but don't underestimate a football coach with a 40-year track record. Coach Brown will need to summon all of his years of experience to avoid a complete blowout, but little question exists that the game would be much uglier without a coach like Brown at the helm.
 Look for big carries and multiple touchdowns from Byron Marshall, and don't be surprised if Oregon runs plays a little slower this week in an effort to simply end the game as healthy as possible. Ayele Forde or Kenny Bassett could also have a career day for them, perhaps their only chance all season since Arkansas State to see extensive playing time. The Oregon first-teamers get maybe 3-5 series depending on success before conceding the reins to the second, third, and fourth string players.
The going gets really, REALLY tough next week with Arizona coming to town; so enjoy the sunshine, and the feeling of having a game well at hand!
Ducks – 56
Golden Eagles – 10

CAN YOU HELP US?
The pictures you see of the Ducks on FishDuck.com come from professional photographers that must be paid! Please donate through one click so we have pictures from all the games this fall to use through the year. All previous donations helped to pay our big Web Developing bills recently, and I do appreciate it.
Our staff and the photographers who have thousands of dollars invested into their equipment to provide the high quality pictures do sincerely thank you.   Charles Fischer