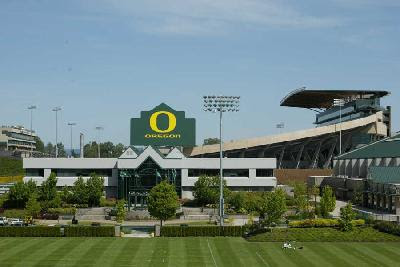 Who They Are:
University of Arizona Wildcats – Pacific-12 South Conference
Head Coach: Richard A. Rodriguez (1st year)
School Colors: Navy Blue and Cardinal Red
Located: Tucson, Arizona
2011 Record and Rankings:
4-8 (2-7, 11th place Pac-12)
This Year/Last Week:
3-0 / Cruised at home, shutting out the South Carolina State Bulldogs 56-0.
Wk 1 Home: W 24-17 (OT) vs Toledo
Wk 2 Home: W 59-38 vs Oklahoma State
Wk 3 Home: W 56-0 vs SC ST
How They Rank: (National , Conference)
Total Offense: 280 plays, 6.48 YPP, 607.67 YPG (#4, #2) 46.33 PPG
Total Defense: 240 plays, 4.78 YPP, 382.67 YPG (#61, #8) 18.33 PPG
The OTHER forecast:
Patchy fog in the valley to start what should be a chilly morning. When the clouds do burn off, we could see the low 70's in the afternoon, but by the time this game kicks off the clouds will start to roll in and keep things cool in the lower 50's with very moderate winds.
For the first time this season on a game Saturday, there is a 20% chance of rain projected late, and even into to early Sunday – but we know that it never actually rains in Autzen Stadium.
Quick Quack, Stats, and Quotables:
– The 37th meeting of the two teams will kick off Saturday at 7:30 in Autzen Stadium.
– Oregon leads the all time series 23-14, and owns a 12-4 record at Autzen.
– The Ducks have won four straight, and 11 of the past 13.
– The Ducks won last season's conference opener, 56-31 in Tucson.
– Rodriguez was 60-26 at West Virginia from 2001-07, but 15-22 at Michigan from 2008-10.
– Last week Arizona's offense ran a school-record 102 plays and had 689 total yards, two yards short of another record.
-Their new 3-3-5 defense was also dominant, holding South Carolina State to 154 total yards, and pitched its first shutout in four years.

– Rich Rod has never been to Autzen Stadium.

– CB Jonathan McKnight on Oregon: "They are always exciting to watch on TV because of the type of offense they run but their team can be beat, we just have to play really hard against them."
– Rich Rod on having Arizona ranked in the top 25: "We didn't talk much about us being ranked, but just staying glued to the process. Doing what we like to call keeping 'the main thing the main thing.'" 
-Rich Rodriguez on offensive philosophy: "I thought – what's harder to defend than the two-minute drill? So we decided to do the two-minute drill all the time." 
-On team expectations and looking ahead to the Ducks: "I think our guys understand it's a little different deal starting next weekend…Certainly, everybody is going to be talking about it." 
-On Oregon's strengths: "They've got fast dudes, I mean, fast, fast. They've got fast guys playing fast."

– Rich Rod on playing in Autzen: "The crowd will be into it, I'm sure, with it being a Saturday night and on national TV, it's going to be loud."  -Sr. offensive lineman Trace Biskin (#72) on playing in Autzen Stadium: "Every time we go up there, it is always an experience, they have great atmosphere up there. It's really loud and really hectic."

– Rich Rod on DAT: "Can he come out early?" Rodriguez said. "De'Anthony, you've proven enough. It's time to go to the NFL. Maybe he can go before Saturday."

– Nick Aliotti on defending Arizona: "These guys seem to do it really, really fast, but we do it really fast here, too. Should be an interesting matchup here."
Their "Boy(s)":
Offense
#4 Matt Scott, QB
2012 Stats: 88-123 71.5% 995 yards (306.5PG) 7 TDs, 1 int, 4 sacks, 42 carries, 190 yards, and 2 TDs.
After showing potential in 2008-2010, Scott redshirted in 2011. He was viewed as a back up to Nick Foles, and he saw an opportunity to come in as a favorite to start his senior year and help the program transition after Foles had used up his eligibility.
The 6'3″ 197 lb. quarterback has the ability to adeptly run (with a reported 4.58 40 speed) and throw, and has proven to be a solid fit for the 1st year coach and his spread option offense.
The Ducks defense will have its hands full trying to keep the athletic and intelligent Scott off his game. Facing the Oregon offense all week in practice should help, but Matt Scott is the one to watch this week.
Oregon must use their team speed to contain him when he keeps the ball and get pressure as often as possible when he drops back. I'm not sure if any team in the country can shut out this Arizona team this season, so a few key stops on 3rd down here might be the difference in the game.
#25 Ka'Deem Carey, RB
2012 Stats: 59 carries, 344 yards, 5.8 YPC, 5 TDs. 6 catches, 47 yards, and 1 TD.
Played extensively as a true freshman last season, rushing 91 times for 425 yards and 6 TDs, catching 11 passes for 205 yards and another 2 TDs, and also had 549 more yards as a kick returner.
This season, Carey is the the primary ball carrier and is handling the responsibility well, as his stats show. Not overly massive, but quick and elusive at 5'10" 197 lbs, Ka'Deem figures to be among the top running backs in the Pac-12 this season. Oregon will be seriously tested against the two-headed running attack from Carey and QB Matt Scott.
#29 Austin Hill, WR
2012 Stats: 17 catches, 319 yards, 1 TD
Scott's favorite target has been Austin Hill, who's second in the conference and eighth in the FBS with 319 receiving yards. The sophomore has shown big play ability, averaging over 18 YPC, and is emerging as one of the best in the conference. He provides a big target for QB Matt Scott at 6'3″ 211 lbs and has shown reliable hands on some tough catches.
Look for Terrance Mitchell, and Ifo Ekpre-Olomu to have a physical match up with Hill on one side, and the 6'4″ 215 lb #4 WR Dan Buckner, who leads the team with 22 catches, on the other side.
Defense
#33 Jake Fischer, LB
2012 Stats: 33 tackles, 3.5 TFL, 2 forced fumbles
A 215 lb linebacker with an oddly-unlisted height, Fischer played for the 'Cats in 2009 as a true freshman. In 2010, he was a full season starter, but he was lost for all of last season with a knee injury.
In his first two seasons, he amassed 65 tackles, 8.5 TFL, 2 sacks, and a fumble recovery.
Now back in a starting role, Fischer is averaging 11 tackles per game, already has 3.5 TFLs, and has forced two fumbles.
#2 Marquis Flowers, S
2012 Stats: 23 tackles, 3.5 TFL, 1.5 sacks, 2 pass break-ups.
Flowers is one of the most experienced safeties in the conference (especially now with Boyett out). He is also one of the largest, at 6'3″ 221lb. You will see him play up close to the line, almost as an extra linebacker in the 3-3-5 scheme the Wildcats employ.
He brings an obvious physical presence to the defensive backfield, and watch for #2 to come full steam ahead on blitzes as well. A local Arizona product and fan favorite in Tucson, expect the junior to be all over the field making tackles. He will be a key cog in the Arizona defensive gameplan.
#6 Jonathan McKnight, CB
2012 Stats: 9 tackles, 2 INT's, 1 TD
The 5'11" 167 lb sophomore returns to the Arizona secondary after missing all of 2011 with a knee injury. Wildcat fans expect big things for the corner back (he is the brother of former USC running back and current NY Jet Joe McKnight, in case you didn't know.)
So far in the early part of 2012, McKnight appears to have healed up nicely, as demonstrated by his 48 yard pick 6 against Oklahoma State. He also nabbed another against SC State last week.
The Skinny:
You want fast paced football at it's finest? Look no further. Across the nation, fans of entertaining football and touchdowns will be tuning in, watching for this shootout to unfold. Rich Rod vs Chip. Dennis Dixon vs Pat White (ok, maybe not those two).
Current Arizona head coach Rich Rodriguez has long been regarded as one of the most innovative offensive coaches in the country. Oregon in three straight weeks has faced teams running an offensive philosophy similar to Rodriquez's, but the Wildcats are coached by one of the first coaches to really have success with the no huddle spread offense.
The 'Cats are coached by the guru, and have vastly superior talent across the board when compared to the first three of Autzen's victims this year. But can they match the Ducks for four quarters? Can Oregon put together four quality quarters (which they haven't done yet this year)?

For three straight weeks we've watched the Ducks exhibit flashes of greatness while the foot is to the floor, and also flashes of "less than greatness" at times with the foot off the gas. Now, the Ducks face a ranked conference opponent and the starters will be tested for 60 minutes.
How much did the game reps against lesser foes the last few weeks really help the Ducks, and will facing a more worthy opponent be a shock to the system? One thing is certain, the Ducks showed some flaws and made some mistakes during the first three games. Perhaps, most notably, there were an unusually high number of penalties, especially last week.
The Ducks can not afford to give too many extra opportunities to an offense like Arizona's, and they will need to have a better effort in this part of the game.
Predictions:
When looking at the resume of both these two coaches, it's obvious this match up pits two of the best offensive minds head-to-head. The Oregon / Arizona games should now provide more epic battles and a new dimension to an already heated rivalry for many years to come.
Arizona is going to come in, have some success, and score some points, and they may even look good doing it at times. However, so will the Ducks. This game is going to come down to which team makes the most mistakes, but also which team has a deep enough defense to make stops as the game wears on.
It is on the defensive side where Oregon appears to have the biggest advantage. The Ducks will give up some plays, and yards, but Arizona will simply give up more. Last season, LaMichael James went for a smooth 288 on the ground, and many of those buttery soft defenders will be suiting up in this game.
This game will be an offensive explosion, and don't be surprised if the Ducks rush for more than 500 yards, pounding away at it on the ground and asserting themselves late in the game.
Standing room only tickets are becoming slim pickings for this game (at $47/ea), so this game is going to be packed and loud. Throw in the whole night game angle, and this can and should be one of those nights where the Autzen crowd alone is worth 10 points. Fans could see more than 200 combined offensive plays in this game, so there will be no lack of scoring opportunities here.
Ducks – 74
Wildcats – 41

CAN YOU HELP US?
The pictures you see of the Ducks on FishDuck.com come from professional photographers that must be paid! Please donate through one click so we have pictures from all the games this fall to use through the year. All previous donations helped to pay our big Web Developing bills recently, and I do appreciate it.
Our staff and the photographers who have thousands of dollars invested into their equipment to provide the high quality pictures do sincerely thank you.   Charles Fischer