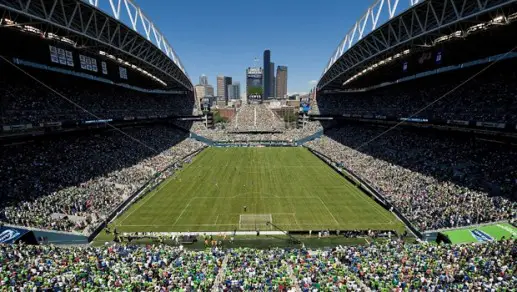 Who they are:
Washington State University Cougars – Pacific-12 North Conference
Head coach: Mike Leach (1st year)
School Colors: Crimson and Gray
Located: Pullman, Washington
Mascot: Butch T. Cougar
2011 record and rankings: 4-8 (2-7, 11th place Pac-12)
This year/Last week: 2-2 (0-1) – Last week, Wazzu "Couged it" at home, allowing a 31-17 lead in the 4th quarter to turn into a 35-34 loss to the hapless Colorado Buffaloes; a team that had endured a humiliating 63-14 loss to Fresno State the week before.
Season Results:
Wk 1 Away: L 6-30 vs BYU
Wk 2 Home: W 24-20 vs Eastern Washington
Wk 3 Away: W 35-27 vs UNLV
Wk 4 Home: L 34-35 vs Colorado
How they rank:
(National , Conference)
Total Offense:(#84) (#6 ) 276 plays, 5.40 YPP, 372.75 YPG 24.75 PPG (#89/#7)
Total Defense:(#103) (#6) 326 plays, allowing 5.80 YPP, 473 YPG 28 PPG (#80/#9)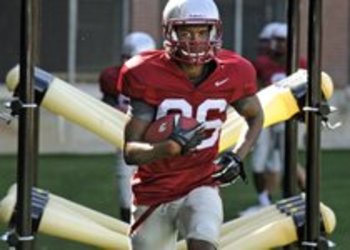 Quick Quack, Stats, and Quotables:
– The 90th meeting of the two teams will kick off Saturday at 7:30 pm at Century Link Field in Seattle (home of the NFL Seahawks)
– Oregon leads the all time series 44-38-7.
– The Ducks have won five straight matchups, and 7 of the past 8.
– WSU last beat Oregon in Pullman back in 2006; a game in which junior QB's Dennis Dixon started, and Brady Leaf finished.
– The Cougars fired coach Paul Wulff in the off-season after going just 9-40 (.184 winning pct.) in four seasons.
– New Cougars head coach Mike Leach was 84-43 from 2000-'09 at Texas Tech.
– WSU has outscored its last three opponents 73-41 before halftime, but they have been outscored 41-20 in the second half.
– WSU coach Mike Leach on his team's psyche: "We're a mentally weak team."
– QB Connor Halliday: "We need to quit playing stupid in the second half, dropping balls, bad checks by me, turnovers, stupid plays."
– DE Xavier Cooper on the issues against Colorado: "We've got unbelievable talent. We can go very far. I think guys got complacent when we were winning by 17. We've got to finish. When we get 'em down, we've got to kick 'em. Kick 'em in the mouth."
– Mike Leach on playing in Seattle: "The state is full of Cougar fans, and more of them are over there than any other area. Martin Stadium is my favorite, of course, but we are excited to play anywhere."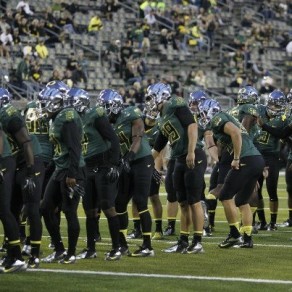 – Halliday on team chemistry: "This team is desperate for somebody to lead 'em. This offense is dying for somebody to lead 'em."
– Offensive Guard John Fullington on how the Cougs matchup: "We've just got to put a full game together — one full game — and we can definitely beat Oregon."
– UO CB Ifo Ekpre-Olomu on the Oregon defense: "I always thought from the beginning that our defense was something special through fall camp, through spring ball."
– Chip Kelly on a rebuilding WSU team: "Each week they're in the system, they're going to be better, I think it's a real formidable foe."
Here is a video from press conference with Mike Leach following the Colorado game –
Stars so far:
Offense
#12 Connor Halliday, QB
2012 Stats: 63-116 54.3% 855 yards (285.0 yds/g) 8 TD's 5 int, 5 sacks
While the Cougars have featured both Jeff Tuel and Connor Halliday so far in 2012, Halliday has put up the better stats, and is expected to start against the Ducks. Oregon faced Tuel as a true freshman in 2010, but have yet to line up against Halliday.
The lanky 6'4″, 189 lb sophomore (Halliday) from Spokane has thrown for over 300 yards and 4 TD's in his last two games. He is known for possessing a big arm and good accuracy, and also the desire to go deep early and often. Halliday has a gamblers mentality; high risk – high reward, and has a tendency to try and force passes at times.
He threw the ball 60 times last week, good for 2nd most in school history, an illustration of the Cougars pass-heavy philosophy and trust in the young signal caller.
#84 Gabe Marks, WR
2012 Stats: 19 catches 326 yards, 17.2 ypc, 2 Td's
A true freshman standout for the Cougars, Marks has emerged as the team's deep threat so far. He tallied over 100 yards in two straight games, and his 107 receiving yards last week against Colorado marked the first back-to back 100 yard receiving games for a freshman since Marquess Wilson in 2010.
This week, a roster shake up was announced in Pullman. Among the moves was Gabe Marks moving from the "Z" receiver spot to the "Y" receiver spot. This move is designed to keep Marks and Isiah Myers on the same side of the field.
#86 Marquess Wilson, WR
2012 Stats: 18 catches 317 yards, 17.6 ypc 4 TD's
It is no secret that the Cougars best offensive – and maybe overall – player is 6'4″, 185 lb junior wide receiver Marquess Wilson.
Wilson is an extremely reliable target, and has caught a pass in all 28 games he has played. His 2,711 career receiving yards passed WSU legend Jason Hill last week, becoming #2 on the WSU all time list. Wilson now needs just 46 yards to become the most productive WR in Cougar history.
Wilson has been mentioned in just about every preseason All-American and All-conference team, and named to most national award "watch lists" involving offense and/or receiving. Even with opponents keying on stopping Wilson, he still gets open, and his 4 touchdowns are tied for most on the team.
Defense
#20 Deone Bucannon, S
2012 Stats: 32 tackles, 1 INT, 1 tfl, 1 ff, 3 Pass breakups
The junior safety has started since his freshman year, and has been one of the leaders of the Cougar defense ever since. The 6'1″, 192 lb ball-hawking safety has six interceptions, seven tackles for loss, four forced fumbles, a blocked field goal, and nearly 200 tackles in his career.
The Cougars will need a big day from Bucannon in both pass and run support if they're going to slow the Ducks down on Saturday.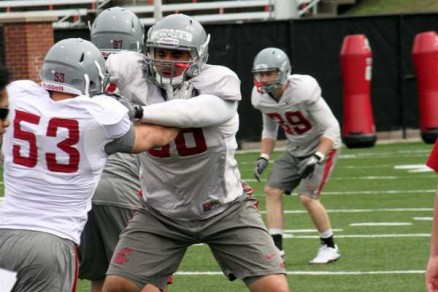 #96 Xavier Cooper, DE
2012 Stats: 8 tackles, 4 TFL, 1 sack
Xavier Cooper stands 6'4″ and a good breakfast burrito away from 300 lbs. Last week, the redshirt freshman posted 2.5 sacks vs. the Buffs. An outspoken local prospect from Tacoma, Xavier has been praised by his coaches and teammates for his passionate chip-on-the-shoulder type of play.
The versatile Cooper generally lines up at end when the Cougars are in their standard 3-4 defense, but he moves inside to tackle when WSU switches to their 4-3 look, and he's even taken some snaps at nose tackle.
Keep an eye on the matchup between Jake Fisher, Tyler Johnstone, and the Oregon offensive line vs. Xavier Cooper, and whether or not Chip Kelly decides to leave him unblocked and "read" him in the offensive game plan.
#89 Travis Long, LB
2012 Stats:27 tackles, 5.5 sacks, 7 tfl, 1 FF
The 6'4″ 245 lb senior is the unquestioned face of the defense for the Crimson and Gray. Long has been a bright spot for the Cougs oft-maligned defensive unit since breaking into the rotation at defensive end as a true freshman in 2009. Travis has flourished even more so after moving from defensive end to linebacker in the off-season. Through four games, he has more sacks (5.5) than he had in 12 games in 2011 (4).
Washington State is currently 10th in the nation in sacks per game, and Long is a big reason why. In fact, his sack total currently is tied for first nationally. The Cougs like to to rush Long both off the edge and up the middle, and the Ducks will need to pay special attention to #89, who is another likely "read" candidate for Chip Kelly's offensive attack.

CAN YOU HELP US?
The pictures you see of the Ducks on FishDuck.com come from professional photographers that must be paid! Please donate through one click so we have pictures from all the games this fall to use through the year. All previous donations helped to pay our big Web Developing bills recently, and I do appreciate it.
Our staff and the photographers who have thousands of dollars invested into their equipment to provide the high quality pictures do sincerely thank you.   Charles Fischer