It has become fashionable to profess a hatred of the NFL preseason.  There are too many games, the stars don't play, the tickets are too expensive, and the fans don't care—except the 9.5 million viewers that watched a preseason week three game between the Colts and the Steelers.  Hating preseason football lets others know that you respect real football, when it matters, that this "practice football" is a waste of everyone's time.  No one likes preseason football, right?
That's too bad, because preseason football is fantastic. College football lacks an experience akin to the NFL preseason.  This is probably because the powers-that-be have taken great care to make sure that every game counts.  There's no opportunity to improve without consequence, teams have to get better while playing games that matter.  For those long spring and summer months when we long for any semblance of football, the start of NFL preseason signals that after long last football is actually back, in some form.
Think about it like a Saturday morning breakfast. Does it make sense to immediately roll out of bed and then dive into a giant stack of pancakes? No. The sensible thing to do would be to pour a cup of coffee, wake up slowly, and adjust to what is going on. NFL preseason football is that coffee. Rather than diving into all-day game watching accompanied by endless consumption week after week, it is best to work up slowly.
People complain about the games being insignificant, but part of the allure is the insignificance.  Coaches go for two more often.  Kick returners try to earn a roster spot, bringing the ball out from nine yards deep in the end zone.  No one plays for overtime.
It may feel insignificant to some viewers, but to many players trying to win a job, that part of the season is plenty significant.
Many of those trying to win those jobs are former Ducks.  More than any other reason, seeing those players trying to make a team is a reason to love the preseason.  There are former Oregon players like Haloti Ngata, Jairus Byrd, TJ Ward, Ed Dickson, and LeGarrette Blount, whose presence on Sunday is completely assured for at least another year.
For many others who once proudly donned the Oregon uniform, there was uncertainty as to whether they would make the final 53-man roster, or a practice squad, or instead left looking elsewhere in pursuit of professional football opportunities.
For those who were lucky enough to make the final cut, there is no guarantee of regular playing time.  Preseason games are those limited opportunities to see our favorite players of yesterday at the next level, if but for a glimpse in an otherwise meaningless game.
That's what's great about the preseason; everyone plays.  Every game is aired on the NFL Network, meaning all the games can be recorded and watched solely for former Ducks.  Since the games don't count, it doesn't matter if they are live or not, because most fans probably didn't hear the score anyway.
Ok, so going through the process of recording 65 preseason games and analyzing them for individual players might require more effort than the average person wants.  Instead, here are the story lines to know on former Ducks in the preseason:
35 Ducks in Camps
35 former Oregon players were invited onto an NFL team's 90-man roster and brought to camp with the chance to make a team.  Listed alphabetically:
Mark Asper (Bills), Brandon Bair (Chiefs), LeGarrette Blount (Buccaneers), Jairus Byrd (Bills), Patrick Chung (Patriots), Kellen Clemens (Rams), D.J. Davis (Falcons), Ed Dickson (Ravens), Cliff Harris (Eagles), Ra'Shon Harris (Texans), LaMichael James (49ers), Jeremiah Johnson (Broncos), Josh Kaddu (Dolphins), Jeff Maehl (Texans), Casey Matthews (Eagles), Haloti Ngata (Ravens), David Paulson (Steelers), Spencer Paysinger (Giants), Eddie Pleasant (Texans), Nick Reed (Vikings), Dante Rosario (Chargers), Kenny Rowe (49ers), Geoff Schwartz (Vikings), Adam Snyder (Cardinals), Jonathan Stewart (Panthers), Walter Thurmond (Seahawks), Matt Toeaina (Bears), Lavasier Tuinei (Seahawks), Will Tukuafu (49ers), Fenuki Tu'Pou (Saints), Max Unger (Seahawks), T.J. Ward (Browns), Darrion Weems (Patriots), and Demetrius Williams (Jaguars).
Injuries dominate preseason
Fenuki Tu'Pou (triceps) has been on injured reserve (IR) the entire preseason.  Walter Thurmond is on the Physically Unable to Perform (PUP) list from a cracked fibula he suffered last season.
Once the games started, the injuries continued:  Patrick Chung (shoulder), Jonathan Stewart (calf), and LeGarrette Blount (groin), all left games with injuries as well.
The toughest break belonged to LaMichael James.  James needed to prove himself in camp amongst the 49ers crowded backfield, with players like Frank Gore, Kendall Hunter, Brandon Jacobs and Anthony Dixon to compete against.  James tweaked his ankle in the preseason opener, and then sprained it the following week against Houston, causing him to miss the team's third preseason game.
Injuries are a part of the game, and in the highly competitive NFL sometimes another man's injury can be a benefit, a shot to make a roster. Brandon Jacobs' pre-season injury opens the way for James to have an impact early, when he's healthy.
And the good news is James appears to be getting healthy, returning for the preseason finale, and is expected to start the season as the primary kick returner with 49ers regular returner Ted Ginn out for week one.
Will Tukuafu: Fullback
While 49ers camp has been a challenging experience for LaMichael James, it has revealed opportunity for former Oregon DE Will Tukuafu.  His head coach, former Stanford coach Jim Harbaugh, has shown a proclivity for diversifying his reserves' roles beyond their listed position.
San Francisco's primary fullback, Bruce Miller, is a converted defensive end. Tukuafu's line-mate, 330-pound nose guard Isaac Sopoaga, has previously been used to block out of the backfield as well. Tukuafu has garnered overwhelming praise from his teammates for his "crushing" blocks, so expect to see him on both sides of the ball in 2012.
Trying To Lock Philly Down
Cliff Harris could make the case that he belongs in Philadelphia's roster.  Of the six cornerbacks on their roster, none of them had an interception in the preseason.  Harris did, getting a pick in the third preseason game against Cleveland.
Unfortunately, the Eagles didn't see it that way, releasing Harris as part of the 75-man roster cuts in a surprising move that left many fans and pundits wondering why. Expect Harris to re-emerge somewhere after showcasing his talents during his time with Philadelphia.
Tale of Two Tight Ends in Pittsburgh
David Paulson and Justin Peelle share a common distinction – they were the starting tight ends for the two best seasons in the Ducks' history, nine years apart.  This summer, they shared another distinction – as tight ends fighting for a roster spot with the Pittsburgh Steelers.
Peelle was unsuccessful, being released during the 75-man roster cuts.  If he is unable to sign on with another team, he will be the last regular from the 2001 team to retire from the NFL.
Paulson, meanwhile, had slightly more success, making the roster as the 53rd man.  He is expected to be released when suspended tight end Weslye Saunders returns from serving a four-game suspension for performance-enhancing drugs.  For now, though, he is on an NFL roster, which is more than a lot of players can say on the first Sunday of the season.
18 Ducks Make an Opening Day Roster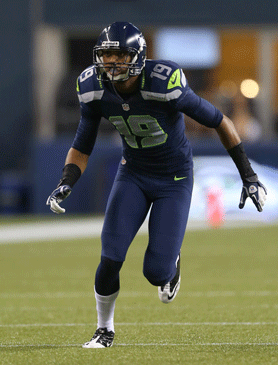 From the list above: Blount, Byrd, Chung, Dickson, James, Matthews, Ngata, Paulson, Paysinger, Rosario, Schwartz, Snyder, Stewart, Toeaina, Tukuafu, Unger, Ward, and Williams all made rosters.  (Thurmond and Tu'Pou are still on their teams, but on injury lists.)
Just like that, half the Ducks brought to camp are released by opening day.  Some will make the practice squad; some will sign with another team.  Yet for others it may be the end of their career, their brief moments on a roster playing in preseason the last time they will ever put on a football uniform—something they've been doing since they were kids playing Pop Warner.
For them, it may be time to enter coaching, or find a job in the real world, remembered fondly for their Ducks glory on Saturdays in the fall, but otherwise becoming just another face in the crowd.
The good news is that after enjoying their career with the Ducks, we got a few more chances to see them play and pursue their dreams.  Maybe the stats didn't count, and the wins and loses were insignificant, but you can't say the games weren't meaningful.
UPDATE: Jeff Maehl, Eddie Pleasant, and D.J. Davis all got picked up by their teams' practice squads after clearing waivers.  Josh Kaddu was released after the Dolphins picked up OLB Sammy Brown off waivers, but was then signed to the Miami practice squad.  Finally, after spending the entire off-season without a job, Dennis Dixon was signed to the Baltimore Ravens' practice squad. 

CAN YOU HELP US?
The pictures you see of the Ducks on FishDuck.com come from professional photographers that must be paid! Please donate through one click so we have pictures from all the games this fall to use through the year. All previous donations helped to pay our big Web Developing bills recently, and I do appreciate it.
Our staff and the photographers who have thousands of dollars invested into their equipment to provide the high quality pictures do sincerely thank you.   Charles Fischer