People say that being in the right place at the right time is a result of luck or coincidence, but I believe that you make your own luck through hard work and preparation—a philosophy Oregon head coach Chip Kelly enforces with all of his players.
For years living in Eugene has provided perfect direct access to the fans, whether walking around town/campus or on their way to the game. On game days the excitement is palpable, and entire families walk into the store dressed head to toe in yellow and green; the little girls dressed in tiny cheerleader outfits, the little boys in jerseys that completely swallow them up.
It's given me a chance to hear directly from the fans, both before and after the game, their thoughts and emotions-their anticipation and reaction, their favorite parts and plays that made them scream, the highest hopes of homerism and the lowest lows of pessimism. Whether among the students or sitting atop the Autzen bowl, these ears catch and absorb all that is on the minds of Oregon fans.
---
Week 3:
Tennessee Tech – Oregon
In the week leading up to the Tennessee Tech game, I noticed a distinct lack of rabid excitement. What I mean is that while people were still enthusiastic for another round of Duck football–and let's face it, Ducks fans will always be exited for a game no matter what–there was not the usual crazed Icantwaittillsaturdaytowatchtheducksplay!!! level of excitement.
I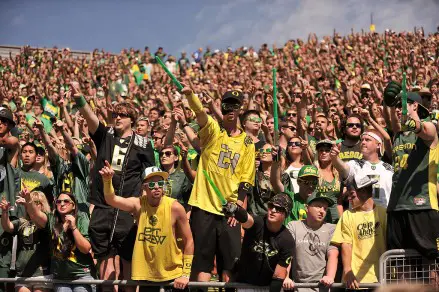 t seemed like people were starting to grow slightly bored with the extra soft and fluffy out-of-conference schedule. It's not that it was Oregon's fault (several teams backed out of home-and-home agreements), but the first two opponents had left much to be desired, with little reason to think that Tennessee Tech would put up much of a fight either. There were even questions as to if the game would be a sellout, possibly ending a streak that stretched back to the 1990s.
"I can't say I'm not looking forward to tomorrow's game because I am. I'm just not that excited to see a game that we know we are going to win"
-Terry Smythe, 67, Creswell, Or, Eugene native.
When I asked Terry what he would say to the Athletic Directors of good teams like Kansas State and Georgia, who cancelled home and home series with the Ducks, he said with a smirk on his face "They should be afraid, very very afraid, but they shouldn't be babies about it."
As we stood watching the Tennessee Tech team taking the field, loud boos arose from all around Autzen Stadium, as has been the unfortunate trend for years now. The man sitting next to us said "Hey hey hey, let's not boo the sacrificial lamb. After all, they're being paid to get slaughtered."
-Robert Hampson Jr., 64  Ashland, Or, 1972 UO Alumnus.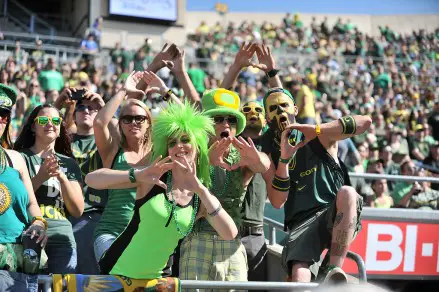 The game started in typical Autzen Stadium fashion, with plenty of loud opinions shouted after Tennessee Tech managed to score the first points of the game on their first drive. Somewhere in the crowd above me, someone shouted "Ruh Roh" in a Scooby Doo voice, which promoted a loud burst of laughter from those within hearing distance.
It wouldn't last. In the next drive the Ducks scored their first touchdown, a foreshadowing of the many to come, which was followed with a woman in the row in front of stating, "I'm surprised they are letting Mariota pass when they didn't against Fresno State, supposedly a better team that Tennessee Tech."
-Mary Sharrow, 30, Springfield, Or, Springfield native.
The rout was on, as has become the norm, but Tennessee Tech surprisingly hung in there better than expected, causing some concern among fans rather than celebration. At the end of the game, a fellow student summed up my thoughts perfectly, "The Ducks played really awesome today, but we really need to get some control on the penalties. Against a better team, those penalties could have killed us."
-Dre Kelly, 22, Boise, Idaho, UO senior.
When the dust settled, despite sloppy play, Oregon dominated as expected.
Final Results:
Saturday, September 15th, 2012
Tennessee Tech – 14
Oregon – 63
---
Week 4:
Arizona – Oregon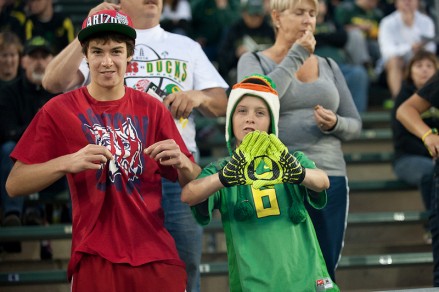 As opposed to the previous week, the excitement leading up to this game was very much palpable. A national television audience awaited yet another night game highlighting Autzen Stadium and our Oregon Ducks, with the new look #22 Arizona Wildcats in town and their new aerial offensive attack highlighted by senior quarterback Matt Scott, under spread offense godfather Rich Rodriguez. All week, people were talking in great anticipation of finally battling a team that might actually pose a legitimate challenge, and of finally beginning Pac-12 play. The patsies had moved on; this was when the real football began.
Walking to Autzen Stadium on game day, I started talking to a group of UO students also walking to the game when I overheard one of them say, "Arizona fans need to learn that 'DAT' is not a nickname for De'Anthony Thomas, it's an acronym for 'damn another touchdown'."
-Devin Jones, 19, Los Angeles, CA, UO sophomore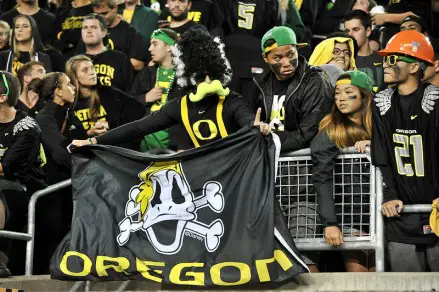 While funny, that statement would prove to be untrue in the Arizona game, as De'Anthony didn't quite manage to score (though he did come close a couple of times), and his punt return in the 2nd half was the spark that finally ignited the sputtering Oregon offensive engine.
Once De'Anthony broke through for a long return, along with it went any shot Arizona had of coming back. DAT may not have scored, but the rest of the team was more than happy to pick up the slack.
After the thrilling start of a game that was fast and furious, yet filled with errors, Oregon finally put the first points on the board. They scored with 8:27 left in the first quarter after Arizona could not capitalize in the red zone. Arizona's inability to finish the job in scoring range would prove prophetic, as six times they would make the trip, and six times they would be turned away.
"Finally" I heard someone in the student section shout "now we have a football game."
With five minutes left in the 1st quarter, the Ducks defense clamped down and made their second stop of the day, forcing Arizona to turnover the ball on downs. As the crowd let out a breath of relief, a guy walking up to this seat said, "God the defense is playing with fire tonight!"
  -Scotty Horace, 32, Portland, Oregon, 2005 Oregon Alumnus.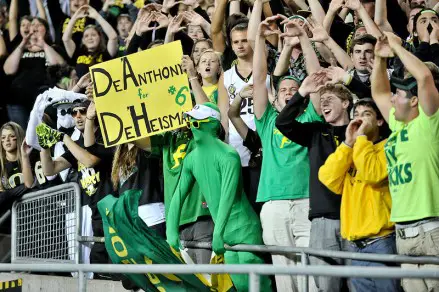 Oregon's second score of the night came by way of a 27-yard field goal, followed by a 41-yard field goal, both by Rob Beard. They were the first two successful field goal attempts of the season, Oregon's penchant for scoring touchdowns leaving opportunities few and far between for Beard, who had kicked one wide and had one blocked in the previous games.
Field goal kicking is something that has been much maligned by fans for some time now, many still unfairly blaming last year's place kicker Alejandro Maldenaldo for the loss to USC. The consecutive successful field goals prompted the guy behind me to say, "My God, it is nice to have Rob Beard back!"
-Wallace Steins, 48, Bend, Oregon, Florence Native.
The game had been hyped by the media all week long as a scoring fest, with both offenses coming into the game in the top 10 in total offense and scoring. Yet, while opportunities to score had been plentiful, sloppy play and timely turnovers had left The Duck feeling unseasonably brisk and spry, the wings having been barely flapped with his traditional push-up count.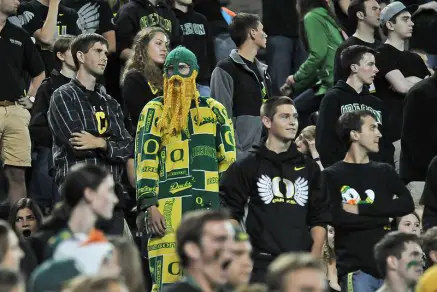 In the concessions area at halftime, I spoke with a fellow sufferer in the never-ending line who echoed my thoughts perfectly. "I thought this was supposed to be a high scoring game. It was all over the news that both Arizona and Oregon would light up the scoreboard. Well its halftime and score is only 13-0, Oregon."
In the middle of the third quarter, the game's momentum swung permanently in the Ducks' direction, when De'Anthony Thomas returned a punt for 38 yards, setting up the Oregon offense at Arizona's 37-yard line. After the Ducks advanced the ball, fans watched in awe and amusement when Colt Lyerla took the ball and Bryan Bennett's arm into the end zone, neither player refusing to let go of the ball, leaving many wondering who exactly would get credit for the first ever Siamese Touchdown.
A much-amused fan remarked, "After Bennett pulled the ball, he wanted his arm back but Lyerla decided to take it to feed the beast."
-James Rooke, 24, Lincoln City, Or, 2010 UO Alumnus.
The floodgates opened, and Arizona was desperate to find any success against Oregon's stifling defense, as the Ducks started their typical 2nd half domination. After a few more scores by the offense, cornerback Ifo Ekpre-Olomu plunged the dagger, returning an interception 55 yards for a touchdown. This was followed up later by the final score of the game, provided by another sophomore cornerback, Troy Hill, who took an interception 29 yards for a touchdown, leading one excited student to exclaim "Hell yes. FREEEEEEE TAACCCOOO'S!!!"
Funny the things Duck fans find to keep themselves amused on gamedays when Oregon is making it a laugher…
Final Results:
Saturday, September 22nd, 2012
Arizona – 0
Oregon – 49


CAN YOU HELP US?
The pictures you see of the Ducks on FishDuck.com come from professional photographers that must be paid! Please donate through one click so we have pictures from all the games this fall to use through the year. All previous donations helped to pay our big Web Developing bills recently, and I do appreciate it.
Our staff and the photographers who have thousands of dollars invested into their equipment to provide the high quality pictures do sincerely thank you.   Charles Fischer