People say that being in the right place at the right time is a result of luck or coincidence, but I believe that you make your own luck through hard work and preparation—a philosophy Oregon head coach Chip Kelly enforces with all of his players.
For years living in Eugene has provided perfect direct access to the fans, whether walking around town/campus or on their way to the game. On game days the excitement is palpable, entire families walk into the store dressed head to toe in yellow and green. The little girls dressed in tiny cheerleader outfits, the little boys in jerseys that completely swallow them up.
It's given me a chance to hear directly from the fans both before and after the game–their anticipation and reaction, their favorite parts and plays that made them scream., the highest hopes of homerism and the lowest lows of pessimism. Whether among the students or sitting atop the Autzen bowl, these ears catch and absorb all that is on the minds of Oregon fans.
---
Week 1:
Arkansas State – Oregon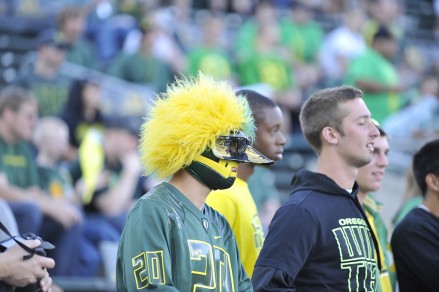 The phrase heard often during the week leading up to the season opener against Arkansas State was, "I can't wait for the game, I'm so ready for football season!" It seemed to be on everyone's tongue, people's preparations starting days in advance. Bags of chips, dips, soda, hotdogs, burgers and beer (lots and lots of beer) flew out the door.
"I love football season in general, but I love college football especially. It seems to me like the players play harder in college football than they do in the NFL. They give it everything they've got because they want to get to the NFL and make that money."
     -James Hills, Springfield, Oregon, 1984 UO Grad.
Thinking about what Mr. Hills had said, I found myself agreeing with him in so many aspects. I've always preferred watching college football over NFL because I like watching these individuals develop over 3-5 years into stars. In the NFL everyone is a great player, otherwise they wouldn't be there. Teams run the same offenses and the teams are more or less even.
That isn't necessarily a bad thing; the game is just different. While the best of the best play at the premier level, the NFL can never match college football for gameday ambiance, that indefinable atmosphere surrounding a Saturday at a major collegiate stadium.
Walking into Autzen Stadium on gameday, I ran into (literally, it was crowded in the entrance) Alfred Gnomes, 27, Portland, Oregon, a native of Eugene. His thoughts on the game, "I think Arkansas State will surprise us in the first half and put up a harder fight than most people are expecting. But I think we will make the necessary adjustments quickly and completely run them over by the end of the game."
Mr. Gnomes prediction ended up being semi-correct. The Ducks did run over the Red Wolves, but did it right from the beginning. By the time halftime came around, the Ducks were up 50-10 and almost no starters were still left in the game.
Speaking to an elderly gentleman in the concessions line at halftime:
"I'm impressed, Mariota is handling the leadership role well and is commanding the team. Some of the passes he's thrown were so perfectly aimed and thrown, it was hard to believe that a freshmen was throwing them. I have to give some props to Arkansas State too though, they might be out of their league in this matchup but the players aren't giving up. That's admirable."
     -Donald Brown, 65, Salem, Oregon, retired teacher.
After halftime, Autzen Stadium was half empty, some calling it a day while others took the lazy route of hanging out inside the Moshofsky Center or out at their tailgate parties. Fewer people though afforded the opportunity to get closer to the action, and stand among the students.
As the game came to an end, I stopped some students and asked them who, besides the obvious performance of freshman quarterback Marcus Mariota, they found most impressive.
"Byron Marshall, without a doubt. Besides one rookie moment, when he back-tracked on a run play and lost 10 yards, he looked really impressive. He made quite a few defenders miss in the hole and got an extra 3-4 yards on almost every touch."
-Nick Reeves, 21, Riverside, CA, senior UO student
"I was super impressed with Colt Lyerla. He looked huge and intimidating on the field, but was quick as well. On one catch, he pushed his way forward with four or five of the Red Wolves trying to stop him."
–Ryan Bomar, 22, Spokane, WA, senior UO student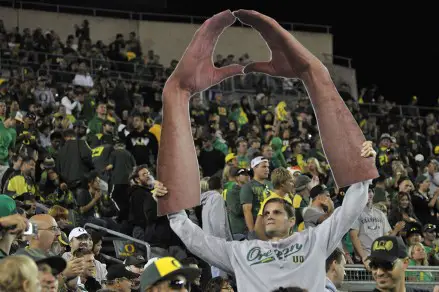 There were many more comments and thoughts, justifiably thoughtful or incredibly over-reactive, for those in attendance and reacting online. Walking out of Autzen at the end of the 57-34 Oregon victory, it all seemed so obvious, it is very easy to understand why Autzen Stadium is so loud during the games.
It's not the design, though maybe that has an effect. It's not because the stands are so close to the field, though sure that may increase it as well. The true reason for the Autzen magic is simple; the fans truly, deeply care. They care about the team, about the University and about how they are portrayed to the rest of the country. The Duck fans are truly what makes being a Duck so great.
Final Results:
Saturday, September 1st, 2012
Arkansas State – 34
Oregon – 57
---
Week 2:
Fresno State – Oregon
Having to work before the Fresno game is no fun, but it does afford the opportunity to speak with fans on their way to the game. One of the very first customers that came in green and yellow I asked what she was most excited to see at the game today.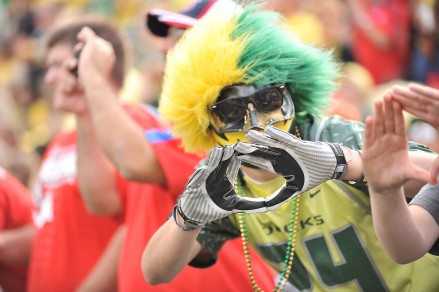 "I love the uniforms! That's probably the first thing I look for and what I am excited to see. Other than that, I'm looking forward to watching Mariota. I hope they let him play longer than he did last week."
     -Katlyn Marlow, 19, Bend, OR, sophomore UO student
Wanting Mariota to stay in the game longer turned out to be a reoccurring thought:
"I want to see how Mariota holds up throughout the entire game; see if he can stay focused, loose, and can keep the teams attention and respect. We already saw last week that he is good under pressure, but I want to see what kind of effect a longer game has on him and those around him."
-Ron Smith, 38, Coos Bay, OR
Mariota indeed played through the whole game, and was great in most aspects. He kept his poise and didn't make stupid or hasty decisions beyond what could be expected from a redshirt freshman making their second career start. There were turnovers, but those largely the result of missed blocks.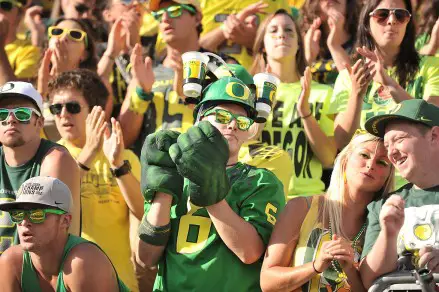 As Oregon began scoring early vs. Fresno State, continuing the trend from week 1, predictions for the entire season started to murmur from the stands. As the young kid (about 12 years old) standing a couple of rows in front of me so eloquently put it, "The Ducks are going to wipe everyone's butt and make it to the National Championship game!" When I asked him if there was any team he was worried about, he thought about it for a couple of seconds before saying, "I guess USC. I mean I know they are good and could maybe beat us, but I think we are, like, a million times better than they are so we will kick their butts."
The Bulldogs put up a fight as the game progressed, and the Ducks started making some mistakes. The tension in the crowd started rising. With 8:35 left in the 3rd quarter, Mariota was sacked by Shawn Plummer and fumbled, allowing Fresno State to recover the ball.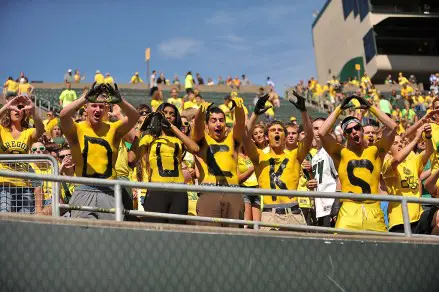 The Bulldogs quickly scored and the crowd went crazy with their objections.  Less than five minutes later, Bralon Addison fumbled a pass from Mariota and the Bulldogs once again recovered, and scored very quickly. I heard a loud voice yell from somewhere above me in the stands, "what the hell do you think you're doing? Keep your hands on the ball!"
Easier said than done, but the objections to Addison's inability to cover up seemed to be the overwhelming consensus among the armchair quarterbacks occupying the Autzen stands.
Right at the beginning of the 4th quarter, Mariota was sacked once again and fumbled. Fresno State recovered and used the opportunity to add a field goal, still a momentous 16-point lead but close enough to have fans concerned about Oregon possibly losing the game in the final minutes.
The most memorable quote from that moment came from the woman standing to my right:
"Hold on to the dang ball, Mariota. My mother could hold onto the ball better and she's close to a 100!" Ms. Roberts outburst prompted laughter from everyone within hearing distance, a much needed break in the tension.
     -Jeanine Roberts, 63, Florence, OR, UO mom
Oregon expanded their lead on a time consuming drive, culminating in a Kenjon Barner touchdown. Fresno State scored again late, but by then it was too little too late, Oregon completing a costly but vital 42-25 win.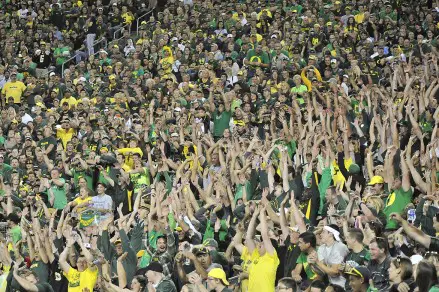 Leaving Autzen after Oregon's second victory on the young season, a few different opinions from people were given aloud while awaiting for the bus to return to the park-n-ride area. Someone sitting in the back of the bus stated, "The Ducks are a great team, we all know that. But we need to get better on not making stupid mistakes, and teach our younger punt returners when it's a good time to go for it and when they should settle for a fair catch."
I think that quote summarized what we all thought, or at least hoped the remainder of the season would go. In the aftermath it was learned the harsh side to the game of football, as seniors John Boyett and Carson York both had suffered season-ending injuries—two captains providing key senior leadership on a team that by fan account clearly has high expectations for the season at hand.
Final Results:
Saturday, September 8th, 2012
Fresno State – 25
Oregon – 42

---
I can't wait to attend the next game and see what people think before, during, and after watching our Ducks compete. See you at Autzen, and Go Ducks!

Pat Pannu (Editor and Writer) is a recent graduate of the University of Oregon. Pat's been a crazy Duck fan since she moved to Oregon in early 2004 and has been 95% of all home games since the 2005 football season. She loves to talk about sports though those talks somehow always end in arguments. Pat loves to hear other's view of the sports and teams that she loves and can't wait to hear from you all. Follow her on twitter @patpannu
Mr. FishDuck … You Simply Can't Handle MY Opinions!

Baloney. I want all opinions here as it enables us see the full spectrum of ideas and helps us to learn from others and modify our own views as a result. In fact, this is the only Duck website where you can safely share your full-spectrum views on Oregon Sports.
If there is a problem … it is with your behaviors, and not your opinion, even if unpopular. Be polite and courteous to others and you will be reciprocated, and consequently you'll have a tremendous experience on FishDuck.
The majority of our rules can be summarized to this: 1) be polite and respectful, 2) keep it clean for grandchildren reading, and 3) no reference to politics.
Easy-Peasy!