During Oregon's 49-0 domination of Arizona on Saturday night, many in the press box began to flip through the record books, no doubt scouring the defensive section to see where the Ducks' performance ranked all-time.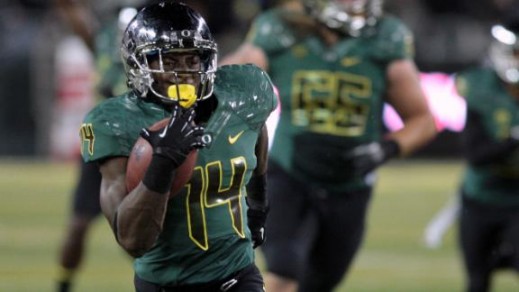 Oregon, whose first-string defense rarely got to play more than a quarter and a half in their three non-conference games, saw Arizona enter their redzone six times, twice getting inside the five. Six times, the Wildcats were sent to the sideline scoreless.
The Ducks, who under Chip Kelly have exploded nationally as an offensive juggernaut, have a tenacious and speedy defense eager to make their own name. Before the season they were talked up as being possibly the greatest defense in school history. On Saturday night they lived up to the hype.
"That's what Oregon defense is all about," senior linebacker Michael Clay said. "That's what we want to put our stamp on, that we play 60 minutes. To come in the first league game and pitch a shutout, it was just a whole team effort."
As for the offense…well, let's not panic.
The quarterback play of Marcus Mariota, the freshman from Hawaii, has been as inconsistent this season as at any time under Kelly. The combination of penalties and turnovers have caused many drives to unceremoniously end with (gasp!) punts or (doh!) field goal attempts. Perhaps expectations are too high for a young kid who has played in a total of only 16 games – high school and college combined. Receivers also at times have shown difficulty in catching the ball.
But not all hope is lost, and it's time to see the big picture.
Oregon is YOUNG, especially in the offense, whose backfield includes Mariota, De'Anthony Thomas (sophomore), Byron Marshall (freshman) and Kenjon Barner (senior, but first year as full-time starter). The receiving corps, littered with freshmen and unproven talent, is beginning to slowly find its play-makers, although not necessarily the players that were thought to be the primary contributors this year. Despite a few drops Saturday night, the performances of true freshmen Bralon Addison and Dwayne Stanford should give fans confidence that things are beginning to come around.
And then there's Colt Lyerla. The true sophomore from Hillsboro, OR, introduced himself to the country Saturday night; not in his pass catching, but as a bruising, half-ton truck running back. A new wrinkle for Kelly, a new weapon for Oregon, a new reason for fans to keep the faith. Matt Millen during the broadcast repeatedly referred to him as "my new favorite player."
Oregon's offense will be fine. Mariota, already four games into his career, will continue to grow and mature, and make better decisions. The offensive line, which has been reshuffled and altered to counter injuries, will begin to gel. It has to, right?
Meanwhile, as they continue to grow, Oregon can rely on that defense. The secondary, after losing John Boyett for the season, showed on Saturday why they might go down as the best this school has ever seen.
Teams don't even throw towards Terrence Mitchell, instead they pick on Ifo Ekpre-Olomu. Ekpre-Olomu, the true sophomore who started in last year's Rose Bowl, has played in a trial-by-fire mode since he arrived in Oregon, and has consistently delivered as one of the most proficient corners in terms of technique in recent memory. Hailing from Chino Hills, California, he looks at teams picking on him as a challenge.
"This is my first year starting, so I was ready for them to throw my way every time," Ekpre-Olomu said with a sly smile. "I just wanted to show them what I could do."
And did he ever! Three pass breakups. Two interceptions. One touchdown.
Pick on an Oregon defender? Not this year, or you'll pay the price.  This defense is simply too good, too fast, too confident.
Is Oregon a national championship contender? It's too early to tell. They are tough to figure out; a mixed bag of dominance, wrapped in inconsistency. An 80-yard touchdown run, filtered with penalties and turnovers. One thing is for sure: with eight games left, there is ample opportunity for the little things to be corrected.
Mariota will get better. The receivers will get better, the defense will remain nasty. That's the beauty of college football. The team they are in week one is not the team they are by week 10. These are young men, growing as players and as people, each and every day.
Today, Chip and his staff will take the offense in a dark room, sit them down, and go over film. They will process the film from all angles; teach and learn from what went wrong, praise what went right, and fix what can be fixed.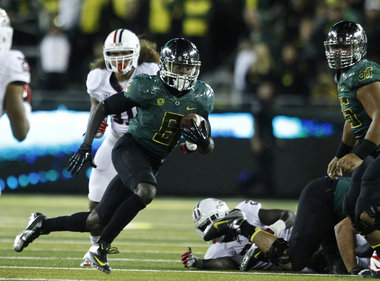 For now, as fans, let's just enjoy this. The "Gang Green" defense might be put out to shame by the new fangled "Gang Yellow/Black/Silver" of 2012. The offense is still just as fun to watch. Punt returns, when a certain #6 is fielding them, have the feeling of something special every time he has the opportunity to get his hands on the ball.
Oregon is 4-0,  #2 in the country, and has USC directly in sights. Things could be worse, right?

CAN YOU HELP US?
The pictures you see of the Ducks on FishDuck.com come from professional photographers that must be paid! Please donate through one click so we have pictures from all the games this fall to use through the year. All previous donations helped to pay our big Web Developing bills recently, and I do appreciate it.
Our staff and the photographers who have thousands of dollars invested into their equipment to provide the high quality pictures do sincerely thank you.   Charles Fischer