There are 8766 hours in a broadcast year.  If you agree with me that the 3-0 Oregon State/Pittsburgh Apparently the Pirates Sun Bowl can only be shown so many times, there are a lot of hours that need to be filled.  Seeing Rick Neuheisel on a continuous loop does great harm to my blood pressure so I have come up with some programming ideas for the fledgling entertainment enterprise.
Keeping Up with the Krushed Buffalo:  Each week, another Colorado cheerleader, distraught at the beating her team just took, leaves the stadium and is whisked by limousine to fashionable Greeley, where she gets makeup tips and poise lessons from John Elway.  Bonus points if she gets Kris Humphries to marry her for long enough that the spousal support kicks in.
Taxicab Confessions, Salt Lake City:  Edgy half hour reality show where fares in the seedy underbelly of Temple Square tell all about the time they stayed up until 10:00 and split an O'Doul's.
99 Bottles of Beer in the Stands:  University of Arizona alumni compete in the Special Olympics of Bottle Chucking.  Jeremiah Masoli hosts this show, inspired by the hooligans of UA who should have each had a u/a before being let in Bear Down on a Cactus You A-Hole Stadium.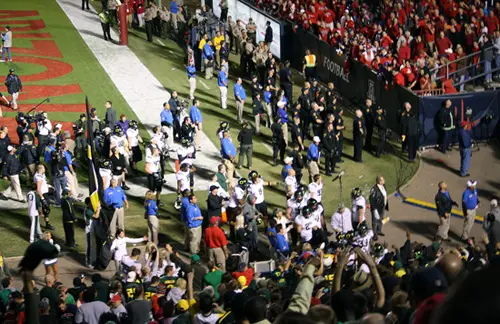 Win a Date With Matt Barkley:  The dreamiest guy in the whole USA is willing to farm himself out to the girl who can send him the purtiest letter.  Please enclose a picture and your 40 time. Anything under a six flat can haul this guy down.
The Young and the Restless:  Washington Husky head coach Steve Sarkisian explains to his fan base how the Huskies will certainly be better when they aren't so young, and that they are making the mistakes that go along with being young, and, gosh darn it, the young players are making young mistakes which will surely be fixed when they aren't so young.
Gone With the Wind:  Classic tearjerker about a man in the midst of history, marching into the future with the responsibility of the nation on his shoulder, and the young lady that captures his heart.  Some of the more famous scenes include the sacking of Atlanta, the battle cry of thousands as they race through the Antebellum South, and the piteous cries of those who go down in his wake.  Love him or hate him, he just doesn't give a damn.

CAN YOU HELP US?
The pictures you see of the Ducks on FishDuck.com come from professional photographers that must be paid! Please donate through one click so we have pictures from all the games this fall to use through the year. All previous donations helped to pay our big Web Developing bills recently, and I do appreciate it.
Our staff and the photographers who have thousands of dollars invested into their equipment to provide the high quality pictures do sincerely thank you.   Charles Fischer