The Head Coach at Oregon is frequently hailed as major innovator of the Spread Offense, one who is continuously adjusting and augmenting his playbook.  Yet here at FishDuck.com, we would contend that what really characterizes what we see on field is a changing weekly game plan, and an integration of "old-school" football philosophies into the Spread Offense.  The lack of a fullback is what initiated Chip's immersion into the Spread originally, but now he has found a way to bring that position back!
Last week against Arizona, Chip had everyone buzzing about the new Jumbo formation of having "Bennett and the Beast" (Colt Lyerla) in the backfield at the same time.  I've noted how Coach Kelly likes to introduce new concepts, plays, or formations in a game that the opponent couldn't possibly have prepared for.  Often he will introduce something new, and then tuck it away for another future game in the distant future.  The next three opponents HAVE to spend time preparing for it, thus it helps our defense that much more by the opponents distraction of preparing for a strategy they may-or-may not see again.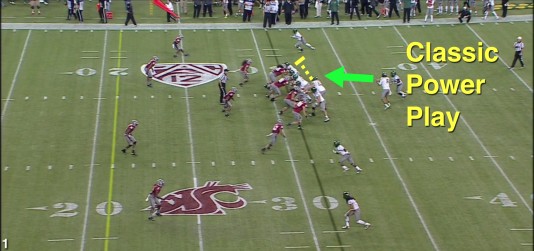 This is a classic "Power Play" we are running above against Washington State, with the guard (Clanton) pulling and preparing to blast a linebacker who penetrates the line of scrimmage.  (Yellow dotted line)  We see Mariota handing off to Barner (Green arrow) who will be following the blocking.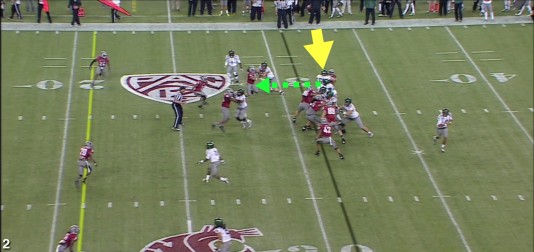 Kenjon (Green dotted arrow) is running through a wonderful lane (Above) created by Clanton (Yellow arrow) and his teammates as we see superb "hat-on-hat" blocking on the Cougars.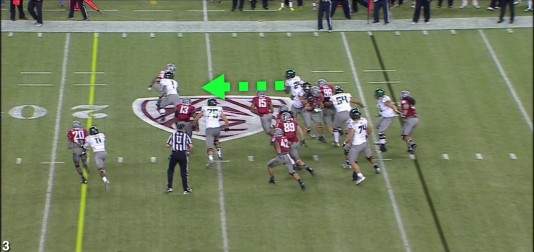 Barner is through the lane (Above) and into the secondary for a big gain off our traditional Power Play! The problem has been, many teams react quickly once they see a guard pulling, and not all "Power Plays" have been as successful as they were last year.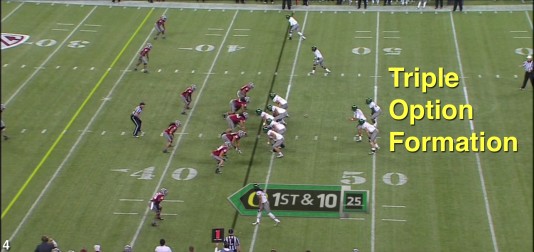 We see Oregon lined up in a Triple Option formation above with Colt Lyerla as one of the twin backs.  (#15)  Colt lined up as a pitchman against Fresno State in this formation, and he certainly showed against Arizona that he could be the Inside-Zone-Read running back of the Straddled Triple Option.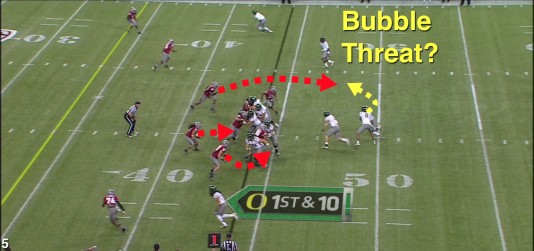 Opponents (Above) have seen this play a TON over the years, and the Cougars were prepared.  Note how we threatened a Bubble Pass in the top of the picture, and the QB (Yellow dotted arrow) can pull the ball and run as well as hand it off or pass. The Washington State linebackers move outside to stop the QB running option, (Upper red dotted arrow) and move below into the gaps they expect to see the Inside Zone Read option of the play.  These linebackers are conditioned to react immediately to this type of play in this way, as they cannot afford to be beaten to the outside or from the Inside Zone Read option.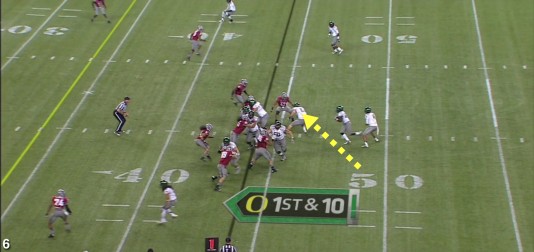 Instead of looping around behind Mariota, Lyerla goes across from where he lined up, (Above) and out to blast the defensive end!  He is operating as if he was a fullback on a dive play leading the way for a tailback in a traditional "Pro-I" offense.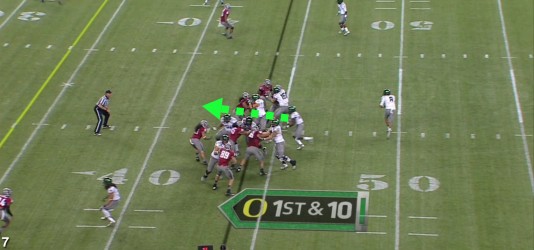 Since the Washington State linebackers went outside, and our offensive line opened a hole inside (With the fullback Lyerla), we now see Barner (Above) running through a huge hole for a big-chunk gain. (Green dotted arrow)  Chip forces defenses to be very "outside conscious", that using the same Triple Option formation can help create running lanes to the inside by using a Tight End like a traditional Fullback!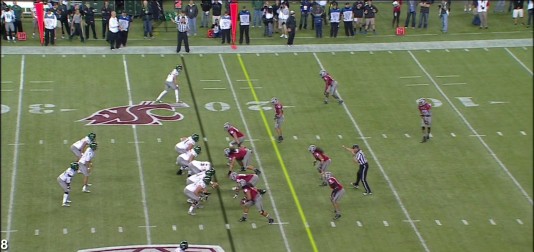 Oregon is lined up in a Triple Option formation again, (Above) and it appears there is a bigger running back to the left of Mariota.  The Cougars are nervous because they know we are attacking with the Triple Option, but which side is the Inside Zone Read, and which side is the Speed Double Option?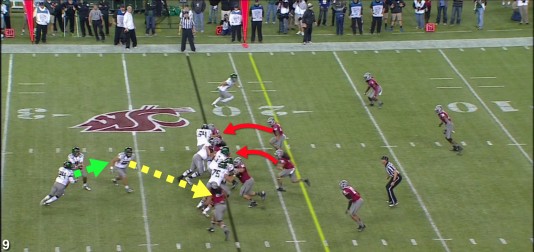 The linebackers (Above) react immediately to Barner (Green dotted arrow) by moving rapidly to fill those inside gaps. (Red arrows)  Instead of the big running back looping around to be the pitchman…we see him cross again to blast the defensive end!  (Yellow dotted arrow)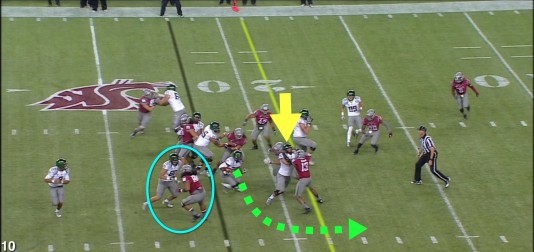 The big running back was NOT Colt Lyerla, but freshman tight end Koa Ka'ai (#80 in light blue circle). Barner benefits from the over pursuit inside by the Cougar linebackers, and bounces it outside behind a tremendous block by Jake Fisher.  (Yellow arrow)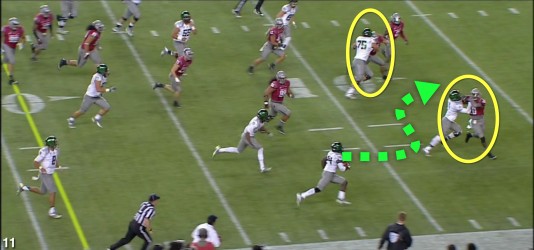 Barner goes down the sideline, and cuts inside to score a Touchdown!  (Above)  He benefits from downfield blocks by Jake Fisher (#75) and Josh Huff (#1) whose efforts make the difference for Barner. The touchdown is the result of deception, superb running, and outstanding blocking.  It's interesting to note that other Tight Ends are also used in this Fullback role other than Colt, and it bodes well for the future with that many more versed in this strategy.
The truth?  Oregon was doing this with David Paulson as "the beast in the backfield" clear back in early 2010, but it was not understood at the time what we were doing.  At that time, using Paulson that way was a clear indicator of a Power running play to defenses, while with Colt we can currently threaten everything in the Triple Option, and force the defenses to guard the perimeters.  This is a brilliant new wrinkle for PAC-12 defensive coordinators to have to think about. They MUST protect their flanks from the speed of Oregon's QB and pitchman, yet they could end up getting pulverized inside from this new usage of a Tight End as a Fullback!
What has Chip created?  It is another form of the Power Play where they don't pull the guard, but use the new "Fullback" running across and blocking instead.  It's old school in theory, but innovative in it's application within the Spread Offense.
"Oh, how we love to learn about our beloved Ducks!"
Charles Fischer  (FishDuck)
Oregon Football Analyst for FishDuck.com
Eugene, Oregon
Top Photo from Video
(FishDuck Note: FishDuck.com football analyst Josh Schlichter and retired Coach Mike Morris served as advisers and contributed to this article.  My thanks!)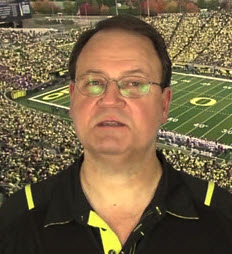 Charles Fischer has been an intense fan of the Ducks, a season ticket holder at Autzen Stadium for 35 years and has written reports on football boards for over 23 years. Known as "FishDuck" on those boards, he is acknowledged for providing intense detail in his scrimmage reports and in his Xs and Os play analyses. He and his wife Lois, have a daughter Christine, reside in Eugene Oregon, where he was a Financial Advisor for 36 years and now focuses full-time on Charitable Planned Giving Workshops for churches and non-profit organizations.
He does not profess to be a coach or analyst, but simply a "hack" that enjoys sharing what he has learned and invites others to correct or add to this body of Oregon Football! See More…
FishDuck Has New Off-Season Schedule and see the OUR BELOVED DUCKS Forum!
FishDuck articles will now be on Monday-Tuesday-Wednesday only during the off-season, and then we will go back to seven days a week during the football season beginning in August.
We will have some occasional guest articles later in the week, but the hottest Oregon football information will be posted in the OBD forum!
The Our Beloved Ducks Forum (OBD) is where we we discuss the article above and many more topics, as it is so much easier in a message board format over there.  At the free OBD forum we will be posting Oregon Sports article links, the daily Press Releases from the Athletic Department and the news coming out every day.
Be a part of the forum and stay caught up!  When you wish to post there, do know that you are protected just as you were on FishDuck. Join us on the free forum right here!
Our 33 rules at the free OBD Forum can be summarized to this: 1) be polite and respectful, 2) keep it clean, and 3) no reference of any kind to politics. Easy-peasy!
OBD Forum members….we got your back.  No Trolls Allowed!