It is exciting to see new plays unfolding in the Oregon Spread Offense, wasn't it surprising to see Chip unveil a play and formation not used for a year in the week before we play USC?  The play variations off the "Double-Stack" Formation was highly successful against Colorado and will truly give Monte Kiffin and upcoming conference defensive coordinators another headache to contend with.   It has all the hallmarks we love in the Chip Kelly Offense, in that it spreads the defense out, but can attack you on the ground and through the air.  Let's see it in action!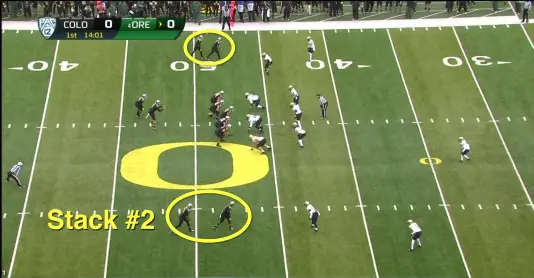 My football buddy, Gageac , and I were laughing and pointing at the screen (Above) as we saw Oregon come out in the Double-Stack Formation against Colorado!  We have one WR stacked behind another at the LOS and it was great to see this formation from the past again.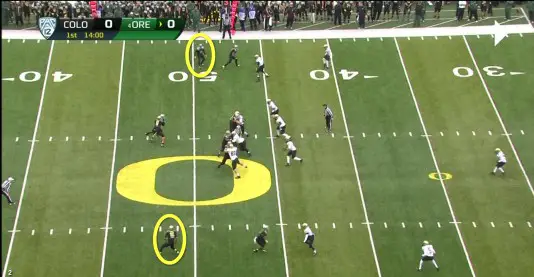 At the snap (above) we see both WRs who were in back turn to the QB as if to receive a pass!  Is it a pass?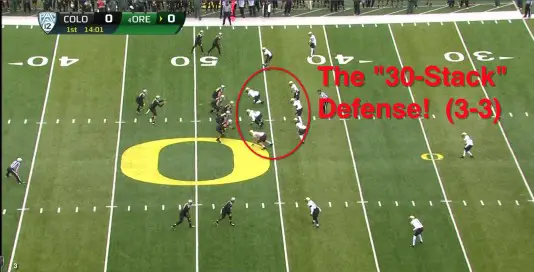 We have heard about the defense designed to stop the Spread, the 3-3 or "30 Stack" defense.  We will delve into that defense at another time, but this was such a pristine example (above) of it lined up, that I had to point it out.  One Stack against another!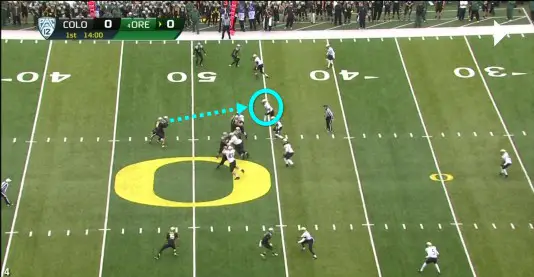 As always we are Zone Reading a player (above) and this time it is the Outside Linebacker of the Buffs.  Note that when we spread out our WRs in this formation that they have two DBs on each side with a Free Safety deep.  That leaves SIX in the box to block – Zone Reading one player and blocking the other five – and we have them all covered hat-on-hat with room to run.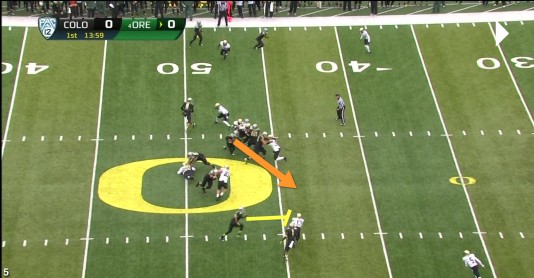 Barner (Orange arrow, above) is running for the beginning of a big gain behind a big black wall of Oregon jerseys blocking for him.  Gosh it is fun to see such great blocking!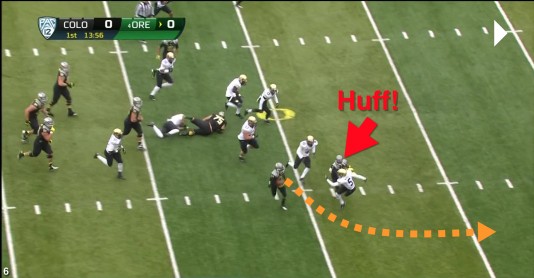 Kenjon is breaking into the clear (above) and heads down the sideline.  Look at the block by Josh Huff (Red arrow, above) that truly puts the defender on his keister!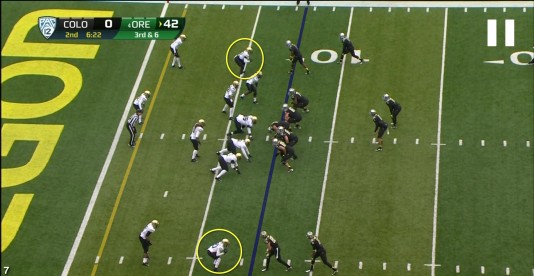 We are in the Red Zone and line up in the Double-Stack Formation, but the defenders up front are getting annoyed at being blocked, so look (Yellow circles above) at how they are up in press coverage and ready to take on the blocks they know are coming.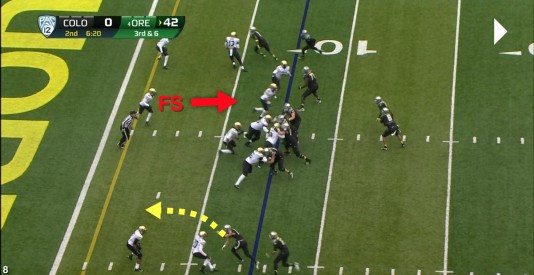 The defender at the bottom of the screen is surprised, as our WR in front is not blocking but taking off for a pass pattern!  (Yellow dotted line, above)  The Free Safety (Red arrow above) is focused on run-support and is coming up to LOS, thus he is out of reach to help on sideline pass patterns.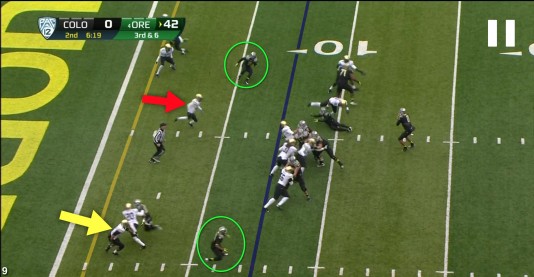 The Wide Receivers in back of the Double-Stack also charged out forward, which drove their defenders deeper.  These receivers then stop and turn (Green circles, above) and with the defenders too deep—the space is ideal to get a quick pass off to the sideline!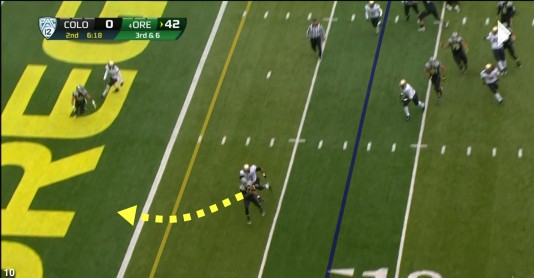 Mariota leads a perfect pass to the sideline as Daryle Hawkins hauls it in for a Touchdown!  We have shown in this game the ability to run effectively off this formation, to pass potentially a Bubble pass to the sideline, or actually run patterns off this Double-Stack as just shown.  What an amazing set of plays off this formation!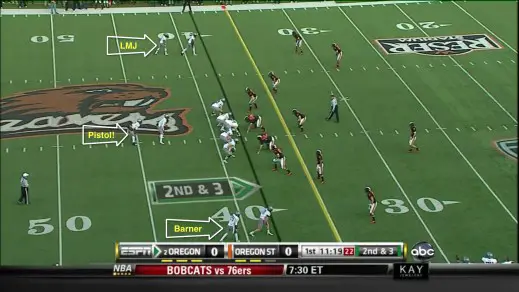 Look at the formation above and we see it is the Double-Stack Formation in the Civil War Game of 2010!  It was one of my first videos, (Triple Tailback Threat) and we featured THREE tailbacks on the field at the same time.  (Huff could be a tailback and practiced at the position for Oregon last spring)  This was the first time I noticed this formation and we saw it again a few times in 2011.  It is fun to see plays pulled out of Chip's pocket for a game and then look back at the progression of it.  Note in 2010 we ran the backfield in a Pistol, while we now run it out of our Universal Inside/Outside Zone Read backfield formation.
Is the Double-Stack the football equivalent of a Trojan Horse?  Did Chip Kelly reveal this to make USC spend precious practice time preparing for it, only to tuck it back into his pocket for another year?  Yet Oregon has the best blocking WRs in the nation; one good block CAN spring a RB or another WR free for six points as we have seen.  The permutations of this play could pop up against USC and hurt them at a crucial moment.  How many times have we seen Chip try a particular play one week, and then hone in on variations of it the next week?  Or simply execute it better the next week due to running it at game speed and making adjustments?   Waste time practicing for it or ignore preparing for this formation at your peril?  Troy could be burned from this Horse!
"Oh how we love to learn about our beloved Ducks!"
Charles Fischer  (FishDuck)
Oregon Football Analyst for FishDuck.com
Eugene, Oregon
Top Photo from Video

Charles Fischer has been an intense fan of the Ducks for over thirty six years and has written reports on football boards for over 20 years. Known as "FishDuck" on those boards, he is acknowledged for providing intense detail in his scrimmage reports and in his Xs and Os play analyses.
He and his wife Lois, a daughter, Christine reside in Eugene, Oregon, where he has been a Financial Advisor for 35 years serving clients in eleven different states. He does not profess to be a coach or analyst, but simply a "hack" that enjoys sharing what he has learned and invites others to correct or add to this body of Oregon Football! See More…
THREE FishDuck Promises to Readers…
We will be the cleanest Oregon site with no ads or videos starting up to annoy you.
We will be the easiest Oregon site for mobile (Cell phone and Pad) users, as we want it fast for you.
We will be the safest Oregon site for everyone, as we monitor comments and assure that everyone is polite to all. (And we do want all your opinions!)
Simple, clean, safe and fast!