There's just something about Washington week, nothing stews the hate juices in fans more than the annual battle with the Huskies as a precursor to the Civil War down the road, ya know, that OTHER rival. Former players mark it on their calendar as the one to return back to Eugene for, never satisfied with beating UW enough both in total wins and margin of victory. Vengeance can be sweet, after many suffered through those years that now seem so long ago, when the roles were reversed–Washington the clear power of the north and Oregon struggling to find relevancy.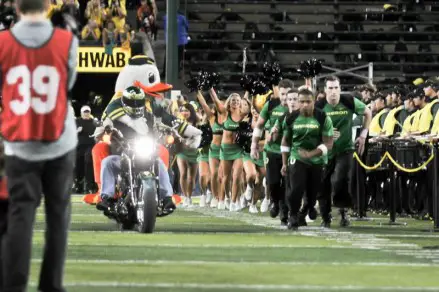 Among the players returning to their collegiate field of glory for Saturday's 111th renewal of this fight included Kenny Wheaton–famous catalyst of Oregon's recent dominance in the series stemming from his famous 1994 interception that sparked Oregon's run to the Rose Bowl, the Ducks having taken 12 of the last 16 games since that play, including an active win streak that now stands at nine-in-a-row.
Also spotted among the crowds were names from the past such as Eric Edwards, Brent Haberly, and Terrell Turner, just to name a few. The honorary captains for the game were Pat McNally, Reggie Ogburn, and two active NFL players coming back for a resounding welcome home prior to kickoff–Brandon Bair and LeGarrette Blount.
For Reggie Ogburn, the trip back to Eugene was particularly special, one he had not made in 31 years since returning to his home of Florida after a brief attempt at a NFL career and time spent in the CFL. In 1980, Ogburn led the up-and-coming Ducks to an improbable 34-10 win over UW in Seattle, a road feat that would not be repeated against the hated Huskies again until 1995.
1980 was a different era in Oregon sports, and a different time for Eugene. Coming off some of the worst years in school history, there were rumblings of Oregon possibly being kicked out of the then Pac-10 Conference for being so bad, until Ogburn's arrival, leading Oregon to back-to-back six win seasons. Ogburn largely carried the team through those two years, his 1980 campaign remaining the only time in school history a player has led the team in both rushing and passing, despite suffering through a chronic knee injury all season.
"When we beat UW (in 1980), it turned the tide of losing, it became a benchmark, from that point on we were able to recruit better and compete with them," Ogburn recalls. "We were always the underdogs, so when we won it gave us so much pride, like after that we could accomplish anything. Look at what happened after that, slowly the team got better, started recruiting better players, and where it is now is just amazing. The roles have completely switched, now Oregon is what Washington was three decades ago, actually better. It feels so great to be back here, knowing that I had an effect and all these years later people still remember."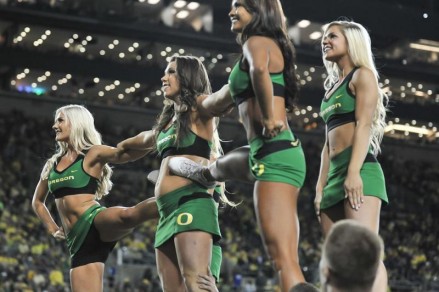 It isn't just the win totals and crowd sizes that have increased since Ogburn spent his days in Eugene leading the Ducks, as the city, campus and athletic facilities are barely recognizable from what he remembered. "They showed me the facilities, I think I recognized what little bit of the stadium shell hasn't been remade, but it's stunning to see where it's at now compared to what we had back then."
But Ogburn and company weren't the only familiar faces back in Autzen Stadium Saturday, as the big subplot of the day was the return of two wayward sons who got lost along the way, one a member of a family that should be considered Oregon royalty, now a part of the Washington Huskies coaching staff. UW Linebackers Coach Peter Sirmon and Defensive Coordinator Justin Wilcox both played for the Ducks in the 90's, Wilcox the youngest of the quartet of family members to have donned an Oregon jersey, who grew up alongside his brother Josh as ball boys on the Autzen Stadium sidelines.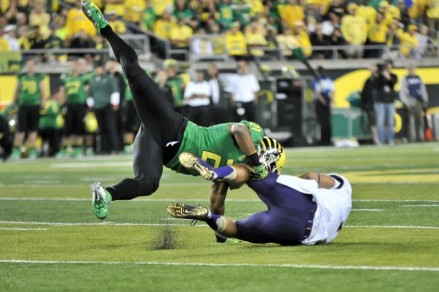 Fast forward a decade, and Wilcox has quickly become one of the hottest commodities in the coaching ranks, thought of as a 21st century defensive guru, and the lone man who supposedly has the secret formula to stopping Oregon's offense. In three prior encounters with the Ducks, Wilcox's crews have proven formidable, getting quality performances from his athletes in 2008 and 2009 at Boise State, and during the first half of 2010 at Tennessee before a lightning delay gave Oregon a chance to regroup.
With Washington carrying the burden of an eight-game losing streak to Oregon, the longest in the history of the series, it is no wonder that Washington brought in Wilcox as a last-ditch effort to find some miracle cure to the one thing that is most unacceptable to the UW faithful–losing to the Ducks. A lot.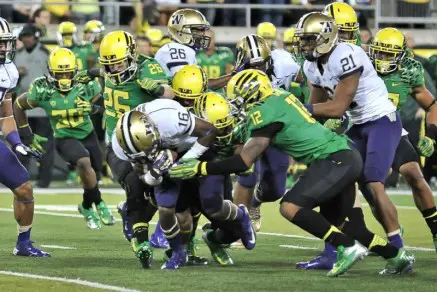 However, if Wilcox has some secret trick he has previously shown that somehow stops the vaunted Oregon offensive juggernaut, he clearly left it back in Seattle on this night. After an unbelievably stingy performance against Stanford the week prior, Washington had no answer for Oregon the entire evening, and caused more than enough self-inflicted wounds turning the ball over five times and failing to convert on 4th down attempts (including a fake punt). These miscues were more than enough for Oregon to put this one away early.
With the Pac-12 Commissioner Larry Scott on hand to witness the festivities and a nationwide television audience tuning in to Oregon's third consecutive nationally-televised ESPN night game (the result of being "a victim of their own success" according to Commissioner Scott), it was yet another opportunity to showcase to the rest of the country that the University of Oregon today is on par with any program in the nation. Oh how far things have come in 30 years.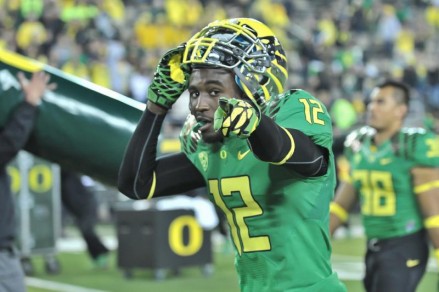 As the game unfolded, on the sidelines stood Reggie Ogburn, smiling and shaking his head in awe over witnessing what he never personally got to experience during his days–a jam-packed stadium and Oregon team that was bigger, faster, stronger, better than arguably any opponent they may face all year–the sense of pride almost overwhelming after encountering so many people over the weekend who remembered his accomplishments and the gracious welcome received upon his long overdue return. 31 years ago Steve Greatwood was blocking for Reggie Ogburn, trying to somehow find a way to pull out a win, now Greatwood coaches the Ducks, a team always expected to win.
"They (the fans) haven't forgotten, but I'd forgotten," said Ogburn. "I'd forgotten just how special this place is, there is nothing like it. I am so proud to be a Duck, so proud to have played a little part in helping to get the program to where it's at now."
With five minutes to go in the first quarter, freshman quarterback Marcus Mariota found sophomore tight end Colt "Bane" Lyerla downfield for a 48 yard catch-and-rumble, quickly followed up before the Huskies could catch their breath with a 21 yard touchdown pass to Keanon Lowe, left completely unguarded down the sideline.
Less than two minutes later, Oregon safety Avery Patterson read a telegraphed and slow-developing out pattern and jumped the route, taking an interception back 43 yards for a touchdown, the second pick-six in as many weeks for the new starting safety who has been tasked with having to replace senior captain and All-American John Boyett–out for the season due to knee surgery on both patella tendons.
Washington to their credit though didn't completely cave amidst the onslaught of points, showing resiliency and grit in desperately trying to keep up with the speedy Ducks. Perhaps it was pride, or rival hatred, or frustration over the inevitability of the fight; but after UW managed to score a touchdown and Oregon responded with a drive culminating in another touchdown toss, this time to Lyerla (the first of two touchdown catches on the day for the stout tight end), Washington began getting chippy.
Referees had to step in to break up a melee between Josh Huff and several Husky defenders following some extra-curricular activities after the whistle, and repeatedly Washington defenders were flagged for late hits out of bounds. Huff got his revenge in the best way possible, scoring a touchdown later while stiff-arming a defender the whole way down the sideline.
There were unsportsmanlike conduct calls on both teams, but the body language inflicted far more damage than any yardage lost. Washington was frustrated, angry, and couldn't do anything to repel the swelling tide of Duck superiority.
"They were definitely talking a lot, personal fouls came into play today, we've just got to learn to get our heads up and not get into that battle," said junior safety Avery Patterson.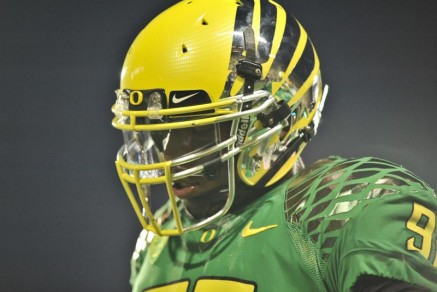 By halftime the score was 35-7. Normally this would have been a game where fans casually strolled back to the parking lot to get some midpoint refreshments, in no hurry to return for a game that was already over. But not tonight, not on Husky Hate Week. The fans wanted more carnage, to see Wilcox's defense as roadkill pushed aside after the Duck Truck rolls by, officially retiring the myth that Wilcox was the man who could stop the Ducks, having racked up a 2-1 mark against Oregon prior to Saturday.
The 2nd half would provide no respite though, the fumbled opening kickoff of the 3rd quarter an ominous sign of the futility of the matter at hand. Oregon's defense went into attack mode, while the offense went through the motions necessary to bleed the clock. Despite a touchdown run by UW RB Bishop Sankey in the third quarter, the game was over, and the crowd was letting every Husky on site know about it.
When the clock finally hit zeroes, 31 points was the difference on the scoreboard, fittingly the same number as the years since Reggie Ogburn's last visit to campus. 52-21, another 50+ performance by Oregon, another defensive display of dominance, forcing five turnovers, Washington only made the score slightly respectable with a touchdown run in the final minute of the game.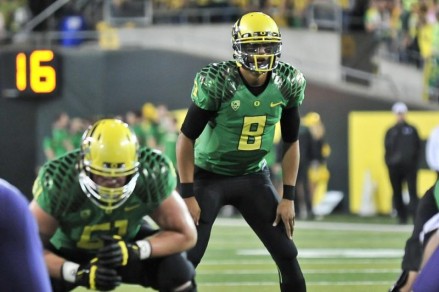 Marcus Mariota finished the day with four touchdown passes, and Kenjon Barner eclipsed the 100+ yard mark for the third time in 2012, in doing so also ascending to sixth on the all-time rushing list at Oregon. All three of Colt Lyerla's grabs had been spectacular, tallying two TDs and a big 48 yard grab to get the offense going early.
Defensively Kiko Alonso picked up Oregon's only sack, but the Ducks forced more than enough turnovers to compensate, though the pass rush had Keith Price scrambling for much of the game avoiding the barrage either running or throwing the ball away under pressure.
On a day when multiple highly-ranked teams succumbed to underdogs, Oregon dominated their matchup start to finish, proving they are more than worthy of their #2 ranking in the polls. Other contenders stumbled, while Oregon retained its status at least for another week as the elite of the west coast. All the sweeter that it came against a rival, but don't tell that to Oregon Head Coach Chip Kelly.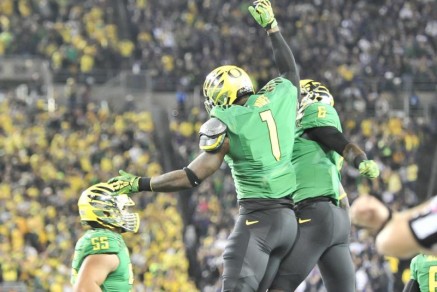 "Every week's a rivalry week for us," said Coach Kelly after the game, a statement he seems to grow weary of having to repeat after every big victory. "Our formula for success has worked every time, so maybe more people should look at it like we do. I've never understood the concept, 'hey lets circle two dates on the calendar and beat Washington and Oregon State,' but if we go 2-10 I'm not going to be sitting here next year, I'll tell you that right now."
If Oregon coaches tried to ignore the rivalry, Washington sure didn't, perhaps to their own peril. During pre-game warmups, multiple Washington players gathered at midfield, and spent several minutes chanting and stomping on the Oregon O logo, something UW players had done a decade prior following their last win at Autzen Stadium (2002). By game's end, the only stomping that mattered was the one that appeared on the scoreboard.
For now Chip and his team are still sitting here, high atop the national rankings, destined to attain the greatness they proved once again before a national audience that they are capable of achieving. All that's left is to prove it six more times, all rivalry games according to Kelly.
---
Game Notes:
This was the third consecutive night game broadcast nationally by ESPN or ESPN2.
The count now stands at 3,263 days and counting since Washington has beaten Oregon.
In 111 years in the series, The now nine game winning streak is the longest in the history of the series, though UW did win 9 out of 10 in the 1950's. Oregon has won 12 of the last 16.
Kenjon Barner entered the game five points behind Bobby Moore (Ahmad Rashad) on the Oregon all-time scoring list…Barner did not reach the endzone. He did however have his third 100+ yard rushing game of the season, and in doing so passed Ricky Whittle for #6 on the all-time UO rushing list. Last week he became the only UO player in history with two rushing touchdowns of 80+ yards.
Oregon has won every single game in the current win streak by 17 or more.
Oregon leads the Pac-12 in rushing offense and scoring offense, entering the game ranked 7th in the country in total offense.
Avery Patterson's pick six interception marked the fourth defensive score on an interception in the past three weeks, Patterson's second in as many weeks. It was the first pick six by Oregon vs. Washington since 2004 (Chris Solomona). 1991 marks the last time Oregon had four interceptions for TDs in a single year, accomplished in 11 games, Oregon in 2012 has equaled it in only six games.
Colt Lyerla's two touchdown catches in the game marked his 9th and 10th career touchdowns, accomplished in only 32 times having touched the ball.
Tyson Coleman had his second Roughing The Passer flag inside the redzone in the last two weeks, but this time was bailed out by a deflected interception by Isaac Dixon, after the penalty last week erased a deflected pick by Ifo Ekpre-Olomu.
Washington players during pre-game warmups stomped the Oregon O logo at midfield, and during the game were penalized for multiple late-hits out of bounds, on several occasions referees had to separate players as the game got chippy.
---
Pre-Game Photos:
[slickr-flickr tag="UW@Oregon10-06-2012-1″]
---
1st Half Photos:
[slickr-flickr tag="UW@Oregon10-06-2012-2″]
---
2nd Half Photos:
[slickr-flickr tag="UW@Oregon10-06-2012-3″]

CAN YOU HELP US?
The pictures you see of the Ducks on FishDuck.com come from professional photographers that must be paid! Please donate through one click so we have pictures from all the games this fall to use through the year. All previous donations helped to pay our big Web Developing bills recently, and I do appreciate it.
Our staff and the photographers who have thousands of dollars invested into their equipment to provide the high quality pictures do sincerely thank you.   Charles Fischer