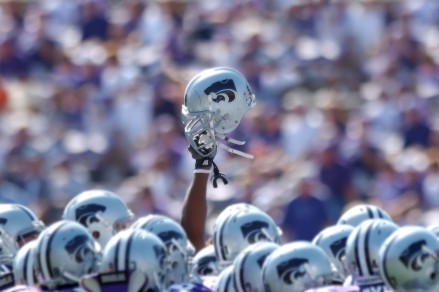 Say what you want about Chip Kelly, but in his 3+ years at Oregon, one common theme has emerged: His teams – after finding themselves up by 30, 40, even 50 points in two quarters – have played conservative second halfs more often than not.
As far as I'm concerned, it's time for that to stop.
On Thursday night, as Oregon was busy scoring 43 points in 18 minutes at Arizona State, one thing became clear: Oregon could have scored as many points as they wanted. However, after amassing over 300 yards rushing in the first quarter and a half, Chip went soft, taking the ball – and decision making – out of Marcus Mariota's hands.
Oregon, behind a defense that is stifling opponents, was never in danger of being challenged…but they wasted an opportunity to change the landscape of the BCS computers.
Last night, when the latest rankings were released, the Ducks had again slipped, this time being passed by Kansas State, fresh off a whipping of West Virginia. Oregon, as dominant as they were on the field against the Sun Devils, ended up looking average on the scoreboard, where it really counts. A 43-21 victory may have been great 10 years ago, when Oregon was playing for 8 or 9 wins.
For the modern day Ducks, however, it's national championship or bust. The only way to get there is to show no mercy.
Chip needs to wake up and realize that this is big boy football. Being sportsmanlike is all fine and dandy when you're in high school, but the stakes are much higher. Kansas State will not let off the gas, that much is sure. If the Ducks – free falling in the BCS – want a crack at the title, they need to follow suit.
Oregon's schedule is about to turn, with three top-20 opponents left in the schedule. The opportunity for statements will be right in front of them.
Assuming Chip plays his cards right, the Ducks can be right back where they belong: Number two, with a shot at Alabama.
USC will be a challenge, and Oregon State is always scrappy, but this Oregon team is too good not to play for it all. Going undefeated, mind you, is nothing to sneeze at, and never a guarantee. It's only happened one time in school history, and it created the most magical three months any of us have ever seen.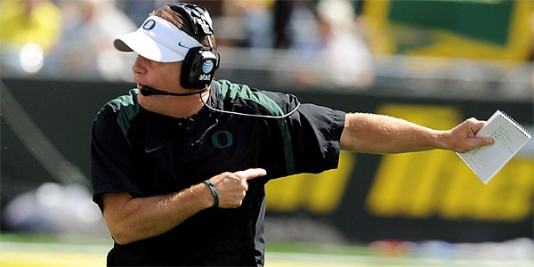 If Oregon is able pull it off again, it would be beyond a shame if they were not allowed to show the country how good they really are.
Kelly, for all of his humorous anecdotes, said something after Thursday that was worrisome. While meant as humor, it came off as a sign that he doesn't see the big picture.
"We've got to do a better job being up 43-7."
Yes, they do. As in, turn that 43-7 lead into 64-7. They can do it, and they can do it faster than any team in the country. Don't fool yourself; putting up 64 at ASU looks a lot more impressive to writers and polls than 43 does.
If Oregon loses a game and doesn't make it to Miami, home of this years title game, then it simply wasn't meant to be. Perhaps it meant they were too young and made mistakes.
Maybe they got snipped by an opponent on a bad day. If they finish 11-1 and miss out, Duck fans are prepared to live with that, because no team should ever complain about getting to 11 wins.
On the other hand, to go 12-0 and miss out because they let off the gas? I can't imagine anything more painful than that.

Want to Watch Oregon Games on your computer?
If you do not get all the channels that have the Oregon Football games, or simply want to be able to watch the game over again as you don't have the space in the DVR to hold all the games?
Contact me by email: charles@fishduck.com and I can help.  We have fans across the nation and internationally watching the games 24/7/365 and I wish that for everyone.  Charles Fischer