As the season heads for the home stretch, college coaches are doing a lot more than just creating game plans. National Signing Day is starting to come into view, meaning recruiting efforts around the nation are kicking into high gear. For many coaches, the recruiting battlegrounds provide a chance to make up for disappointing seasons.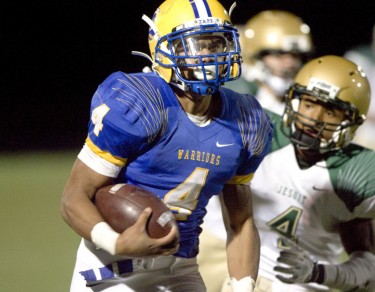 For Chip Kelly, recruiting is just another piece of the Oregon machine.
Chip's recruiting philosophy is simple enough: Bring in talented athletes who want to be Ducks. If a player doesn't want to be a Duck, then there's another talented guy out there who does. Kelly doesn't beg or harass recruits; He treats them like grown men and leaves them to make a decision on their own. How can he get away with this when the landscape is filled with smooth-talking coaches who have no problem tickling the ears of elite high-school talents? Well, quite simply, it's because the rest of the "machine" runs so smoothly that Chip is confident it'll keep churning out W's.
Chip wins. Because he wins — and because of HOW he wins — his job security doesn't ride on the future hopes of the Oregon fan base. While some coaches depend on elite recruiting classes, Kelly depends on a system that has proven successful to the tune of three straight conference titles/BCS bowl berths. Oregon fans care a lot more about 5-star recruits than the Oregon coaches do.
This isn't to say that the Ducks can win without talent. Oregon is, in fact, the 2nd most talented team in the conference based on recruiting rankings. That said, Mana Greig and Daryle Hawkins are staples in the offense, over teammates who were much more highly touted coming into school. The Oregon staff has proven time and again to be great at evaluating and developing talent. Thus, the coaches aren't forced to beg like so many others. There is enough talent out there, with interest in Oregon, for the Ducks to be selective and bring in only those recruits who are interested in becoming a part of the system.
All that said, it still hurt when Thomas Tyner, the homegrown 5-star seemingly created to play in the Oregon offense, de-committed. The message boards blew up. Local writers made themselves look silly.
All for what? Nothing. Tyner re-committed two days later.
What happened, you ask? Well, the UCLA coaches got in Tyner's ear and convinced him to visit sunny Los Angeles. Tyner was FORCED to de-commit by Chip Kelly and running backs coach Gary Campbell, since Oregon has a strict "no-visit" policy once a player commits. Tyner did some soul searching and realized a free trip wasn't worth all the trouble.
Tyner never wanted to de-commit, he just wanted a free trip to L.A. where he would've been treated like a king. It's hard to blame a 17-year-old kid for that line of thought, especially if you haven't walked in those shoes.
Losing Thomas, however briefly, made fans realize how valuable the RB position is at Oregon. The offense is dependent on backs with an elite combination of vision, agility and speed (See: LaMichael James, Kenjon Barner, and DeAnthony Thomas). Due to the lack of returning depth at the position, Oregon coaches have placed a great deal of emphasis on running backs in this class.  While Dontre Wilson and Thomas Tyner are an elite duo, the coaches are after a third, and none may be a better fit than the first player in this week's "Look Ahead":
Tarean Folston, RB
The Florida native is one of the best backs in the nation and boasts an impressive set of skills. Perfectly suited for the Oregon offense, Folston has vision, patience, and very quick, choppy feet. Also blessed with great speed, Folston would look great running the IZR or OZR (Inside Zone Read or Outside Zone Read).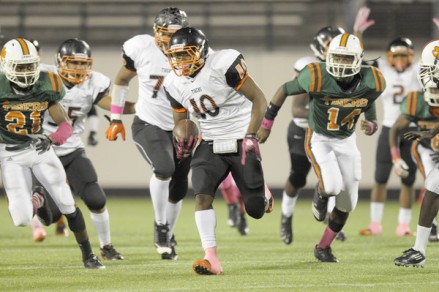 With offers from Auburn, Alabama, Florida, Florida State, and Notre Dame, Folston is highly touted. The fact that he didn't commit during a recent official to Notre Dame is a great sign for the Ducks, especially since Oregon is the only other school Folston definitely wants to officially visit. Though he has a number of unofficial visits under his belt, the fact that he hasn't committed anywhere speaks to how open he still is. His interest in Oregon appears serious.
No visit date has been set up, and it doesn't look like he'll be able to visit Autzen on a game day. That's unfortunate, because the atmosphere is such a selling point for the Oregon coaches. Nonetheless, if the Florida back can somehow make it to the Stanford game — or already has Oregon in the lead — a commitment could be on the horizon.
Odds: 40%
Derrick Green RB
Seen by some as the top RB in the nation, Green can only be described as a "beast." Strong and explosive with a thick frame, Green is also quick to get up field. This is the type of back you typically see at Alabama or Auburn.
Green has offers from everyone, and most feel like Oregon is a longshot. However, he has been adamant about his interest in the Ducks and has an official visit scheduled for the Stanford game. Watching an undefeated Oregon team pummel the Trees wouldn't be a bad way to get Green's attention. Never say never, as Oregon is a very attractive place for elite running backs right now.
Odds: 20%
Leon McQuay III ATH/S
Leon is an explosive athlete who will end up being a great college safety. He's tall and long, fitting the current mold of DB the Oregon staff is pursuing. McQuay is a stud in run support, flashing great speed and angle awareness in pursuit. He's also great in coverage, showing off ball skills and natural instincts. He's the complete package.
Most consider Oregon a major dark horse. USC is thought to be the leader (even though they have no more scholarships to give out; go figure), and Florida State, Michigan, and Vanderbilt are right there too. McQuay's official visit to Oregon for the Colorado game will be big. If the Ducks want to have a shot, they'll have to blow McQuay away. LQIII is also serious about music production and wants to attend a school with a good music program.
Odds: 10%

Want to Watch Oregon Games on your computer?
If you do not get all the channels that have the Oregon Football games, or simply want to be able to watch the game over again as you don't have the space in the DVR to hold all the games?
Contact me by email: charles@fishduck.com and I can help.  We have fans across the nation and internationally watching the games 24/7/365 and I wish that for everyone.  Charles Fischer