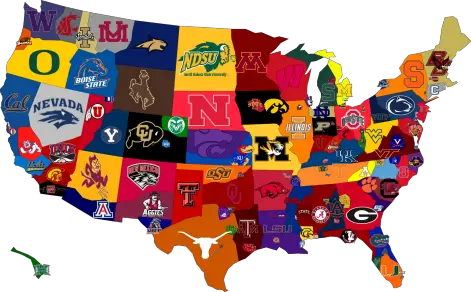 After this week, we can really see who made a statement to be in the title game. We can pretty much take West Virginia out of all title and Heisman talks…welcome to the BIG-12. SEC looks to place at least two teams in the BCS…so what else is new? After this week we are definitely in for a true offense vs. defense title game. Now into the news and thoughts from this past weekend's action:
Roll Tide. That's all I have to say about that. Alabama beat up helpless Tennessee 44-13 and officially put Derek Dooley on the unemployment list. Alabama should have a great test next weekend vs. Dan Mullen's bulldogs of Mississippi State.
Gators made Steve Spurrier remember why it is so tough to play in The Swamp. I did not even think the game would be that big of a blow out. NO ONE thought it would be like that. Turnovers were the name of the game, but Florida played inspired on offense and defense. Jeff Driskel and the Gators just keep getting better by the week. Florida beating South Carolina 44-11 definitely got everyone's attention. Gators will wrap up the SEC EAST title with a victory over Georgia. Speaking of Georgia…come on…you have to beat Kentucky by more than five points.
West Virginia is finding it harder and harder to compete in the BIG-12 as each week goes by. Kansas State put the smack down on WVU title talks and Heisman talks when they went into Morgantown and won 55-14. Collin Klein got his Heisman campaign going into full swing with that victory.
Notre Dame barely beat BYU 17-14. The Domers schedule is becoming more of a joke than a strength since most of the top teams on it are struggling. When Notre Dame joins a conference and goes undefeated, then I will care what they do.
Texas A&M hung tough with LSU before falling 24-19. Texas A&M has a bright future with Johnny Manziel at QB, but will have a tough time competing with Alabama and LSU every year.
Oklahoma and Southern Cal both took care of business vs. inferior opponents and won by almost 50. That is expected when you are playing Kansas (in football) and Colorado. Hopefully they can have that momentum carried over into their next game.
Texas Tech showed it was for real after beating TCU in TRIPLE OVERTIME 56-53. Tuberville has his boys ready to play in the BIG-12. The Red Raiders look to make the BIG-12 title chase interesting.
BIG EAST UPDATE. Cincinnati is no longer undefeated after dropping a close one to Toledo 29-24. Ewwww, you don't lose to MAC teams, even if you are a BIG EAST team. Rutgers and Louisville both won to stay tied for first place in the BIG EAST. If both teams keep winning, then the end of the season showdown will be for all the marbles….but does that really say much since it is the BIG JOKE…I mean BIG EAST.
Ohio State almost lost to Purdue in overtime, but the buckeyes are still on probation so they still don't matter. I still would love to be a team in the LEADERS division. Penn State and Ohio State just keep winning but the wins do not mean a thing. All you have to do is come in third place to make the BIG-10 title game and Wisconsin is doing just that….hello Rose Bowl.
The website gives enough love to Oregon, but I will give a shout out to the first half blowout over Arizona State. Oregon might have been up 43-7 at halftime, but voters who do not stay up and watch the game see 43-21 and think, "oh, it was a close game." For those of us who stayed up and watched it, we saw the dominant Ducks. Chip needs to pour it on a little bit more in the second half. Let's go for 60 points next time. That would be a statement that would help with the voting.
No real upsets this week, but the Gators and Tide cemented their spots as the #1 and #2 teams in the country after impressive victories. BCS rankings are out and a lot of Oregon fans were upset at the #3 ranking. Ducks need to just keep playing their game while Florida or 'Bama knock each other out of contention. We also could have a real possibility again this year with four teams undefeated. After Kansas State and Notre Dame finish off another opponent, they both could be undefeated at season's end. This could be one last year of BCS mess until the playoffs get here. So much more conference play is about to happen and a few top ranked teams should be on upset alert next week.
Until next week college football nation
National News:
1. Stanford keeps the axe
2. College football mailbag
3. Big brother finally beats little brother
4. BCS buster broncos at it again
5. Clemson is back on track
Oregon News:
1. Ducks not on course vs. Stanford
2. Lady Ducks soccer forks Sun Devils
3. Volleyball team still rolling.
4. Stewart still making contributions to Ducks
5. Ducks desert swarm Sun Devils

CAN YOU HELP US?
The pictures you see of the Ducks on FishDuck.com come from professional photographers that must be paid! Please donate through one click so we have pictures from all the games this fall to use through the year. All previous donations helped to pay our big Web Developing bills recently, and I do appreciate it.
Our staff and the photographers who have thousands of dollars invested into their equipment to provide the high quality pictures do sincerely thank you.   Charles Fischer