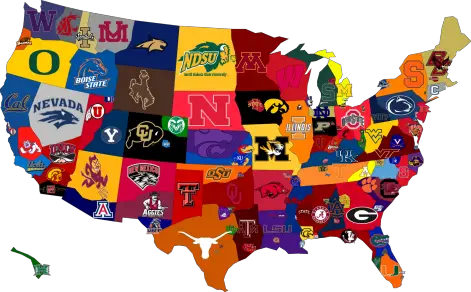 If you would have told me the Big East would have three undefeated teams right now, I would have called you a liar and smacked you. Just when the Big East seemed to be down and out, they are putting on a show for college football. The Big-10 is just a mess this year and after watching its "top" teams lose, they will be lucky to get a team to the Rose Bowl with less than three losses. The SEC flexed its muscles and knocked out one another from title contention (minus Alabama). At this point in the season, we are starting to see who the studs (Alabama) and duds (West Virginia) of college football are. Let's get into some news and thoughts about the past weekend's games:
Alabama demonstrated it is #1 by pounding Missouri 42-10. Alabama showed Missouri some "old man" football and ran all over the Tigers. It is a lot tougher sledding for Missouri in the SEC than they thought.
GAME OF THE NIGHT: LSU showed signs of life by beating South Carolina 23-21. If any of you know Les Miles, you know he was most likely going to win this game. The "Mad Hatter" had his boys ready to play. Besides, who wins against LSU at night in Tiger Stadium? With that loss, South Carolina will be looking to regain momentum next week vs. Florida.
Speaking of Florida, Gators win a close one vs Vanderbilt 31-17. Gators QB Jeff Driskel ran for a school record 177 yards (for a QB) vs Vandy. Gators started off slow and were a little sluggish but used a fake punt to set up a score and get the offense going. Gators blocked a field goal and held Vandy to a pair of field goals instead of giving up a touchdown late in the game to help seal the victory. Gator defense has really come a long way this season and coming up big when needed. Thanks to the defense, Gators have won 22 straight vs Vandy. Now Gators can start looking ahead to next week's match up vs. Spurrier.
West Virginia won 49-14…oh wait, they lost 49-14? Did not see that coming. Geno Smith is still perfect and has not thrown a single interception all year, but it did not matter. Texas Tech came out swinging and man-handled WVU. Back to the drawing board for Dana Holgorsen.
Bill Snyder deserves coach of the "lifetime" award. Kansas State beat upset-minded Iowa State 27-21. He has them in the Top-10 and competing for the BIG-12 title once again and deserves some props for that. Anyone who can do what he is doing with Kansas State deserves some recognition.
FSU beat Boston College 51-7…who cares. FSU blew it and showed everyone the hype is for nothing. So that's all I have to say about that.
Everyone forgot to tell Stanford you not only have to beat Notre Dame at home but you also have to beat the officials. Miami can relate to Stanford's frustration over refs missing a call while playing Notre Dame at home. Notre Dame….your golden dome is tainted after that 20-13 victory. Will someone just beat them and end the discussion. Probably won't be next week since the game is vs. BYU. BYU has been great on defense but horrible on offense this year and Oregon State exposed them this past week. 
Do I need to even give any love to Ohio State? They barely beat Indiana 52-49 and are banned from post season play. Let's get back to them next year when their wins actually mean something.
Red River Shootout was a shootout, but only for Oklahoma. The Sooners dominated the Longhorns 63-21. It was not even close. Texas got two late scores to make it not look that bad. Texas is not paying Mack Brown $5 million a year to lose like that. Texas will need ten wins for Mack Brown to get his name off the hot seat. Bob Stoops is hoping this game will get the momentum going and help his team get back into the national title scene.
Rutgers, Cincinnati, and Louisville all took care of business to remain undefeated. The Big East race has become a 3-headed race. I will put my money on Louisville, but you never know. I also predict that at least one of the head coaches from those teams will be snatched up by a bigger BCS program following the season.
Texas A&M took care of business vs. Louisiana Tech 59-57. The Aggies almost gave up another huge first half lead down the stretch. Texas A&M has its offense clicking and that's a good thing since they have LSU and Alabama up next on the schedule….I am sure it will be a "welcome to the SEC" moment.
As for the rest of the nation: Poor Duke. After being up 20-0, Virginia Tech rallied and won 41-20. Arizona State is 5-1 after beating Colorado. We will see how good the Sun Devils are after this week's upcoming game vs. Oregon. Ole Miss beat Auburn 41-20. Ole Miss even had a little Michael Dyer luck going when their player bounced off the top of an Auburn defender and continued to run for a score. Karma is a mother, Auburn. Maryland beat Virginia 27-20. Maryland is now 4-2 on the year and quietly putting together a nice season. Arkansas found its groove by beating Kentucky 49-7 in a shortened game. Mississippi State beat Tennessee 41-31 to continue its hot streak. Dan Mullen is working miracles right now, but will need one more to beat Alabama in two weeks.
Looks like being a Top 5 team has not been so welcoming these past few weeks. Last week, FSU lost, and this week it was South Carolina. As conference play continues, it will be interesting to see what team in the SEC EAST takes control. Also, will any BIG-10 actually stop losing and get a team to the Rose Bowl with less than three losses? Still a lot of football to be played with some great match ups next week. All eyes will be down in the swamp next week as South Carolina travels to face Florida in the swamp. This will be a true test for the Gators to see where they stand.  It still looks to be an Alabama vs Oregon national title game after this past week, but you never know. That's why we play the game.
Until next week college football nation
NATIONAL NEWS:
1. College football mailbag
2. Boise State lucky seven
3. Winning helps recruiting
4. More Week 7 thoughts and highlights
5. And some more Week 7 news
OREGON NEWS:
1. PAC-12 highlights
2. Huge Oregon win over Huskies
3. Ducks run over competition
4. Civil war ends in favor or Oregon
5. Former Duck Stewart shows Oregon the money

Want to Watch Oregon Games on your computer?
If you do not get all the channels that have the Oregon Football games, or simply want to be able to watch the game over again as you don't have the space in the DVR to hold all the games?
Contact me by email: charles@fishduck.com and I can help.  We have fans across the nation and internationally watching the games 24/7/365 and I wish that for everyone.  Charles Fischer