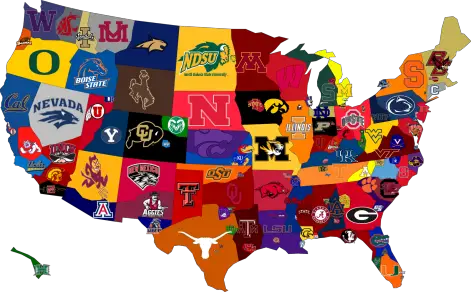 The dominoes are falling. As this week played out, we are trimming the list of national title contenders to just a handful. The Gators got bumped thanks to turnovers, while Notre Dame and Kansas State made their case for the number two spot. As for Oregon: Gosh, let's just hope they stay in the top 5 of the BCS. Just kidding…but seriously, what's up with that? Despite all the exciting games today, we should have a moment of silence for Marcus Lattimore of South Carolina. He suffered a severe leg injury that will probably keep him out of football for a very long time, if not permanently. As much as we don't like other teams and or players, we never like seeing an injury like that. Now let's get onto some news and thoughts from this past week of action:
Two words: Roll Tide. That is all you can say about Alabama and their domination over Mississippi State. Alabama seems finely tuned for their big game next week vs. LSU.
The Florida Gators pretty much sent themselves home in the SEC East race after committing six turnovers and falling to Georgia 17-9. It is hard for any team to win when you commit that many turnovers. Credit Georgia for being able to capitalize on any of their turnovers, when they themselves where playing a sloppy game also. All Florida fans now will be an Ole Miss or Auburn fan, in hopes of getting a trip to Atlanta for the SEC title game. (Does anyone really want to go and face Alabama there?)
It does not matter who Kansas State is playing, they are going to score 50+ points on them. Snyder and his boys routed Texas Tech 55-24. Kansas State QB Klein solidified his trip to New York for the Heisman after another four touchdown performance. Coach Snyder should win Coach of the Year in my book. He does more with less there at Kansas State. How do you convince kids to go there and then mold them into a championship team? He's got my vote.
Oregon dropped Colorado 70-14. Oregon has had just about every game they played wrapped up by halftime. Is not that enough to impress the voters? I think Oregon played everyone they had on their roster today, and still managed to manhandle Colorado, using 3rd and 4th stringers. With all of these blowout losses coming for Colorado, do they really belong in the PAC-12? Larry Scott Should have got BYU. I will not go into my conference realignment rant right now.
Notre Dame is back, or at least that is what Lou Holtz will be ranting about all week. The Notre Dame defense defiantly kept Landry Jones and the Oklahoma offense in check most of the night. Notre Dame poured it on late to win 30-13, making it seem worse than the final score. Was it just me or did it sound like Notre Dame had more fans cheering in Norman than Oklahoma fans? The voters would love to see the Irish play for the national title if they go undefeated. If you are an Oregon or Kansas State fan, you need to be worried about the Golden Domers jumping you in the poll. The "College Football Gods" would love nothing more than to see the traditional powerhouses of Alabama vs. Notre Dame. So keep hoping for an upset, or Notre Dame is headed to Miami.
What's that FSU? You beat Duke 48-7. Who cares! You're supposed to beat them, but way worse than that. Oregon got 70 on Colorado. Also, Ohio State won the battle of NCAA probation schools vs. Penn State 35-23. It's like that game never happened, since it will not matter or count for anything. Next year we will give some love to Ohio State, maybe.
USC is turning into a disappointment, while not helping Oregon's resume.  The Trojans dropped a close one to Arizona 39-36.  Rich Rod has the Desert Swarm alive and well, proving to be a great hire, and making some noise in the PAC-12 South.  USC WR Marqise Lee was still able to create a positive during the loss, by setting a conference record with 345 receiving yards.  We are seeing video game-type numbers for teams offensively this season.
The Big East is almost sorted out. Louisville took care of Cincinnati in overtime, while Rutgers dropped a random game to Kent State. The Big East is so up-and-down at times. It will be even worse next year when you have teams from all over the country competing. Louisville is still my pick.
Ohio dropped a tough one to rival Miami(OH) 23-20, to fall from the unbeaten ranks. Ohio looked to be the only BCS buster this year, but those dreams are over. Guess we all have to get back on the Boise State BCS buster bandwagon.
Now some more news from around the nation: Northwestern is putting together a nice season after beating Iowa 28-17. If not for the last minute meltdown against Nebraska, they could be in first place in the Legends division. Texas needed a last-second touchdown to beat Kansas 21-17. Anyone who does not beat Kansas by 30 or more should have it count as a loss. And can we say QB controversy at Texas again? South Carolina held off Tennessee 38-35, but at a huge cost. They lost perhaps the best running back ever to play at South Carolina… forever. UCLA edged Arizona State 45-43 with a last second field goal. Never a dull moment in the PAC-12 South.
Another week is in the books. I still have Alabama playing Oregon down in Miami for the national title, but I think the voters will be looking to send Notre Dame down to Miami in place of Oregon. This could be the year we wanted the playoffs to start if Alabama, Oregon, Kansas State, and Notre Dame all finish undefeated. It is going to be a pure mess. Next week, two major matchups will happen that will really could help get a clearer picture of where Alabama and Oregon stand. Alabama will be traveling to LSU, while Oregon heads down to LA to face USC. Both games will go a long way in showing the country why they will be playing in Miami. Should be a very interesting next few weeks for all college football fans as we wait for the next upset.
Until next week college football nation…
NATIONAL NEWS:
1. Man down in South Carolina
2. College football mailbag
3. Red vs. Blue
4. Johnny Football rolls Auburn
5. Massive overview of Week 9
OREGON NEWS:
1. Oregon on look out for Stanford
2. Ducks faster than Buffaloes
3. Rose Bowl rematch
4. Ducks sweep Buffs
5. Ducks run for PAC-12 title

CAN YOU HELP US?
The pictures you see of the Ducks on FishDuck.com come from professional photographers that must be paid! Please donate through one click so we have pictures from all the games this fall to use through the year. All previous donations helped to pay our big Web Developing bills recently, and I do appreciate it.
Our staff and the photographers who have thousands of dollars invested into their equipment to provide the high quality pictures do sincerely thank you.   Charles Fischer