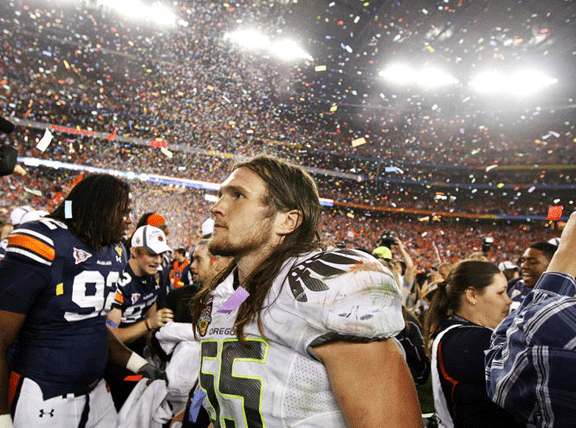 The winter of 2011 was a dark time for the Oregon faithful.  Losing the National Championship weighed heavily on the minds of Duck fans, but it was not the primary source of their consternation.  Nor was the realization that the Ducks had failed to capture the championship, despite having the country's best team for the second time in four seasons.  Many other teams in recent years (Miami in 2002, USC in 2005) had suffered the same fate, failing to play better than their opponent in the season's most important game.
Rather, it was the public consensus of opinions that Oregon fans had clearly witnessed to be untrue.  The sports world considered Auburn a powerhouse program, and their coach Gene Chizik was a championship-caliber coach. Cam Newton was considered a better quarterback than Andrew Luck, and Oregon's offense could be accurately described by Brent Musburger.  Duck fans were flummoxed by incongruencies that the national masses had chosen to accept.
Today, less than two years since that fateful day, the rules of the universe, with regards to that game, have been correctly realigned.
Following Saturday's 41-20 loss to Ole Miss, who had lost 16 consecutive SEC games prior to their contest with Auburn, the Tigers fell to 1-5 on the season.  Their lone win came at home, in overtime, against vaunted Sun Belt juggernaut Louisiana-Monroe, whose upset over #8 Arkansas on September 8th looks less impressive by the week.  The only opponents they will be favored against this season are New Mexico State and Alabama A&M, meaning a 3-9 finish and a winless conference record are very realistic possibilities.  As SI's Cary Estes pointed out, the last team to have a losing record within two years of winning a national title was Georgia Tech in 1992, who lost their head coach from that title season, Bobby Ross, in between those seasons.  The man at the helm of Auburn's title, Gene Chizik, is still on their sideline.  For now.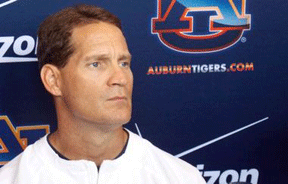 Chizik was hired by Auburn in December 2008 following two seasons at Iowa State, in which he amassed a 5-19 record and was in the midst of a ten-game losing streak upon changing jobs.  Accusations of racism by the administration from alumni, including its most famous one, caused the hire to be marred with controversy.  Noise from the hire died down after Chizik's first two seasons – an 8-5 campaign with an Outback Bowl victory in 2009, and his championship season the following year – but a losing record (9-10) since has given Auburn fans pause as to whether Chizik is the right coach for the Tigers.
If Auburn were to depose Chizik, which as al.com's Kevin Scarbinsky reported this week wouldn't require as large a buyout as previously suspected, it would be a nearly unprecedented move.  Only five national championship-winning coaches in the modern era have been forced to vacate their coaching positions at the school where they won the title.  Three of those – Woody Hayes, Joe Paterno, and Jim Tressel - lost their jobs for reasons other than wins and losses.  Phillip Fulmer (Tennessee, 1998 Champions) and Larry Coker (Miami, 2001) are the only other coaches to have been removed by their schools after winning a national title, although the time in between championship and departure (Fulmer – ten years, Coker – five) for them was far longer than Chizik's potential end date.
Largely, this is because people are realizing Chizik is responsible for little of the success over his tenure.  The spread offense that helped maximize that talents of his 2010 offense are largely attributed to offensive coordinator (and current Arkansas State head coach) Gus Malzahn.  The defense that penetrated Oregon's line so well in the 2011 title game, as well as much of the offense, was comprised primarily of players recruited under former head coach Tommy Tuberville's tenure.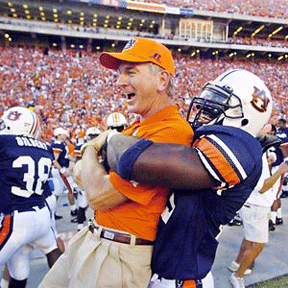 Tuberville was bought out following the 2008 season, his first with a losing record (5-7) in nine years.  His achievements while coach of the Tigers left little to be desired, beyond a national title: five SEC West division titles, two top-10 finishes, a 5-3 bowl record, an SEC title and perfect season in 2004.  Most importantly to the alumni, he was the only Auburn coach to ever beat Alabama in six consecutive games.  20 of Auburn's 24 starters (counting specialists) on its 2010 team were upperclassmen, most of whom were already on campus prior to Chizik's hiring.
While Chizik gets credit for purchasing recruiting Newton, to date, that seems to be his sole contribution (albeit a significant one) to Auburn's success.  While some may consider the statement that he only brought Newton to Auburn to be akin to "Bill Walsh only drafted Joe Montana…", if Mississippi State had ponied up the widely-reported amount requested by Newton's father, Cecil, of $180,000, we might be talking about a certain crystal football residing in a trophy case in Starkville, Mississippi.
As for Newton, NFL fans are discovering what Oregon fans long suspected: he is a hypertalented athlete whose commitment to improving himself and his team will always be secondary to being a star.  Newton had been stamped with the label of a winner, having won a national title at the junior college level and two titles at the FBS level (the other coming as the third-string QB of the 2008 Florida Gators.)  Yet, his JUCO national title came in a game decided by a teammate returning a kickoff for a touchdown, and Duck fans know about his tepid performance in the 2011 title game, where he had two turnovers officially, with another two rescinded by questionable officiating.
Yet as a pro, Newton has shown how one-dimensional his talent is, having won only a third of his games.  He has only a single win in 2012, showing he may not be capable of improving faster than the coaches can adjust to him.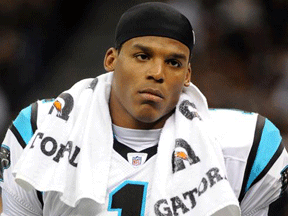 Much like a young pitcher in baseball dominating the league early on by being previously unseen, Newton's freakish athleticism gave him an advantage early in his career.  Previously, he had always ascended a competitive level before teams could play him again.  Now he has to adjust to teams who have seen him before, yet he hasn't matured or improved himself or his team, with the consistency expected of a quarterback with his rookie year production.
While all this schadenfreude of a team who once got the best of the Ducks might be enjoyable, it also reveals a truth about how to build a college football program that always was, and remains true: That a program built on rock is going last longer than one built on sand.
Oregon and Auburn's programs have shared some historical similarities.  Both had periods of success in the late 50s and period of strife in the late 70s.  Both began to find a groove in the mid-90s, leading to a year of national contention in the first half of the 2000s only to be kept out of the big game by controversial means.  A couple of years later, each would find themselves ending a season with a losing record, that season being punctuated by a bad loss to its rival.
But their directions thereafter could not have been more different.  Following a disappointing 2004 season, Oregon could have taken a machete to the program, gone out, spent millions of dollars from prominent donors and chased the hot name in coaching.  Instead, they chose to examine the trends in college football and reshape their offense.  That remodel eventually led to the hiring of Chip Kelly, an offensive coordinator brought to Eugene because of his knowledge of a system Oregon chose to implement prior, rather than being a name.  Kelly's prominence today wasn't from the luring a name, but rather the result of an organic process.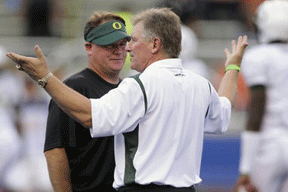 When Auburn was faced with the same dilemma in 2008, it went get-rich-quick.  They hired the hot name in assistants with Gus Malzahn, who had demonstrated himself at previous stops with Arkansas and Tulsa.  A year later, in response to rival Alabama winning its first national championship in 17 years, they loaded up on players with questionable histories like Newton, Nick Fairley, and Michael Dyer, all of whom left school prematurely.  The collective jealousy their success spawned led to the poisoning of the trees of their campus' most visible icon – Toomer's Corner.  They may have won a title, but as USC showed, they could have easily had it vacated through punitive sanctions.
Today, Oregon is 6-0, and if it can replicate the first half of its season in the second half, it will play for a national title.  Auburn has itself a title, but so does Maryland, Minnesota, and Colorado.  How many of their fans would trade that title to be where Oregon is now?
Auburn sacrificed everything for a single year of success; becoming college football's answer to the Florida Marlins.  The following year, their bitter rival, the Alabama Crimson Tide, the team whose title the year before drove them to mortgage everything, was back on top, something Auburn fans would have done anything to prevent. The Crimson Tide may win it all again, but Auburn can no longer do anything to prevent that.  Auburn fans would want nothing more that prevent that, but the team with the best chance to knock Alabama off isn't Auburn, it's Oregon, and that's an opportunity Auburn would do anything to have.

CAN YOU HELP US?
The pictures you see of the Ducks on FishDuck.com come from professional photographers that must be paid! Please donate through one click so we have pictures from all the games this fall to use through the year. All previous donations helped to pay our big Web Developing bills recently, and I do appreciate it.
Our staff and the photographers who have thousands of dollars invested into their equipment to provide the high quality pictures do sincerely thank you.   Charles Fischer