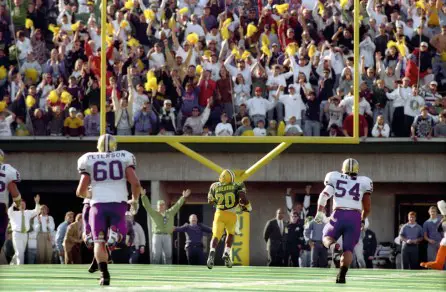 Who they are: University of Washington Huskies – Pacific-12 North Conference
Head coach: Steve Sarkisian (4th year)
School Colors: Purple and Gold
Located: Seattle, Washington
Mascot: Harry the Husky
2011 record and rankings: 7-6 (5-4, 5th place Pac-12) Alamo Bowl losers to Baylor 67-56.
This year/Last week: #23 3-1 (1-0)/ Recorded an upset of then #8 Stanford on Thursday night, 17-13.
Season Results:
Wk 1 Home: W 21-12 vs San Diego State
Wk 2 Away: L 3-41 vs #3 LSU
Wk 3 Home: W 52-13 vs Portland State
Wk 4 BYE
Wk 5 Home: W 17-13 vs #8 Stanford
How they rank: (National , Conference)
Total Offense: (#107, #11) 271 plays, 4.62 YPP, 313.25 YPG 23.25 PPG (#91/#10)
Total Defense: (#21, #2) 253 plays, allowing 4.98 YPP, 315 YPG 19.75 PPG (#32/#4)
The Other forecast:
Mostly clear skies expected Saturday with a high in the mid-70's. However, the temperature will be plunging by kickoff, and as we have already seen this week – an overnight low in the high 30's is expected. Bundle up!
Quick Quack:
The 112th meeting between the Ducks and huskies will kick off at 7:30pm at Autzen Stadium.

Washington leads the all-time series 58-41-5.

Oregon holds a 13-10 advantage in games played in Autzen Stadium.

The Ducks have won the past 8 games against uw by average final score of 42.8 to 17.1

Oregon has won 27 of the past 28 games played at Autzen Stadium.

Aside from their 52-13 win over FCS foe Portland State on Sept. 15, the Huskies are averaging 13.7 points and 274.7 yards in their other three games.
Quotable:
 - Sarkisian on facing the Oregon offense: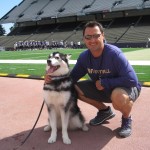 "We've implemented enough no-huddle in our own scheme so that it won't be so foreign for our (defensive) guys because they see enough of it from our (offense)."
– Sarkisian on reversing the recent game trends against UO: "We have the depth in place where we can minimize them pulling away in the late third quarter or fourth quarter,"
– Sarkisian on the progress of his team: "I knew what I wanted us to look like from the first day we took the field and what I wanted us to look like as we moved forward.For the most part, we've done that."
– Sarkisian on the huskies: "Inevitably, I know when I look at our roster, we've got a good football team on paper."
– Sarkisian on facing Oregon: "They've been hard-fought first halves and then they pulled away from us."
– Sarkisian on Chip Kelly's offense: "They run really good football plays. But the reality of it is those plays become even better when you are wrong on defense and you make mistakes."

– Nick Aliotti on the Ducks defensive line: "As far as work ethic and attention to detail and how they approach the game, and how they work every day, this D-line is as good as any we've ever had."
Keep an eye on:
Offense
#17 Keith Price, QB
2012 Stats: 75-127 59.1% 737 yards (184.0 yds/g) 5 TD's 2 int, 5 sacks, 18 carries -32 yards, 11 sacks
The Huskies QB returns to Autzen Stadium, where he made his first start in 2010 in relief of Jake Locker, who was injured for that week only. Last season as a starter, Price posted his name all over the school record books, breaking the mark for touchdown passes in a season with 33 (five more than the previous record). He also set school records for completion percentage (66.9%) and pass efficiency (161.09)
After an eye-popping seven touchdown game against Baylor, in which he accounted for 438 passing yards, and three rushing touchdowns, the junior team captain was tossed around as a potential Heisman candidate in the off-season. However, after a lackluster start to 2012, those whispers have since gone silent. An athletic quarterback who generally makes good decisions with the football, Price will be hoping for more time in the pocket, as he was knocked around and sacked seven times by the Ducks last season in Seattle.
#25 Bishop Sankey, RB
2012 Stats: 64 catches, 329 yards, 5.6 ypc, 4 TD's
Another in-state prospect, Williams caught the attention of the Huskies after tearing up the 4 A level in Spokane. He split time last season in relief of Chris Polk, and on special teams, before assuming a starting role this season, in part due to an injury to Jessie Callier.
The 5'10" 200 lb RB has gone over 100 yards in each of the last two games against Portland State and Stanford. Last week against the Cardinal, Sankey rushed for a career high 144 yards, including a 61-yard touchdown scamper that ignited the Husky come back.
#2 Kasen Williams, WR
2012 Stats: 25 catches 292 yards, 11.7 ypc, 3 Td's
The strong and speedy 6'2″ 215 lb receiver and punt returner worked his way into the starting lineup as a true freshman last year. Seemingly becoming more productive with each game, Williams has come on strong for the Dawgs since the second half of last season.
While he has been held in check most of the season, especially so in a 3 reception 19 yard outing against LSU, Williams had his most productive game last week. Against Stanford, Williams set career highs in both receptions (10) and yards (129)
His stumbly, bobbly, flailing catch late in the game gave the Huskies the final 17-13 advantage over the then #8 Cardinal.
#88 Austin Seferian-Jenkins, TE
2012 Stats: 22 catches 221 yards, 10.0 ypc, 1 TD
Since the former #1 rated prospect in the state of Washington committed to UW, Husky fans have been waiting for the massive 6'6″ 265 lb player to live up to the hype. A more reliable target in the offense this year, "ASJ" still has yet to have a signature game against a division-1 opponent, mostly racking up huge numbers against the likes of Hawaii, and Portland State.
Seferian-Jenkins also is pursuing basketball at Washington, seemingly trying to fit in the mold of a player like the San Diego Chargers Antonio Gates, a tight end / power forward combo.
Defense
#6 Desmond Trufant, CB
2012 Stats: 12 tackles, 1 INT, 3.5 tfl, 1 sack, 2 Pass breakups
The senior defensive back from Tacoma is part of a storied Northwest football family, as his brother Marcus terrorized Pac-10 passing attacks for the Cougars, and currently for the Seattle Seahawks. He also has another brother, Isiah, who played at Eastern Washington and with the NY Jets.
Since fighting his way into the starting lineup as a true freshman in 2009, he has been one of the most steady performers on the Huskies defense. Now a team captain, he has been an All-Pac-10/12 honorable mention selection in two of his first three seasons, and named as conference player of the week after a game against Eastern Washington last season. In his 42 career games, he has  racked up 26 passes defended, and 6 interceptions, including a game-sealing interception against Stanford last week.
#22 Josh Shirley, DE
2012 Stats: 10 tackles, 2 TFL, 1 sack
At 6'3″ 230 lbs, he is perhaps a bit undersized by traditional division-one defensive end standards, Washington's #22 made a big statement last year as a redshirt freshman in recording a surprising 8.5 sacks, 12 tackles for loss and forcing two fumbles. A player with good technique and speed, he has helped carve out a respectable Husky pass rush that had gone M.I.A. much of the past decade.
After sacking RGIII three times in the Alamo Bowl, Shirley will surely (sorry) have the attention of Oregon's offensive line on Sunday.
#10 John Timu, LB
2012 Stats: 24 tackles, 1 sacks, 2 tfl
The 6'1″ 231 lb sophomore played immediately late season as a true freshman, and has emerged as a leader for the Huskies this season, being named as a team captain. A versatile defender, Timu has shown that he can do just about everything; defending passes, getting tackles for loss, rushing quarterbacks, forcing and recovering fumbles, and so on.
Known as an emotional leader, and big hitter, Timu had 8 tackles, one for a loss, and forced a fumble against the Ducks last season. He seems to thrive in the big games so far, and capped the season with another 8 tackles and a fumble recovery against Baylor last season.
#7 Shaq Thompson, S/LB
2012 Stats: 20 tackles, 3 tfl,
The highly regarded 6'2″ 215 lb true freshman has lived up to the hype so far, by making is way onto the field for the dogs immediately. Coined as the #1 prospect in California last year by both scout.com and rivals.com, Thompson dominated the high school ranks in the Sacramento area, following in the footsteps of his older brother and former California Bear defensive star, Sidquan Thompson.
A multi-sport athlete, Thompson was selected by the Boston Red Sox in the 18th round of the 2012 major league baseball draft, although during minor league play over this summer, Thompson went an ice-cold 0-39 at the plate with a staggering 37 strikeouts. As far as potential on the gridiron goes, lets just say that he received interest from virtually every school that watched his game tape, including Oregon.
The future looks bright for Thompson, who has already recorded an impressive 20 tackles (3rd on the team) while primarily being used as a situational nickle back/hybrid linebacker and of course still learning the nuances of the Washington defense and the adjustment from the high school game.
The Skinny:
The Ducks have completely owned the Huskies for most of the last decade, much to the chagrin of the purple nation. Oregon has done this convincingly too; by not just winning, but in notching blowout victories in each of the past eight games. In the past few seasons, the trend has been a close first half, with the Ducks pulling away in the second half. Can they do it a 9th time?
The Ducks should have a decided home field advantage playing a night game at Autzen, and the betting-line brain-trust in Vegas seems to like Oregon to win soundly, installing them as a lofty 24-point favorite early in the week. Seething, resentful, and bitter Washington fans always turn out in force for games at Autzen, and would love nothing more than to see Sark, Wilcox, and the boys knock the Ducks off.
While the often ridiculed performance of the purple mutts in the last decade has tempered the expectations of some in Montlake, the Huskies have steadily improved in recent seasons. Even with the shift in competitive balance, the UO vs UW game remains as one of the preeminent rivalries on the west coast. While the current players and coaches do not necessarily need to view it in this way, they will certainly feel (and hear) how much it means to the fans come Saturday night.
Game Predictions:
Here we go again, Ducks versus dogs round 112, but this time served with a Sirmon & Wilcox twist; the two legendary Ducks now serving as defensive coaches for the hated Huskies. With a somewhat successful track record against Chip Kelly's offense (2-1 record) combined with a few extra days of preparation this week, can the one-time celebrated sons of the UO come up with a better way to stop the Ducks?
The Oregon offense has continued to pile up points and stats at an alarming rate, but don't be surprised to see a reduced overall output in this emotionally-charged conference game featuring two ranked teams, especially early on.
Though hard to imagine in August, the big story in this game might just be that of a defensive struggle. Washington has had a potent offense the last several years, but their defense was annually viewed as the weak point, limiting their abilities. However, this season it has been the offense that has struggled mightily, and the defense that has carried the team.
Oregon on the other hand has their defense playing extremely well on a consistent basis, and against an already anemic Washington offense playing behind a patchwork line,the Ducks figure to be in the Husky backfield for much of the game. Similar to the past few seasons, the Huskies biggest obstacle may be keeping their own quarterback upright, and limiting the mistakes when they do avoid the rush.
Look for a good old fashioned back and forth early on, and perhaps some sloppy or "flat" play by Washington to start. The Ducks will need to be on point for 60 minutes to take advantage of any Husky miscues. Oregon will need to obviously limit their turnovers (none would be nice), and look for a big game from punter Jackson Rice to help keep the Huskies out of short field situations. With a loud Autzen crowd at full capacity and a long field in front of the Huskies offense, the Oregon defense should have a decided advantage. 
Taking a stab at the score:
Ducks – 39
dogs – 17

CAN YOU HELP US?
The pictures you see of the Ducks on FishDuck.com come from professional photographers that must be paid! Please donate through one click so we have pictures from all the games this fall to use through the year. All previous donations helped to pay our big Web Developing bills recently, and I do appreciate it.
Our staff and the photographers who have thousands of dollars invested into their equipment to provide the high quality pictures do sincerely thank you.   Charles Fischer