There are few pleasures in life that are as satisfying as Oregon's perennial dog-pounding of Washington each fall over the last nine years.  This last game was one of the most enjoyable because so many of the Husky faithful and their coach felt that enough Washington depth had been built to hang with us.  As the truth became apparent in the first quarter, (21-0), so did a new variation of the Power Play, which expands a step beyond what was covered last week.  Some would call this an "Old-School" throwback, while I would prefer to coin it the new "Double-Power" Play within Chip Kelly's Oregon Spread Offense.  It was a surprise to me, but even more so for the Husky defense!
Chips' Game Plans have been fascinating because of the new things he introduces that are impossible to prepare for like the new "Double-Power' play, but also for what he DOESN'T run.  I stuck my neck out in preseason and stated that the "Sweep Read" play was our most important play, yet we have not run it in Pac-12 play yet!  Imagine as an opposing Defensive Coordinator if you had spent significant hours preparing your defense for it, and then don't see it at all?
Last week (above) we learned about a new variation of the Power Play that uses a Tight End in the backfield to cross and block the offside Defensive End.  It is a very successful variation that delivered a ton of yardage whether it was Koa Ka'ai or Colt Lyerla blocking.
Against the Cougars (above) we must have seen twenty traditional Outside Zone Read plays with the kick step and shoulder turn.  The Huskies CERTAINLY should have spent a ton of time preparing in a big way to stop it.  As part of his game plan to surprise the Huskies we then didn't run a single Outside Zone Read the entire game against Washington!  Instead we ran the new "Double Power" Play nearly twenty times and they had no inkling at all was coming at them!  Coach Wilcox, meet Coach Kelly.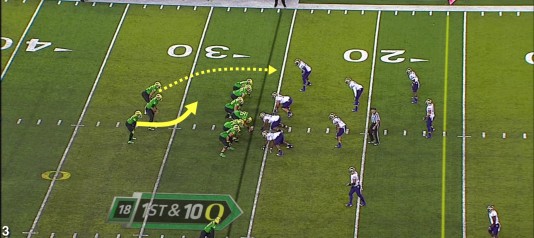 We line up in a Triple Option backfield formation (above). I diagrammed last year against Arizona what it would look like for a "Lead Sweep."  The near back to the playside (a TE) would "lead" the way for the trailing RB, Barner, to turn the corner.
The play evolves the same way (above) with Colt targeting the corner and Barner getting the handoff, but within the yellow circle is a pulling guard, Hamani Stevens!  Since we are running to the Tight End side with Koa Ka'ai blocking inside, and pulling a guard AND leading with a Tight End in the backfield like a fullback—it becomes a Mega-Powerful Power Play!  Thus I call it the "Double-Power" Play.
The right red arrow (above) is Hamani Stevens clogging up the Inside Linebacker while Colt Lyerla (left red arrow) has actually tied up the Defensive End AND the Outside Linebacker while Barner bounces outside for big yardage!  Geez, this is a beautiful sight as we see classic old-school power running out of the Spread Offense.
We see Triple Option backfield formation (above) with Lyerla on the right (#15) and Byron Marshall (#9) on the left of Marcus Mariota. (#8) Note the left guard in his stance #63, Mana Greig, who is going to pull and go right on this play.
We see Colt going outside for his block (Green Arrow, above) and a wonderful block by TE Koa Ka'ai (#80 and Yellow Arrow) and the red arrow shows Greig pulling and taking aim on the Linebacker who is coming to fill the gap.  It's another "Double-Power" Play!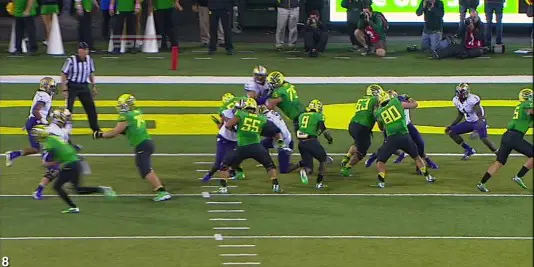 This picture above puts a lump in the throat of an old purist who loves good blast blocking.  We see Colt sealing the edge on the far right, a great block by #80 Koa Ka'ai, and a superb running lane inside this time created by Mana Greig #63, and Jake Fisher #75.  Byron Marshall #9 scores easily on this play!  What a beautiful sight!
Everyone knows that Chip is innovative with the Spread Offense, but few ever study his game planning and the massive impact it has upon the results of a game.  What if Chip ran the Outside Zone Read in this game as he did against Washington State and had not surprised the Huskies with the new "Double-Power" play?  Would the game have been the same big victory for the Ducks?  It is not just Xs and Os or even player technique that has amassed the 40-6 record of Chip Kelly; it is also the element of removing plays and adding plays into a game plan that the opponent cannot anticipate.  What fun for the student of the Spread Offense!
"Oh how we love to learn about our beloved Ducks!"
Charles Fischer  (FishDuck)
Oregon Football Analyst for FishDuck.com
Eugene, Oregon
Top Photo from Video

Move Discussions to the new Our Beloved Ducks Forum!
We now have a new forum that is unlike anything you have ever seen or been a part of between our insistence on civilized discussion, complete directions available for easy usage and the delivery of all Oregon Sports News.  (That last part is a gradual transition over the next month)
Please move our discussions to the forum as we can delve into so many more topics and the nuances within them over there.
We have a topic begun over at the forum for today's article, and ask you to move over there as it is a free site and offers more freedom for the exchange of opinions on all the Oregon Sports subjects of the day. (And there are some very cool features!)
An introduction article about the new forum is right here.