8:00 a.m:  Sesame Street Meets the Teletubbies.  Educational.  A bird on a Harley teaches Tinky Spanky the meanings of words and numbers.  The word for today is "ass-kicking".  The number for today is "9".
9:00 a.m:  Fantasy Island.  Fictional island where, if you can dream it, Mr. Sark  can make it so.  On this week's episode a savagely beaten group of young men imagine that the wall to wall whipping that they just endured was actually not all that bad after all.  Stars Hugh Millen, Dave "Squishy Like the Inside of a Twinkie" Mahler, and Dick Baird.
10:00 a.m:  The Price is Wrong.  Game Show.  Undersized, overhyped quarterbacks try to guess where the blitz is coming from.  When they're right… well we don't know what happens when they're right because it hasn't happened… but when they're wrong they are thrown to the turf, and left looking dazed.
11:00 a.m.  "Bull Sarkisian"  Movie.  Young coach learns the ropes of navigating the Pac-12 with the help of an older female mentor.  Co-stars Barbara Hedges, a jacuzzi, and just enough bubbles to hide the naughty parts.
1:00 p.m:  The Amazing Race.  Reality.  Thousands of purple clad people leave Eugene, Oregon and try to make it across the border into Washington while having to evade a flock of rabid waterfowl.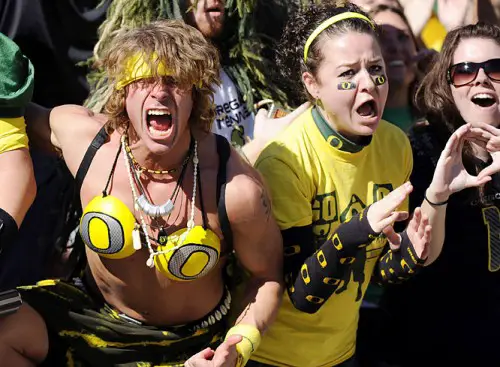 3:00 p.m:  "Groundhog Day"- Movie (repeat).  Starring Keith Gilbertson, Ty Willingham, Steve Sarkisian, Nick Holt, Justin Wilcox, The Tyee Club, and Dawgman.com
4:00 p.m:  Flogging the Bishop.  Educational.  Community joins together to discipline misbehaving running back.  Stars Dion Jordan, Kiko Alonso, and Ifo Ekpre-Olemu.
7:00 p.m:  Here Comes Husky Boo-Boo.  Reality.  Hilarious depiction of Montlake family.  See them fumble, throw pick sixes, and generally botch their way through the evening.  Bonus footage of them enjoying post game meal of "sketti" with ketchup and butter sauce.

CAN YOU HELP US?
The pictures you see of the Ducks on FishDuck.com come from professional photographers that must be paid! Please donate through one click so we have pictures from all the games this fall to use through the year. All previous donations helped to pay our big Web Developing bills recently, and I do appreciate it.
Our staff and the photographers who have thousands of dollars invested into their equipment to provide the high quality pictures do sincerely thank you.   Charles Fischer