38 carries, 644 yards, and 10 touchdowns. Enough said.
Oregon's latest highly touted recruit, Thomas Tyner, put up those numbers in ONE high school game last September. Even ESPN caught wind of this story.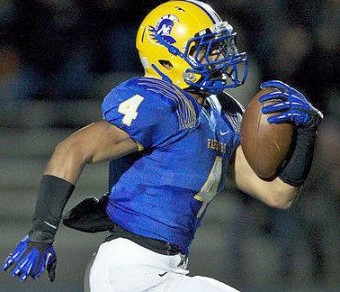 His overnight change of heart last week shouldn't worry Duck fans whatsoever. He's back, he's committed, and he'll be in uniform next season. Here's what he had to say about the flip-flop decision. "They didn't pressure me to do anything, but I just felt comfortable talking to them and it felt right. Coach Campbell is just so laid back and supportive and Chip is just such a smooth operator. I'm excited to play for them and work my butt off at Oregon."
As a 6'1″ 217 lb. speed back, Tyner has made quite the name for himself since emerging onto the national recruiting scene in 2010. He hails from Aloha, Oregon, and is considered a top-five running back in the 2013 recruiting class. Be sure to check out Thomas Tyner's full recruit page on Duck Territory.
Tyner chose the Ducks initially in 2011 midway through his injury-riddled junior season (He still ran for 1136 yards and 12 touchdowns). "It feels great to be a part of the history and winning tradition at Oregon," he said, "I feel blessed to have the opportunity." Since then, he has put on more weight, more durability, and arguably, more speed.
His senior season has been outstanding (and injury-free) thus far. On top of that record-breaking game vs. Lakeridge, Tyner has generated just under 2400 yards of offense with 30 touchdowns for the 7-0 Aloha Warriors this year. He has also hushed anyone out there who doubted his durability and toughness coming into this season.
Duck fans that have yet to catch one of his high school games will be able to see the future Duck in the 2013 US Army All-American Bowl on Saturday, January 5th, a national showcase of all the blue-chip recruits from the class of 2013.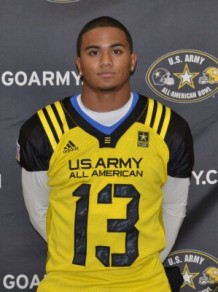 So what kind of player is he? And what exactly can he do for Oregon?
In such a complex offense, he's bound to have multiple roles. Coach Kelly could do wonders with this kind of special talent. Big and strong power backs, like Tyner, are hard to come by. Many recruiting services have Adrian Peterson listed as his NFL comparison. But as far as a former Duck comparison, you might look to Jonathan Stewart; the perfect blend of speed and power.
Tyner, along with his size and first-class speed, has the ability to run through, around, or over any defenders blocking his path to the endzone. Scouts have raved over his immediate acceleration off of the snap as he shoots trough the hole. Along with his fast start, Tyner believes his great vision, and decision-making near the line, allows him to bounce it outside when necessary where his flashy elusiveness and breakaway speed come into play. The kid really has it all – his only true question is durability.
It's understandable to write-off all of the hype and expectations as he as yet to even put on a helmet in Eugene, but when the hype is backed with such tremendous stats, it is hard not to get excited. Duck fans will hope that he graduates high school early to come play spring ball here on campus (like Colt Lyerla, Arik Armstead, etc.), but he may not want to miss out on his senior track season.
Yes, he runs track, and he is GOOD. If you don't believe in his speed, watch this:
That 10.38 100m sprint beats out LaMichael James, Kenjon Barner, Josh Huff, and even De'Anthony Thomas (he ran a 10.65 in the 2012 Oregon twilight relays). As a freshman he beat out current wide receiver Keanon Lowe in a 100m district race. As a sophomore he won the 100m state championship. Forget football, sign this kid up for track! Now don't expect that kind of speed when he's in pads, but that is just a point of reference to understand how fast he really is despite his large frame.
Tyner is also a great kid off of the field. He sat down with the guys at Duck Territory late last year to discuss his personal life.
---
Who are you hearing from despite the commitment?
Tyner "USC continues to email and contact me, a few are sending mail too, but mostly USC."
What is your best asset as a football player?
Tyner "My best asset is my vision. I'm able to get into the open field because of my vision."
What is your best football moment?
Tyner "It has to be beating Jesuit. That hasn't happened in about 21 years so that was big."
What is your favorite non-football related activity?
Tyner "I love to play the piano."
Who is the one person you are closest to?
Tyner "My mom. She has always been there for me through everything."
What is your favorite food and movie?
Tyner "I love McDonald's and I love to watch horror movies."
What is your favorite college and NFL team to watch?
Tyner "I love to watch the Ducks, they are so explosive. I don't really watch the NFL."
What is your favorite class in school?
Tyner "American Studies and P.E."
What is your dream job besides the NFL?
Tyner "I want to be a broadcaster on ESPN, like an announcer."
Who do you model your game after?
Tyner "Adrian Peterson. I love how he tries to lay a blow but he's so fast too."
Which superhero would you be?
Tyner "I would say Flash but he's fast and I'm already pretty fast, so I would say Superman."
What is your nickname in school?
Tyner "It used to be 'booby' but now most people are calling me 'Dash'."
Who's your favorite college mascot?
Tyner "It has to be Puddles the Duck."
What is your Rose Bowl prediction?
Tyner "I'll say 49-14 Oregon."
---
With such a great tradition of phenomenal running backs that have come through the U of O, the bar will be set rather high for Tyner – with both the coaches and the fans. Nobody should guarantee, or even predict, for him to produce at the level of a LaMike or De'Anthony, but he indeed has the ability to do so. So Oregon fans, why don't we all continue to cheer our team on its way to the national championship, and just leave the topic of Thomas Tyner in our back-pockets for some offseason bragging rights or excitement. Whenever he is ready to move on from his illustrious high school career, let's welcome him with open arms.
Be excited. Be ready. Dash is coming.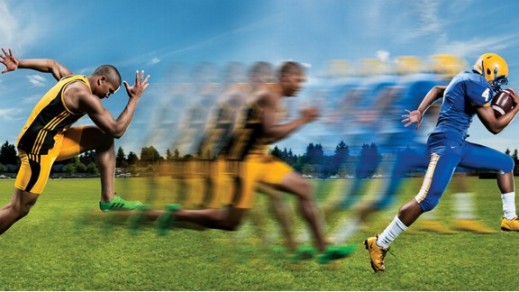 Want to Watch Oregon Games on your computer?
If you do not get all the channels that have the Oregon Football games, or simply want to be able to watch the game over again as you don't have the space in the DVR to hold all the games?
Contact me by email: charles@fishduck.com and I can help.  We have fans across the nation and internationally watching the games 24/7/365 and I wish that for everyone.  Charles Fischer