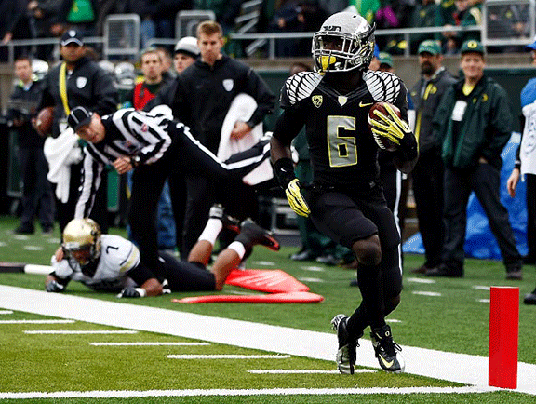 Well, that was eventful weekend in college football. So much of what happened directly affects the Oregon Ducks and their quest for a national championship! Oregon State and USC both lost their games, changing the PAC-12 order. Florida lost, leaving the SEC with one less undefeated team for all the Duck fans to worry about. But Kansas State & Notre Dame both won, despite my fervent prayers and wrong predictions. All of this drama created quite a change in the BCS rankings with the PAC-12 picking up another team in the Top 25.
Prior to the rankings announcement, fans had a good idea of where Oregon would be ranked, making the announcement of Oregon at #4 largely unsurprising. Kansas State moved up to #2, and Notre Dame jumped two spots (and the Ducks) to #3. As much as I hate to admit it, both Kansas State and Notre Dame played good games over good teams. For this week, they both deserve their rankings.
Looking closer at the rankings, Notre Dame has a paltry .0011 point lead over the Ducks, a miniscule difference that the Ducks can easily catch up on and surpass. This week, Notre Dame plays an unranked 4-4 Pittsburgh team while Oregon's opponent, USC, is ranked 17th.
Watching the USC game on Saturday was painful for an Oregon fan, so I can't imagine what it would have been like as a Trojan. I turned my full attention towards the game near the end of the 1st quarter (I watched my Ducks all the way to the end, even though it was a blowout) and was not shocked to see USC losing, down 10-0 to Arizona. The Trojans are made up of two teams, and it's uncertain who will show up from week to week - the dominant one who crushes everyone in their path, or the one we saw on Saturday, which makes some critical stupid mistakes.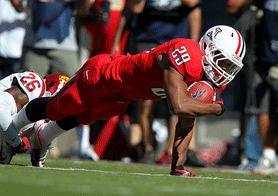 Still, the ray of hope that the USC game was providing for all Duck fans is still there, though it's flickering a bit more than it was last week.  USC dropped to 17th in the rankings, not nearly as impressive as #9, but still in the Top 25. The silver lining in USC's loss was Arizona's rise into the BCS Top 25 once again, entering at #22.  Arizona, a team whom the Ducks defeated 49-0, defeated the #9 team in the country and is ranked, will certainly help the Ducks in the computers.
One unexpected ranking came in the way of Oregon State at #11, despite a loss to unranked Washington. I would have ranked them a few spots lower, but was pleasantly surprised. If Oregon State can maintain its #11 ranking (or climb higher), the Civil War will not only be a well-publicized contest, but would be greatly helpful with the computers, providing a nice push the Ducks could use in the rankings as the final game of the regular season; likely enough to push Oregon to #2, if the Ducks aren't already occupying that spot by then.
The only relevant contender remaining on Oregon's schedule to win is Stanford, who beat Washington State, rising three spots to #14. With USC, Cal, Stanford and OSU coming up, the Ducks are going to have a brutal month.  If they can get past this stretch of teams, they will be in the PAC-12 Championship Game, playing for a chance to go the BCS National Championship Game.
Like I said last week, there is still a lot of football left to be played. There are a few teams that we need to watch this week because the outcome of their games greatly affects the Ducks' ranking.
Games to Watch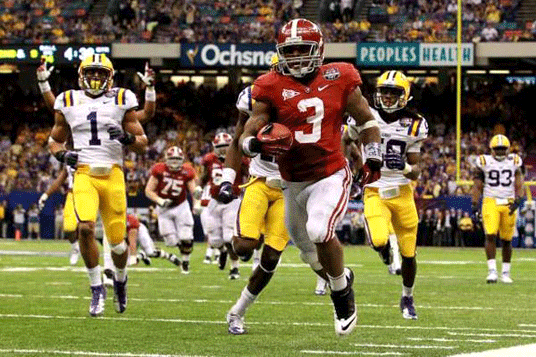 #1 Alabama @#5 LSU (November 3, 8:00 PM ET, CBS)
Alabama is the #1 team in college football for a good reason. They've played some great games and are deserving of their top ranking. LSU is the highest ranked 1-loss team in the country at #5. Both teams play hard, physical football with power defenses that do a decent job of destroying whoever gets in their way. There is also the fact that this game is a replay of last year's National Championship Game, which featured the fewest combined points in a BCS Championship since 2000.
If LSU were to upset Alabama, it would shake up the Top 5 for the second week in the row. Holding form, should the rest of the teams in the Top 5 won their games convincingly, each team would move up one spot. I think however that Oregon would jump Notre Dame after playing a ranked USC team.  By this time next week, Oregon could be the #2 team in the BCS.
Projected Winner – Alabama
As much as I would love for Alabama to lose and the Ducks to take their place in the Top 2, I don't realistically think it's going to happen. LSU is a good team, but one that has been playing a very scattered season.  Just like USC, some weeks LSU shows up, and some weeks it doesn't. To keep up with Alabama, LSU is going to need to be there right from the beginning and not let Alabama have the edge.
There's also the fact that the only teams that have defeated Alabama since Nick Saban got it to elite standing have been teams that have featured mobile quarterbacks. LSU's quarterback, Zach Mettenberger is not known for his mobility and will face a lot of pressure from Alabama's D-line.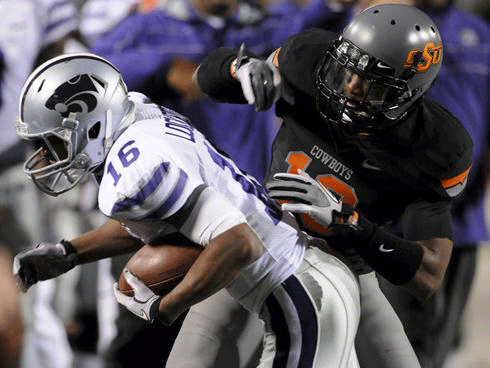 #24 Oklahoma St @ #2 Kansas State (November 3, 8:00 PM ET, ABC)
Kansas State has proved over the last few weeks that they are a good team who can hustle when they have too. Their opponent this week, Oklahoma State, is also a good team that has struggled during parts of the season. The Cowboys have had injury issues that have severely affected their play while Kansas State has been lucky for the most part in the case of injuries. Collin Klein is still carrying the Wildcats, and I continue to believe that if a team can bring pressure and force to him to act quickly, they can upset Kansas State.
Projected Winner – Kansas State
Oklahoma State is entering this game with an injured quarterback. They will be starting a true freshman, Wes Lunt, who was the original starter at the beginning of the season before going down with an injury, replacing J.W. Walsh, who originally replaced him earlier in the season.
I don't think the Cowboys have what it takes to defeat Kansas State this year. The Wildcats are playing superior to most other teams in the country,  and not making many mistakes.  The difference in this game should be that unlike most BIG 12 teams, Kansas State actually has a defense.
Still like I said earlier, if a team can corral Colin Klein, they will have a decent shot of winning.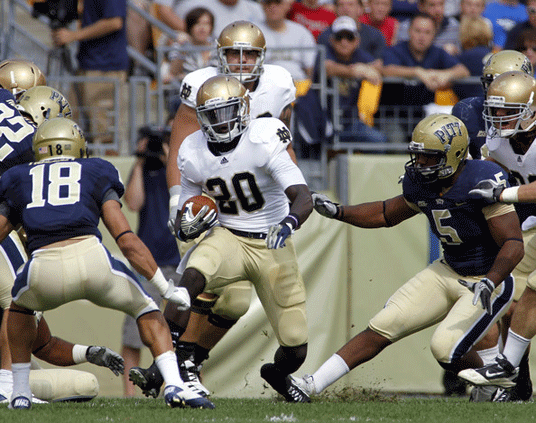 Pittsburgh @ #3 Notre Dame (November 3, 3:30 PM ET, NBC)
The only reason I have this game in the "games to watch" is that Notre Dame is playing. This game should be easy win for Notre Dame, and will not really help Notre Dame's case in the BCS rankings. The .0011 that separates Notre Dame from Oregon should be gone by the end of the week.  This game won't give the Irish the push in the points it needs to stay at #3. Just as Oregon's game against Colorado, a very weak team, helped Notre Dame jump Oregon, this game should do the same thing in Oregon's favor and put the Ducks above Notre Dame at #3 (or higher, depending the results of the above games.)
Projected Winner – Notre Dame
If Pittsburgh were to somehow pull this upset, no one would be happier than me. But the chances of that happening are almost nonexistent, as Notre Dame has proven itself to be a much better team. Manti Te'o is playing like a mad man who's bent on showing everyone he's a top Heisman candidate and a top draft pick come April. Pittsburgh simply does not have the experience or talent to keep up with the Irish. The featured player for Pitt is their tailback Ray Graham, but Notre Dame's strength is its run defense, so this could get ugly quickly.
However, this game does come after a huge emotional win for the Irish. Notre Dame could face plant this week if they are still focused on the big victory from last week.
I can't wait for the rest of the season. Go Ducks!

CAN YOU HELP US?
The pictures you see of the Ducks on FishDuck.com come from professional photographers that must be paid! Please donate through one click so we have pictures from all the games this fall to use through the year. All previous donations helped to pay our big Web Developing bills recently, and I do appreciate it.
Our staff and the photographers who have thousands of dollars invested into their equipment to provide the high quality pictures do sincerely thank you.   Charles Fischer