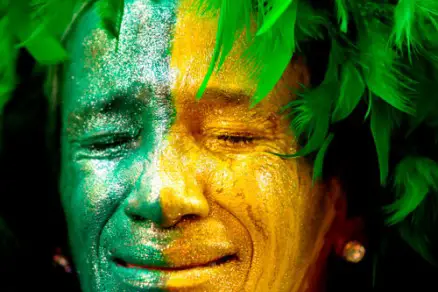 If you are like me, watching the BCS show on Sunday evening made your blood boil. Even though I was expecting (and bracing myself) for us to drop, it didn't make it any easier to watch the Ducks move down to the #4 spot, despite a blowout win against the Arizona State Sun Devils. Though a rational part of my brain knows that there is still a lot of football left to play, the Oregon fan in me is thinking of the 2001-2002 football season & wondering if we are going to get (excuse my French) screwed again.
The biggest cause of my anger, I think, was watching Kansas State be the team jumping us. For those who do not know, Kansas State was scheduled to play the Ducks this year in what would have been the season opener for both teams. However, Kansas State is coached by Bill Snyder, who has a reputation for avoiding powerhouse nonconference programs in favor of patsies that the Wildcats can beat with their eyes closed. This led to Kansas State cancelling the home and home series in late 2010, leaving the Ducks scrambling for another program to fill their spot (which was Arkansas State). During the BCS show, ESPN's David Pollack commented on this fact but declined to mention that Kansas State was the team to back out, not Oregon.
Now I know that some of you are going to say that Kansas State jumped us because up to now they have a stronger schedule that we do – which is true. That is about to change as Kansas State heads into the soft part of their schedule. Meanwhile, Oregon is heading in the opposite direction, towards the meat of their schedule. How the Ducks play the rest of their games will affect their ranking quite a bit. If both teams win out, can we guarantee Oregon will be the team in the #2 spot? (Keep in mind that Alabama & Florida play in the SEC title game, leaving only 1 undefeated SEC team which will most likely be #1). The Duck fan in me is still angry that computers are having their way in bumping an inferior team ahead of us!
Have we even thought about the threat that an undefeated Notre Dame team poses for us? Notre Dame has one of the toughest schedules in FBS this year. They might not be blowing opponents away but they are winning.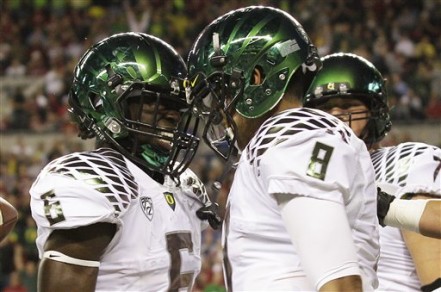 There's still a lot of football to be played, but these teams will primarily occupy our interest this coming weekend. How the undefeated teams do will have a lot to do with Oregon's ranking, and the national perception of where we fit in the BCS picture.
Games To Watch:
#14 Texas Tech @ #3 Kansas State (October 27, 3:30 PM ET, FOX)
As I stated before, Kansas State's remaining schedule is relatively easy. They only have two (currently) ranked teams, with Texas Tech this week and #23 Texas in the last game of their season. To stay in the #3 position Kansas State needs to dominate and destroy Texas Tech. Meanwhile Texas Tech would love to ruin the Wildcats' national championship hopes by defeating them, but have a disadvantage in facing the Kansas St. on the Wilcats' home field. The crowd is going to be pumped up since it has been a few years since they last saw Kansas State in the Top 3, and Texas Tech is in for some major hostility.
Kansas State fans need to not count Texas Tech out just yet. TT has a great offense, which can do some damage, and a good defense. If Texas Tech can find a way to stop Wildcats QB Collin Klein, we could have the perfect mix for a upset on our hands.
Projected Winner – Texas Tech
The entire Kansas State team is being carried by their quarterback. Collin Klein is a great QB but you have to wonder how long he can keep doing everything. The main reason Kansas State has gone undefeated this far is because Klein has turned out to be a monster on the field. The biggest thing Texas Tech needs to do is to find a way to force him to make mistakes. Linebacker Arthur Brown has played great, but again how can you expect only two people to carry the team? Texas Tech knows how to bring pressure and they are going to do so. I don't think its going to be a blowout win in any way, shape, or form; but a win is a win, just as a loss is a loss.
#5 Notre Dame @ #8 Oklahoma (October 27, 8:00 PM ET, ABC)
Before Kansas State jumped the Ducks to #3, my immediate concern had been Notre Dame. The Irish are ranked #3 by the computers and #5 by both human polls. Their strength of schedule is impressive and they have some big games still to come. I was not super worried, however, because I doubt the Irish are going to make it to the end of the season undefeated. They head to Norman this week to take on a great Oklahoma team in a very hostile crowd. The Sooners, who only have one loss, are a good team overall with some rising stars. This game will change the look of the BCS Top 10 either way it goes. If Notre Dame wins and they might jump the Ducks (especially since Oregon is playing a very weak Colorado team this week). Lose, and they will drop to the bottom of the Top 10 and Oklahoma will probably rise above LSU to become the highest ranked one-loss team. There is also the matter that Oklahoma's only loss comes to the No.3 team in the country, Kansas State. If the Sooners lose, Kansas State's statement win doesn't look as impressive anymore. But if they win, well, let's just hope Kansas State loses.
Projected Winner – Oklahoma
The biggest reason for calling a Oklahoma win is that the Irish are traveling to Norman to play the game and the Sooners rarely loss at home. The crowd is going to be crazy, and the team is more than ready for a Notre Dame team facing their first true test. As we've seen, Notre Dame has barely eeked by three teams (Purdue, Stanford, and BYU), with last minute rallies. They are heading to Memorial Stadium being No.77 in offensive points scored and No.2 in scoring defense. Notre Dame needs to figure out how to score points because the Sooners certainly can. Oklahoma is No.5 in offensive points scored and No.2 in defensive points scored. The Sooners have proven that they can score no matter what the line is on the team, and that is very dangerous for the Irish.
Another issue for Notre Dame is their inconsistent quarterback play from their quarterbacks. Both Tommy Rees and Everett Golson have struggled with accuracy issues. Golson, who is listed as the starter for this game, has a 58.5% completion ration with 4 touchdowns and 3 interceptions. That does not sound good when you are playing the No. 9 pass defense in the country, a defense that's known for bringing major pressure to quarterbacks.
Other Games To Watch
#11 Mississippi State @ #1 Alabama (October 27, 8:30 PM ET, ESPN)
The importance of this game is obvious, as it features the #1 team in the nation, Alabama, playing #11 Mississippi State. Both teams are undefeated and riding high after completely dominanting their opponent the previous week, though both played inferior opponents.
Projected Winner – Alabama
Mississippi State is a good football team, but they do not have the depth and experience to defeat an Alabama team that is playing nearly flawlessly.
#2 Florida @ #10 Georgia (October 27, 3:30 PM ET, CBS)
According to the computers, Florida is good. Georgia is a team that had a very unimpressive win against a 1-6 Kentucky team, winning 29-24. The Bulldogs are going to be obvious underdogs in this game, which just might give them the motivation they need to get past Florida
Projected Winner – Florida
The Gators have had an interesting season but are still undefeated, showing that they know how to get down and dirty to win. Georgia's defense has been playing hit and miss and they will have to be 100% to have a chance to upset Florida.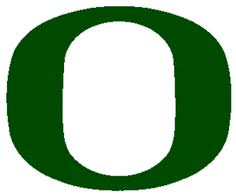 The best thing for the Ducks now is if every single team we still have left to play wins against everyone but us. As much as I hate rooting for USC, I will. Same goes for Stanford and Oregon State. We need USC to blow away Arizona this week and rise in the rankings and for the same thing to happen to Stanford. We need to have them as highly ranked as possible when we play them. I know some of you will accuse me of blasphemy for even suggesting that you root for the Beavers, but hear me out. What if we got to the Civil War with both Oregon & Oregon State undefeated? That game would not only have PAC-12 championship implications, but National Championship and Rose Bowl implications too! The entire nation would be focused on the state of Oregon and both teams would be fully on the national stage.
I can't wait for the rest of the season. Go Ducks!

Pat Pannu (Editor and Writer) is a recent graduate of the University of Oregon. Pat's been a crazy Duck fan since she moved to Oregon in early 2004 and has been 95% of all home games since the 2005 football season. She loves to talk about sports though those talks somehow always end in arguments. Pat loves to hear other's view of the sports and teams that she loves and can't wait to hear from you all. Follow her on twitter @patpannu
Mr. FishDuck … You Simply Can't Handle MY Opinions!

Baloney. I want all opinions here as it enables us see the full spectrum of ideas and helps us to learn from others and modify our own views as a result. In fact, this is the only Duck website where you can safely share your full-spectrum views on Oregon Sports.
If there is a problem … it is with your behaviors, and not your opinion, even if unpopular. Be polite and courteous to others and you will be reciprocated, and consequently you'll have a tremendous experience on FishDuck.
The majority of our rules can be summarized to this: 1) be polite and respectful, 2) keep it clean for grandchildren reading, and 3) no reference to politics.
Easy-Peasy!