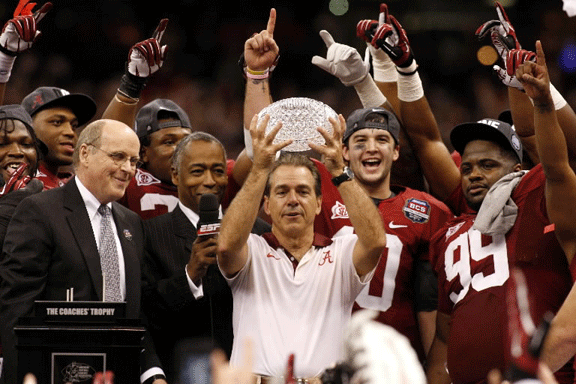 Nick Saban has had an incredible tenure at Alabama since 2007, with a 60-12 record, 2 National Championships, 2 SEC Championships, 2 Western Division SEC Titles, 2008 Unanimous Coach of the year  and the list goes on and on.  So why then would this well-experienced, well-tenured, very decorated head coach take a crack shot at the Oregon Football program? Maybe it's jealousy over the uniforms, maybe its arrogance, ignorance or maybe his words were just completely taken out of context?  Or just maybe Nick Saban is scared, and worried sick about the Oregon Ducks. He and every other SEC team should be!

Now, the season is FAR from over. Alabama still has to win at Tennessee, at LSU, and win the SEC championship to get the honor of seeing Oregon's offense live. Oregon still has to go into a hostile ASU game in a couple days, defeat USC on the road, avoid a trap game at Cal, take on a tough Stanford squad, and win the PAC-12 championship. Are we looking ahead just a bit?  Would Chip Kelly say "we treat every week like our Super Bowl?" Would Nick Saban say "we are focused on playing a really good Tennessee team this weekend?" Good thing none of us are coaching this week so we can enjoy looking ahead! If Oregon & Alabama both run the table, they will undoubtedly square off in the BCS National Championship Game in Miami  (Cue Will Smith).
Saban's fear is justified, because Oregon has mutilated teams so far. This season they have outscored their opponents 340-120, averaging 52.3 points a game and holding teams to a mere 20 points per game; the majority of which have been scored in garbage time against Oregon's 2nd, 3rd, & 4th string defense. Meanwhile, Alabama boasts the #1 defense in the country, holding their opponents to staggering seven points a game. So why is Saban scared? Defense wins championships, right?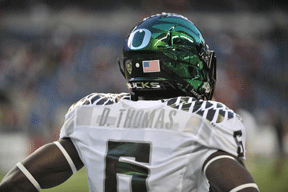 We haven't really seen a full game yet from #6 De'Anthony Thomas, who is undoubtedly the X Factor this season. We have never had an athlete of his caliber. He is a definite game changer, and Coach Kelly is well aware of what he has in his arsenal. Saban also knows, and if Oregon is able to do what it's done thus far, without being challenged at all, that's scary. Given that Oregon has never lacked for exciting, athletic, offensive game changers, what's the difference or cause for concern? Oregon's defense. Two lockdown corners: #14 Ifo Ekpre-Olomu & #27 Terrance Mitchell, and an emerging safety in Avery Patterson at safety forming a top secondary. Did I forget about our D line with Dion Jordan & our backers? No, but in recent years our issue hasn't been stopping the run, but getting burned deep. Those days are gone. Oregon's defense is solid, and playing the best defense Coach Aliotti has seen in his career.  
What Saban knows is that this Oregon team hasn't hit its stride yet. Sure they have just flat out decimated every team they have played (you hear me Washington?), but there are areas of improvement to be made on both sides of the ball. As it looks right now, Oregon's tough games are at ASU & at USC. Both games are very manageable and the Ducks should be favored. Oregon State, still a wild card as the younger brother, is a beaver down at QB (Honestly, get well soon Mannion) – BUT…. they are still looking good. I said it before and I'll say it again, this is the most complete Oregon team of all time, and as Nicky knows, we haven't even seen them at their best yet.  Duck Fans should enjoy this ride; it's rare, it's fun, and it's extremely fast. If there is any team in the country that can beat Alabama, it's Oregon, hands down. Hopefully we get to see them square off in January.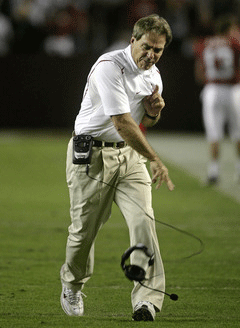 Remember that Coach Kelly is a mastermind. He knows that all these coaches look at are stats, and scores at 7 am EST the morning after Oregon plays. He knows that he's five steps ahead, three to the right, and playing possum. He's not playing for style points or Heisman trophies, or Coach of the Year awards. He doesn't care what Oregon ranks on offense or defense. All that matters is Winning The Day.  So far, it's working beautifully!
Bring it on Alabama! We see you, we know you, we were a forearm and shin away from forcing overtime and winning the national championship two years ago, so it's only a matter time before our paths cross.  When that happens, all that good ol' boy southern money won't save you from Oregon embarrassing you on the largest national stage. Nick Saban called Oregon out – and just you wait, you'll get your answer soon enough.
Jared Sawyer was born in Eugene and grew up going to games at Auzten Stadium. He has been an avid Duck Fan his entire life, and has recently taken his passion to filmmaking, VLOGing and writing for the Ducks. Jared now resides in San Diego, California where his passion still thrives for the Ducks,and he would like to remind you–It's O TIME!
For Football Season: FishDuck Back to Seven Days a Week!
I had to shut down the daily articles on July 20th because I could no longer work the extra 3 to 12 hours per week of certain managerial/editorial duties. (beyond the usual ones with FishDuck)
I've had a blast writing without those duties, and now, due to a new agreement with the writers, I can announce that we will have articles seven days a week again. I wish to thank the writers publicly for their graciousness in coming to a solution, as now I still do not have do those extra duties with our agreement, and meanwhile the writers are back having fun creating articles as I am.
Everybody is happy! So below is the new schedule through football season:
Monday: Mr. FishDuck
Tuesday: Darren Perkins
Wednesday: Joshua Whitted & Mr. FishDuck
Thursday: Coach Eric Boles & Alex Heining
Friday: David Marsh
Saturday: Mr. FishDuck (GameDay Baby!)
Sunday: Jordan Ingram
A couple of writers could not join us as they have new projects in their lives, and cannot write for anyone at the moment–but perhaps we will see them back later.
Things rarely work out so well for all parties in agreements, but this time it has and truly….everyone wins!
Our 33 rules at FishDuck can be summarized to this: 1) be polite and respectful, 2) keep it clean, and 3) no reference of any kind to politics. Easy-peasy!
FishDuck members….we got your back.  No Trolls Allowed!