This week's take: USC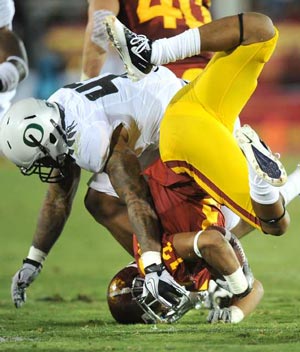 Causes for Concern?
1. Unfinished Business, Part I
When Matt Barkley announced his return to the now postseason-eligible Trojans for another season, he cited "unfinished business" as the primary reason for his return. Most national prognosticators predicted that return would translate into the highest levels of individual and team success, as evidenced by a preseason #1 ranking. Few, if any, had the Trojans as a two-loss team coming into this week's game, once billed in August as the premier game in the conference, if not the country.
Due in part to some self-inflicted wounds and a few questionable coaching decisions, the Trojans have struggled, even in wins. They lead the nation, and are on pace for a school record… in penalties; no shocker to anyone that has even accidentally followed any segment of Lane Kiffin's coaching career.
Clearly, beating the Ducks in consecutive years would go a long way towards restoring some pride and saving some face for him. The loss last week against an Arizona team that Oregon beat 49-0 would appear to give a decided edge to Oregon, but that notion deserves an emphatic "not so fast."
Because….
2. Don't Provoke a Wounded Trojan
A lot of people were quick to react in two ways to the USC loss:
Either "A"- "The Trojans just aren't very good."
Or "B"- "That loss just destroyed Oregon's strength-of-schedule in the computer polls."
Not only are neither of those true, neither matter to the Ducks compared to what the loss in Tucson might have done to ignite the fire inside the USC players. Don't underestimate how great a motivator failure can be. With National Championship pressures off their shoulders, they can assume the loose and expectation-free underdog role-very similar to the mentality they showed in last year's game.
Colorado coach John Embree, who faced the Trojans and Ducks in consecutive weeks, agrees: "You'd rather play USC after a win than a loss. They're going to come out fighting with a different sense of purpose."
3. Road Work Ahead
This week kicks off a stretch that includes three ranked opponents for the Ducks, and Oregon on the road in three of the final four games. As the quality of opponents increases, if the Ducks are going to face a serious challenge in conference play, it would happen during the heart of their schedule.
Oregon has not been challenged too much to this point, sprinting to an 8-0 record in a shockingly different way than we have ever seen before. Suddenly it has become "normal" to put up 43 points in 18 minutes against the conference's best defense on the road, or to score 56 unanswered points against a conference opponent- all in the first half. Seriously, who else has ever done that?
The Ducks also feature a stout and deep defense that so far has traveled quite well. As a whole, this Oregon team has looked scary good to anyone who has truly watched them play, and to say the haven't faced a "quality" opponent yet wouldn't be fair.
But, as the old saying goes: "the games you remember are played in November."
Reasons for OOOOOptimism:
1. Unfinished Business, Part II
This offseason, Oregon fans breathed a collective sigh of relief when Chip Kelly announced he would stay in Eugene instead of taking a job in the NFL. Similar to Mr. Barkley, Chip noted "unfinished business" still left in Eugene, and a close relationship with his assistant coaches. On the heels of a third consecutive conference championship, and a Rose Bowl victory, what else did he have to prove?
Now 42-6 as head coach at Oregon, the nation is finally getting a chance to see a team compiled of his own recruits and playing (almost) to his vision on the field. Why did he stay? Perhaps he wanted to ensure Marcus Mariota and the newcomers got off to a good start. Maybe he came back for another conference title, or run at the BCS Championship. Maybe he simply feels like he has found a perfect home for his coaching style, whether it be for the "long" term, only for the next year or two, or until he wins it all.
2. Barkley is Scared of the Ducks, and Lee is Gassed
Ok, so I may be exaggerating a tad, but there may be something to it. Each season during Matt Barkley's tenure as USC's QB, he has made a point of talking some sort of trash prior to the Oregon game. Usually going the online-tough-guy approach via his twitter account. This year? Crickets, although there is still time before kickoff. Why? He is terrified of this Oregon defense. He knows the long throws he completed last year were low percentage at best, and tightly defended, and this season he won't be up against true freshman defensive backs.
 Marqise Lee turned in an incredible performance last week, compiling a jaw-dropping 345 receiving yards, with 478 total yards overall. He is undoubtedly one of the best in the country, and somehow makes you nearly forget about Robert Woods, USC's all-time leader in receptions and yards, whom the Trojans line up on the other side. They are both elite athletes at the peak of conditioning, but 478 yards is a lot of running around for anyone. Expect a quick start by Lee and Woods, but pay close attention to their output as the game wears on. Ifo Ekpre-Olomu and Terrence Mitchell are both good-sized, physical corners who can run with Woods and Lee. USC likes to run quick slants and shallow drag routes to allow them to make plays after the catch, so also keep an eye on the Oregon linebackers making plays on the ball in zone coverage and bumping the Trojan receivers off their routes to disrupt the timing of their plays.
3. Faceless Trojans?
Under Chip Kelly, every game is the Super Bowl. It doesn't matter if you're playing Alabama or Colorado, each opponent deserves the same level of focus and preparation. It's the right approach, and as the results on the field would indicate (and Kelly has pointed out), that mentality has worked pretty well for them.
Most weeks, there is only forced talk of the actual opponent. Mostly, Chip will say the team or group of players "does a nice job of ___" and that is that. Even when facing the hated Huskies and Beavers, Kelly has a way of skillfully downplaying any rivalry. But this is different, it's still USC in the Coliseum, right? Wrong. Southern Cal might as well be Southern Oregon to Chip.  Yes, the Trojans are the most successful program in the conference's history, hands down. However, the way Kelly and company have been mowing down their opponents is fast approaching the level of anything achieved in USC's most dominant eras. Winning four conference championships and playing in four consecutive BCS bowls would further cement that status.
The Ducks and Trojans were supposed to meet twice this year, once on Saturday and again in the conference championship game. If Oregon is able to handle USC in the Coliseum on Saturday, it would take some serious work for the Trojans to win the Pac-12 South. Barkley's BCS dreams would become a Sun Bowl reality. Hard to imagine that is the type of business he hoped to "finish" when he announced his return.