Admit it — you were rooting for Texas A&M to win as they played Alabama early Saturday afternoon. Theoretically it was in our mind that we didn't have much to worry about as long as Oregon kept winning, but it sure was a weight being lifted as we watched the finals moments of the game fade away, leaving Texas A&M as the winner. Alabama's loss means that there is nothing for the Ducks (and their fans) to worry about, if they win out. The Ducks are guaranteed a spot in the national championship game and a chance to prove that they are the best in the country.
Watching the Cal game however was like a heart attack waiting to happen. I was nauseous the entire first half of the game as we watched a train wreck before our eyes, with what felt like one starter after another leaving the game with a injury.
Kenjon Barner was first, leaving the game halfway through the first quarter with a hand injury. Shortly after that, after Avery Patterson tried to cut, his knee gave way, and he walked off the field in tears. Finally, near the beginning of the second quarter, Mariota left the game with what appeared to be a shoulder injury. Every Duck fan on the planet was hyperventilating and our minds were going in dark dangerous directions before Barner & Mariota rejoined the game.
During halftime, I was praying that Cal's bad luck with injuries this year would not further touch us or affect us in the second half of the game. Thank God that turned out to be true and Oregon got back into the groove of things to go on and win the game 59-17. This, however, doesn't mean we are out of the Danger Zone (yes, you can thank me for song reminder).
As the injuries were mounting, I kept remembering the 2007 season when we were in a similar situation as now. The Ducks were highly ranked, Dixon was a Heisman candidate, and it seemed like nothing could go wrong. Then Dixon got hurt and Oregon's title run ended with a season record of 8-4. Our "title" game was playing South Florida in the Sun Bowl.
It's sometimes easy to forget how easily things can wrong, and to remember that the players on the field are, in fact, human. When Jai started playing football, my mom used to do a little prayer before his games, which she continues to do now for any game that she happens to watch. She would pray that it was good game with the best team winning though she would always say she'd hope it was her team. Then she would pray that no one, on either side of the ball, got hurt. That is something that I have gotten into the habit of doing as I do my part to pray that there are no more injuries, on any field, in any part of the world.
When the poll results were released Sunday morning, I was eagerly anticipating Oregon's #1 ranking in all the human (AP & USC Coaches) polls, and was, thankfully, not disappointed. Both polls have Oregon as the clear number one with 45 (of 60) in the AP poll and 44 (of 59) in the in the Coaches poll. Later Sunday, the Harris poll, which along with the Coaches poll makes up 2/3 of the BCS ranking, also ranked the Ducks at #1, leaving only the BCS rankings to worry about.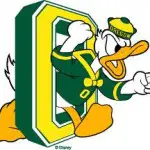 As much as I would like the Ducks to be the consensus number 1 team in the nation, I was not surprised with the number 2 ranking. The Ducks' stock did rise in the computers as a result of their rise in the polls, but I didn't think it would be enough to push us pass Kansas State. Oregon's average rank in the computers did go up to #4, and they are only .17 behind Kansas State.
Oregon has potentially three games left to improve their ranking further, with 2, possibly 3, ranked teams left to play. The Ducks take on the # 13 Stanford Cardinal, followed by the #16 Oregon State Beavers. The final game of the regular season will be the PAC 12 championship game against UCLA or USC, depending on the winner of their game this Saturday. If Oregon wins, and wins handily, that should be more than enough to push them past Kansas State, who plays a unranked Baylor this week, followed by a #15 Texas in their last game of the regular season.
That, my fellows Ducks, brings us to the games to watch. These are games that I think are important to the Ducks' BCS position, and affect their national perception.
Games to Watch
#18 USC @ #17 UCLA (FOX, 3:05 PM ET, Saturday November 17, 2012)
This game will determine who will be the South division champion, and thus plays the North champion (the Ducks, should they win out) in the PAC-12 championship game. We all know what USC is capable of with the likes of Lee and Woods, while UCLA is coming in with a red hot freshmen quarterback in Brett Hundley. The spread has given USC fits but they seem to have figured themselves out in the game against Arizona State. Noel Mazone, UCLA's offensive coordinator, bested USC last year which would appear to give him the blueprints he needs to defeat Monte Kiffin's Tampa Two.
Projected Winner – USC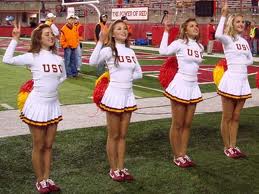 USC has a lot of firepower and talent, which should help them defeat the Bruins. Lee has been playing like a man possessed lately and Woods is not exactly eating his dust. Once Barkley gets a rhythm going, USC is hard to stop. If UCLA has a hope of winning, they need to figure out how to reduce Lee's role in the game and disrupt Barkley as much as they can.
#1 Kansas State @ Baylor (ESPN, 8:00 PM ET, Saturday November 17, 2012)
Any game that involves Kansas State is a game for Ducks to watch. If KSU was to lose, Oregon would be the consensus number 1, and play Notre Dame in the national championship game.
Realistically there is a slim chance of a Kansas State loss against this 4-5 Baylor team. If that were to happen, it would start and end with Terrence Williams and Nick Florence from Baylor. Florence has quietly thrown for almost 3,200 hundred yards with 1,400 hundred of those going to Terrence Williams, who leads the FBS with 159 yards per game. If Baylor's defense is able to slow down Heisman frontrunner Colin Klein, their offense might be able to score enough points to upset the Wildcats.
Projected Winner – Kansas State

All that said, I don't think Kansas State is going to lose. Quarterback Colin Klein in a Heisman contender for a reason, and he is incredibly good and is supported by a good offensive line. I don't think Baylor will be able to account for every single threat that Kansas State possesses.
Others to Keep An Eye On
Wake Forest @ #3 Notre Dame (NBC, 3:30 PM ET, November 17, 2012)
Any game involving a unbeaten #3 team in the country should be something to keep a eye on. If Wake Forest was to upset Notre Dame, I would be shocked!

Pat Pannu (Editor and Writer) is a recent graduate of the University of Oregon. Pat's been a crazy Duck fan since she moved to Oregon in early 2004 and has been 95% of all home games since the 2005 football season. She loves to talk about sports though those talks somehow always end in arguments. Pat loves to hear other's view of the sports and teams that she loves and can't wait to hear from you all. Follow her on twitter @patpannu
SIGN UP for the New FishDuck Commenting/Posting System!
The first step toward some big additions to the site is moving away from the Disqus system, to our own new commenting/posting system for the great discussions below the articles.  Signing up now will automatically have you registered in the new forum that will be released in the next three weeks.
It takes a minute is all, and will allow us to continue our amazing discussions of Oregon Sports in a new format that will allow more flexibility over time as we add features.  Sign-up now!  
Mr. FishDuck