"It's real disappointing."
Coach Jim Moore's words were clearly understated compared to the look on his face. His look was one of utter disappointment, as he was trying to wrap his mind around the defeat that the #2 Oregon Ducks volleyball team had just suffered at the hands of the unranked California Golden Bears. The Ducks volleyball team lost in 5 sets last night, and with #1 Stanford coming to town on Sunday Nov. 4, they now have to regroup if they're going to defeat the only opponent they had lost to before last night.
The Ducks played the worst two sets to start a game that they have played all season. Sure, some balls didn't go their way, but the glaring disparity in errors and blocked shots showed why they lost. In the first two sets combined, Oregon had 14 errors to Cal's 5. The Bears had 9 blocked shots, while the Ducks had just two. The Ducks were completely out of sorts but started to show some life late in the second set, spurred by an announced attendance of 2,011 and a noisy Pit Crew that never gave up on them. Drop the sets they did, however, and scores of 17-25 and 21-25 made the first two sets seem closer than they really were.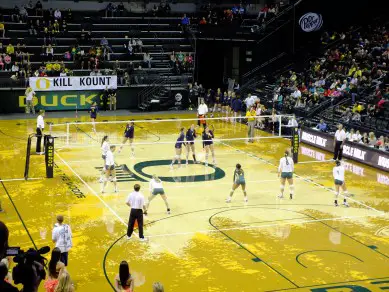 In the 3rd and 4th sets, the Ducks started to show some life. They cleaned up the errors. Alaina Bergsma and Liz Brenner finally came to life, aided by better play from Katherine Fischer and Ariana Williams. The evidence of better play showed in the 3rd set, which the Ducks won 25-22. While they had no blocks, they also had zero errors to Cal's two, and looked much more cohesive in their play. That followed into the 4th set – Oregon traded errors (2) and blocks (0), but had 2 aces to Cal's 1, and 20 kills to Cal's 11. The Ducks won handily 25-19 and were on the comeback trail.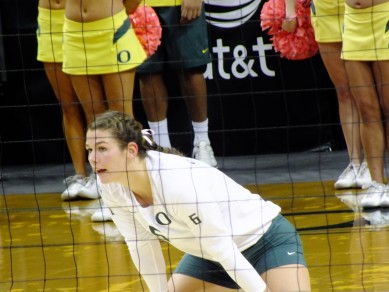 Alas; the comeback was not to be. In the 5th set the Ducks fell back into ways that lost the first two sets for them. They were game, and fought hard, but the blocking of California returned along with Duck errors. The Ducks committed 6 errors to the Bears' 1 and dropped the set 13-15.
So what led to the Ducks' breakdown in play tonight? Coach Moore will be looking for solutions as he regroups his team to go against the Cardinal. Those solutions were not immediately apparent at the end of last night's match. "It's obviously a lack of focus – it caught me by surprise…we didn't show it all week in practice," coach Moore commented.
Certainly the Ducks were looking instead to get into synch tonight and be ready for their critical match with Stanford on Sunday. Instead, they are faced with a downturn in their play that, while it is surprising, also comes at a critical stretch in their schedule. They know the game is important. They know what it means for their season and their post-season. They also know that they have to find their focus and mojo if they hope to defeat the #1 team in the nation.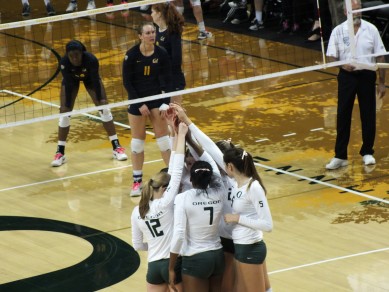 So what are the Ducks seeing as they going into Sunday's match against the Cardinal? Coach Moore probably summed it up best:
"We're going to find out what we're made of."
Pictures of last night's match provided by Morgan L. Blackwell
Carl (Editor and Writer) has been an avid fan of the Ducks for nearly 20 years. He worked in a great variety of professions, as well as being a business owner and manager, before lending his talents to the Fishduck team.
Carl does writing, but is mostly behind the scenes at Fishduck, in providing management and vision support, and as the Publisher and Senior Editor.
Daily Articles NO MORE on FishDuck
Please see this explanation right here… and to learn about the impact of FishDuck on so many–check the summary right here.  I will be writing intermittently on FishDuck (as the mood strikes) this summer, and a couple of times a week during the football season, and those articles and analyses will be posted here on FishDuck, and the links to my articles will also be available on the new site PuddleHuddle, when it is up soon.
New at FishDuck? Learn about the site right here!
Our 32 rules can be summarized to this: 1) be polite and respectful, 2) keep it clean, and 3) no reference of any kind to politics. Easy-peasy!
Take note though, there are NO STRIKES, NO WARNINGS, and NO SLACK given. Violate the rules and you are gone, as this is what the 99% who post superb comments want. (The Ban could be for weeks, months or permanent) For the less than 1% out there who do not have impulse-control … as you write your comment that violates our rules, ask yourself, "is this worth getting banned over?"
FishDuck members….we got your back.  No Trolls Allowed!