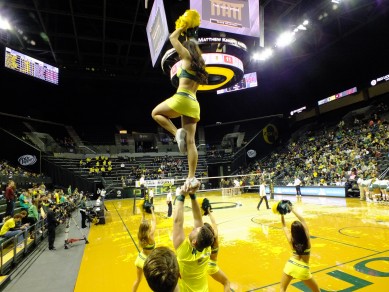 The truism that sports players and teams need short memories is universal. That has never been more true for the Oregon Ducks volleyball team than this weekend, as they try to erase the drubbing they endured last weekend at the hands of both Bay Area teams. Last night, at Matthew Knight Arena, the Ducks took a huge step by bouncing back against spirited play by the Arizona State Sun Devils.
The Ducks started strong enough in the first set. They displayed a lot of energy as they were getting good digs and significantly reduced their errors which were so evident last weekend. In game 1 "We had the matchup we wanted. We dominated…we had Alaina on the setter," coach Jim Moore told us after the game. The Ducks especially dominated in kills and attacking percentage, rolling to a 25-18 win.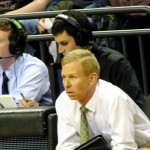 The Ducks had the matchup they wanted in the first 3 sets, but they let set 2 get away from them. They came out weak and were clearly showing signs of mental errors, as well as not playing as crisp on defense. They let ASU scratch back into the match by trailing nearly all of the second set, finally dropping it 23-25.
In spite of better blocking by ASU, and not being able to take advantage of a favorable matchup in set 3, the Ducks showed resiliency in withstanding ASU's counterattack. Their kill percentage was better and their defensive play was more animated. That was the primarily what allowed the Ducks to withstand ASU's climb back; after being up 16-7, the Ducks allowed ASU to come back and almost take it, but ultimately were victorious with a final score of 25-21.
Then in set 4, the Ducks came out flat. The Sun Devils were energized and scored blocks and kills that the Ducks did not. The Ducks were again unable to get digs and get favorable drops, and trailed the entire set, falling 17-25. They were inexplicably in trouble, and you could see a note of concern on players' faces.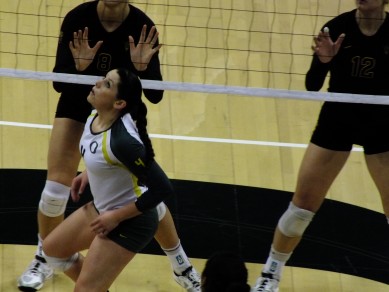 Set 5. Do-or-die. It was time for the ladies to find out what they were made of. They started out by trailing the Sun Devils 4-6, and then scratched and clawed back into a tie and then fell out, again and again. The set was probably the most tense of any the crowd has seen this year. The tide seemed to turn in the Ducks' favor when they pressed for a furious rally, one in which the ball should have fallen out of bounds but was somehow kept into play! Back and forth it went, and finally was capped by a kill from Ariana Williams. The Ducks finally pulled the 5th set out 15-13.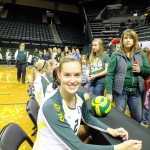 One gets the sense that the Ducks really needed to respond to ASU's challenge last night; a challenge they sucessfully met. How important was that? "It was huge for us. We got that win, we're starting to get back into the flow of things, and we're excited to play again tomorrow," commented Liz Brenner. One has to feel better now about the mental makeup of the Ducks, after they responded in victorious fashion to a Sun Devil team that was on track to take home a win of their own. Instead, the Ducks have bounced back and will be looking forward to responding to the next challenge; the Arizona Wildcats.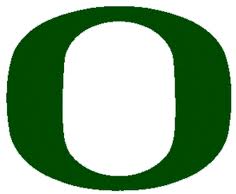 GO DUCKS!!!!
Photographs provided by Morgan L. Blackwell
Carl (Editor and Writer) has been an avid fan of the Ducks for nearly 20 years. He worked in a great variety of professions, as well as being a business owner and manager, before lending his talents to the Fishduck team.
Carl does writing, but is mostly behind the scenes at Fishduck, in providing management and vision support, and as the Publisher and Senior Editor.
Daily Articles NO MORE on FishDuck
Please see this explanation right here… and to learn about the impact of FishDuck on so many–check the summary right here.  I will be writing intermittently on FishDuck (as the mood strikes) this summer, and a couple of times a week during the football season, and those articles and analyses will be posted here on FishDuck, and the links to my articles will also be available on the new site PuddleHuddle, when it is up soon.
New at FishDuck? Learn about the site right here!
Our 32 rules can be summarized to this: 1) be polite and respectful, 2) keep it clean, and 3) no reference of any kind to politics. Easy-peasy!
Take note though, there are NO STRIKES, NO WARNINGS, and NO SLACK given. Violate the rules and you are gone, as this is what the 99% who post superb comments want. (The Ban could be for weeks, months or permanent) For the less than 1% out there who do not have impulse-control … as you write your comment that violates our rules, ask yourself, "is this worth getting banned over?"
FishDuck members….we got your back.  No Trolls Allowed!