Heading into today's 116th Civil War matchup in Corvallis, Oregon looks to right the ship after last week's heart-wrenching overtime loss to Stanford, which dropped them to fifth in the BCS. The 17-14 loss to the Cardinal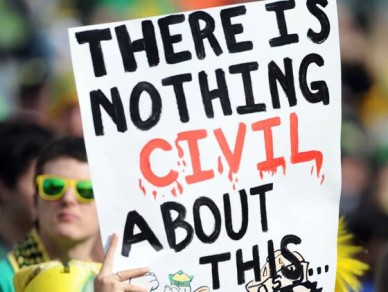 not only derailed the Ducks' quest for perfection, it showed the conference (namely Oregon State) that Oregon is beatable, after defeating opponents by an average of 32 points per game through ten games.
The Civil War, so often tangled in upsets and weird bounces, provides an opportunity for the Oregon program to head in one of two directions: a win, and the machine keeps rolling; a loss, and we could see four years of unparalleled success come to a screeching halt. Sound dramatic? Think about this: if Oregon were to fall, a BCS dream season could end up at the Alamo Bowl. Impending sanctions, whether Ducks fans want to admit it to themselves or not, are coming (the severity is still unknown, but they're real). Also, the Chip Kelly-to-the-NFL rumors seem to hold more merit now than ever before. Does a win Saturday erase all of those factors? Absolutely not.
A BCS game — title shot or not — will help make the transition to the next era of Oregon football a lot easier, no matter what it turns into.
The Civil War is always a special week for the state of Oregon. The Beavers are back to being relevant again and ready to challenge for state supremacy. For one program, hailing from the great city of Eugene, this edition feels a bit more important than the rest. Three things above all else need to happen for Oregon to escape with a win today. Do these and it's another BCS game. Fail and the long off-season of questioning begins early.
ESTABLISH MARIOTA EARLY
For all of the problems Oregon had running the ball against Stanford, the main factor was not giving Marcus Mariota enough time to find open receivers, which threw off his timing and disrupted the entire flow of the offense. Against Cal two weeks ago, the Ducks struggled running the ball, but the pass protection was superb. However, after 377 yards and six TDs from Mariota, Oregon had racked up 59 points.
Mariota provides a different element that the Ducks have not fully had in a Chip Kelly offense, but his powers are rendered useless if he is constantly scrambling out of the pocket. The offensive line, so stout from the first nine games of the season, have shown cracks the past two weeks. Another showing like that against the Beavers, and Oregon will be in trouble. If given time, Mariota has proven he can carve up any defense. Quick throws establishing confidence will be a key to the Ducks success today, and put the Beavers secondary on their heels.
CONTROL BEAVERS RUSHING ATTACK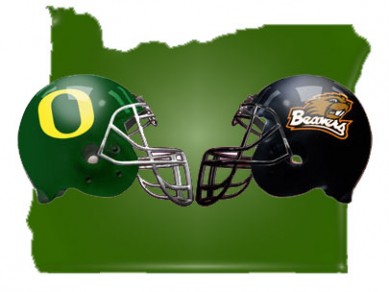 Despite possessing one of the top passing attacks in the conference, Oregon State has found most of its success this season when Storm Woods and Terron Ward have found open lanes. Oregon has been solid against the run, allowing just over 151 yards per game. Oregon State won't rush for 300 yards, à la Stanford.
Averaging 120 yards per game, the Beavers' run success has come early in games, setting up second half passing attacks from Mannion and his receivers. If Oregon can bottle up the backs, and allow the secondary to hang back and clog the passing lanes, Oregon will take away a major tool in the Beavers' arsenal.
WIN THE TURNOVER BATTLE
Rivalry games, so dependent on emotional victories, tend to swing the way of the turnover battle. Despite rarely selling out Reser Stadium, Beaver fans can make some noise when the time is right.
Oregon must win the turnover battle (yes, it's that simple). On the road, keeping momentum away from the home team and their fans is critical to success, especially in a rivalry game with the underdog hell-bent on an upset.
Turnovers on special teams (See: Cliff Harris, 2010) are especially crippling and Oregon's failures in that unit this season are reasons for concern. Today would be a great day for De'Anthony to bust another long punt return, huh?
                 WHEN OREGON HAS THE BALL
Coming off their worst performance since the Boise State debacle in 2009, more questions have arisen this week about Oregon's offense than anytime in Chip Kelly's tenure. Have they been figured out? Can they run on any defensive line with a pulse? How will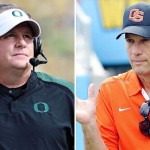 Mariota bounce back from adversity?
The first answer is no, Oregon has not been "figured out", because in reality there is not a lot to figure out. Oregon's offense under Kelly is not rocket science as much as it is flawless execution that is reliant on being in a flow. Against Stanford the Ducks were unable to run up the middle, no flow was established, and we all saw the results.
Whatever it takes — in the passing game or run game — a fast start for Oregon is imperative today against an Oregon State defense that possesses the same challenges as Stanford. Mariota and his receivers never seemed to be on the same page against Stanford, in part due to the lack of time he had in the pocket. Oregon State's front four — led by Scott Crichton and Dylan Wynn — can pressure the QB as well as anyone, so keeping those two in check will be vital.
Against the Cardinal, the only thing Oregon was able to consistently get results with was DAT. No team, no matter what the scheme, can hang with Thomas if he gets a crack. For the Ducks to get control in the game, there is no better option than riding the wave of the Black Momba.
             WHEN OREGON STATE HAS THE BALL
With Sean Mannion under center, Oregon State has been in a different rhythm this season than when Cody Vaz was taking snaps. Unfortunately for the Ducks, Mannion is back and is seemingly healthy after missing the better part of a month with a knee injury. Mannion, the sophomore captain, might have the ugliest release in the conference, but he has been simply dynamic when given time.
With Brandin Cooks and Markus Wheaton combining for 2,025 yards, the Beavers present the same threat that Woods and Lee did for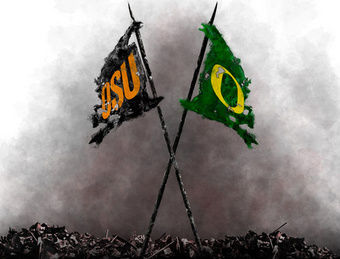 USC…and that did not exactly work out well for Oregon. Mannion is prone to interceptions, having tossed nine on the season, although seven of them came against WSU and Washington. Storm Woods leads the ground game, averaging just under 70 yards per game. Again — not stats that will blow you away, but Oregon must contain him with their front four and allow the linebackers and secondary to focus on shutting down Mannion and Co.
For all the problems that the Beavers receivers can cause, they are containable with pressure and good team defense. Oregon's speed on defense is something they haven't faced all season, so Oregon does have a slight advantage.
SCORE PREDICTION
Oregon has always bounced back well after losses in the Chip Kelly era, going a perfect 6-0. The loss to Stanford, however, feels different. This is the first time that the Ducks are facing a formidable opponent coming off a loss and the team seems a little shaken. Sometimes, the gut is the best tool to go off of and this gut does not feel well. Too much momentum for the Beavers and too little experience for this still young Ducks squad will lead to a long afternoon in the town of Corvallis. I hope I'm wrong here.
OREGON STATE: 38 OREGON: 34

Joel Gunderson grew up in a small town, where the only thing he did for fun was worship the Oregon Ducks. He later moved to Eugene, where he studied journalism at the U of O. After working in radio, he married the woman of his dreams and settled down. Joel now spends his days studying Journalism and the fine world of grammar, all the while worshiping the ground that Charles "Chip" Kelly walks on! Follow him on twitter @gundy85
SIGN UP for the New FishDuck Commenting/Posting System!
The first step toward some big additions to the site is moving away from the Disqus system, to our own new commenting/posting system for the great discussions below the articles.
It takes a minute is all, and will allow us to continue our amazing discussions of Oregon Sports in a new format that will allow more flexibility over time as we add features.  Sign-up now!  
Mr. FishDuck