Meet Your New Ducks: Darren Carrington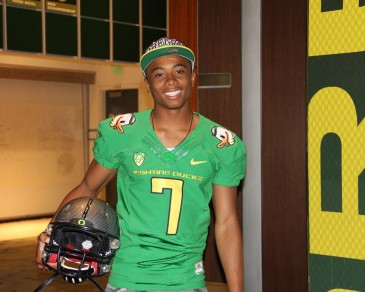 Oregon's young receiving core just got a little better. This 4-star, 6 foot 3, 180 pounder hails from San Diego, California. Nobody really knew what to call this kid in high school as he rarely missed a down playing WR, DB, and even splitting time at QB.
Darren Carrington had been recruited hard by Oregon wide receivers coach Scott Frost amidst his Junior season then solidified his offer after his outstanding showing at Nike's The Opening – a renowned skills showcase for the country's top athletes. He has been fully committed since last June and is eager to get on campus; however, he has no intention to graduate early and head to Eugene this spring.
Here is Carrington earlier this season on what he hopes to improve and why he chose the Ducks.

While growing up, it was evident football was this kid's destiny. One can attribute this notion to the influence of his father, Darren Carrington Sr; a former NFL defensive back who played 8 years in the league, most notably for the San Diego Chargers. Duck fans can assume Carrington has quite the work ethic with great football genes and constant training from an NFL dad.
Carrington's best feature is perhaps his pure athleticism and versatility on the football field. As said, his success beyond wide receiver is nothing to scoff at. Along with 650 receiving yards and 6 touchdowns, he threw the ball for 613 yards and 5 touchdowns, and ran the ball for 300 yards and a score throughout his junior season. Oh, and lets not forget about the 50 tackles and 2 forced fumbles he had as a starting cornerback.
He really has a knack for putting his name all over the box score. In addition, if you're doubting his superstar talents at receiver, know that he racked up 850 receiving yards for 10 touchdowns his sophomore year when he was featured primarily as a WR/DB.
Carrington's high school team is currently in the playoffs and is poised to make a deep run. He has played less at quarterback this year, but has excelled elsewhere, with 860 receiving yards, 110 rushing yards, and 13 total touchdowns — yet another piece of evidence on his raw talents as a wide receiver.
So what kind of player is he? And what exactly can he do for Oregon?
Well, scouts obviously rave about his versatility and well-balanced athleticism, but it is his hands and route-running ability that have put him into the national spotlight. He may lack blistering speed that Oregon fans are used to seeing on the field, but expect this guy to serve as that dependable, hard-working receiver reminiscent of the fan-favorite Jeff Maehl from a few seasons ago. For more of an immediate comparison, think of Carrington helping the Ducks like a Rashaan Vaughn. Both are similar in size and speed (which is still pretty darn fast) and serve as dependable receivers and pass-blockers to aid the success of a Barner, De'Anthony, or Huff.
Since Chip Kelly took the reigns of this program, it's pretty evident that the school has become a breeding ground for all-star caliber running backs and quarterbacks. That is meant to not slight to the rest of the team, as the amount of pro Ducks in the NFL is increasing; rather it is just the truth that Oregon has been missing that blue-chip wide receiver that sits atop recruit ranking pages. This may be due to Oregon's advertised run first offense, but someone like Darren Carrington could change this notion; meaning, that true wide receivers are wanted and can excel in this so-called gimmicky offense.
It's easy to get carried away with a highly touted recruit's potential and what it could mean for your program moving forward, but know that this kid is something to get excited for. He may not set an example for a whole new type of wide receiver in Eugene, but he sure has the talent, work ethic, and support to make quite the name for himself on this team within the next few years.
Be sure to check out Darren Carrington's full recruiting page on DuckTerritory.

Want to Watch Oregon Games on your computer?
If you do not get all the channels that have the Oregon Football games, or simply want to be able to watch the game over again as you don't have the space in the DVR to hold all the games?
Contact me by email: charles@fishduck.com and I can help.  We have fans across the nation and internationally watching the games 24/7/365 and I wish that for everyone.  Charles Fischer