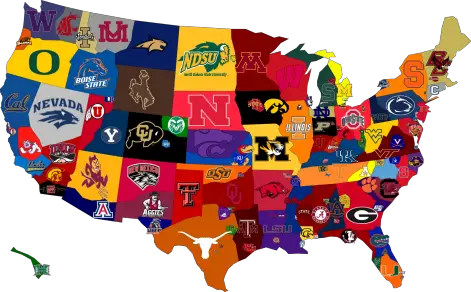 Another week is in the books, and BCS chaos almost happened. All teams in the Top 5 looked to be on the ropes at one point or another until they finally demonstrated their dominance. After this weekend, I am officially a firm believer that Notre Dame has their own set of refs that give them calls when they need them the most. If anyone disagrees, then you probably did not watch any of their games this year. After the final results this Saturday, we can expect more BCS controversy than chaos to emerge. Now let's get onto some news and thoughts from the past action.
When Alabama looked like it could be beaten, it pulled the win out at the last minute over LSU 21-17. Alabama and LSU did do something it seems they couldn't do vs. each other last season…score some points. I believe the "Mad Hatter" out-thought himself this game with some of the calls he made throughout the night. The Tide is still rolling.
I would like to congratulate the Oregon Men's basketball team for defeating USC 62-51 last night….oh wait…that was the final for the football team? Wow! I guess defense is still optional in the PAC-12. Oregon showed it does not matter who the opponent is every week, they are going to score some points. Congrats to Barner for racking up 321 yards and a 5 TD performance. After seeing Barner work, you wonder what his numbers could be if he actually got to play a full game every week. As for the Oregon defense…did they miss their flight?….51 points…come on!
Notre Dame pulled a win out of their @#$% in triple overtime vs. Pitt. After seeing the refs make some phantom calls, and missing a lot of others, I am done talking about Notre Dame this week. I will add one note…Notre Dame should drop and Oregon should jump them after putting on such a poor showing vs. a weak Pitt opponent.
Kansas State was able to put away upset-minded Oklahoma State 44-30. Klein did leave the game with an undisclosed injury….so at what cost did this win come? He has been the heart and soul of Kansas State football this season; hopefully he is able to return. If he is out, this could affect the outcomes of their remaining games.
Ole Miss took an early 10-0 lead over Georgia before the Dawgs woke up and proceeded to score 37 straight points. After Georgia beat Ole Miss 37-10, they can pretty much punch their ticket to the SEC TITLE GAME because it will take a miracle for Auburn to beat them next week. Florida fans are still hoping for that miracle to happen, but after a sluggish 14-7 win over Missouri, Muschamp has other things to worry about and work on. Gators pulled out a victory vs Missouri in ugly fashion. Looks like Georgia and Florida suffered a little hangover from last week's "World's Largest Outdoor Cocktail Party".
The biggest surprise of this past weekend's games was the offensive firepower of Texas A&M vs. Mississippi State. The Aggies rolled to an easy 38-13 victory over the Bulldogs, but showed they are a force to reckon with. Texas A&M will play Alabama next week. From there we will be able to see how good Johnny Football really is.
The BCS committee would like to thank Terrelle Pryor and his tattoo buddies. If they did not screw up, then Ohio State would not be on probation and their 10-0 record would really mess things up even more in the BCS standings. Urban Meyer and Braxton Miller quickly disposed of Illinois 52-22 to notch another meaningless victory. Ohio State will be in the FINAL FOUR playoff in 2014…you can bank on that. Nebraska scored a late TD with 12 seconds remaining to beat Michigan State. Nebraska now controls their own destiny for playing in the BIG-10 title game. The BIG-10 is having such a down year that Indiana could still make a run for a spot in the BIG-10 title game and reach the Rose Bowl.
Speaking of crappy teams making their conference title game and possible BCS bowl game, lets talk ACC football. Miami beat Virginia Tech 30-12 and took command of the ACC COASTAL division. Both teams were sitting at 4-4 and winner just has to win out to make the conference title game and a possible BCS bowl game. I would love to have my team play in the ACC. Right now in the SEC, some teams could finish 11-1 or 10-2 and still get left out of a BCS bowl game, while a possible 8-4 team makes a BCS bowl game. I could go on ranting about all the other conferences and easy paths they take to BCS bowl games, but it is too tired a message.
Speaking of easy paths to the BCS, Louisville still remains a perfect 9-0 after beating down Temple 45-17. Coach Strong has his team poised for winning the BIG EAST and making a BCS bowl game. Look for a stronger BCS program to make a run at him. He is coaching in the BIG EAST so take all of his success with an asterisk next to it.
More notes from around the nation: TCU rolled the dice and went for two against WVU and won 39-38 in double overtime. This just in….The Geno Smith Heisman campaign is officially over. Texas was able to look past Texas Tech's new uniforms and won 31-22. Mack Brown needed that victory in the worst way. Oregon fans should be happy that Stanford beat Colorado 48-0. This will help the SOS for Oregon. Clemson still keeps its slim ACC TITLE hopes alive by clobbering Duke 56-20. Just wait until basketball season, then you can fear Duke. Oklahoma avoided the upset special vs. Iowa State by winning 35-20. Now all they need is for Kansas State to lose twice….which isn't happening. UCLA brought Arizona back down to earth by scoring so many points, it made them think they were playing Oregon all over again. After Tennessee barely beat Troy 55-48, expect the VOLS to put Coach Dooley on very thin ice.
We almost had pure BCS chaos if LSU and Pitt would have been able to finish their games tonight. If Matt Barkley was not so turnover prone, all of a sudden then Duck fans would have had to book their postseason play to Pasadena instead of Miami. My vote is still for Oregon vs. Alabama in the title game. Alabama's defense got gashed vs. a very bad LSU offense, so Oregon has a shot against who ever they play. Let's hope some more upsets happen so do not have too many undefeated teams standing at the end of the season. Good luck sorting out all this BCS mess if every team wins out.
Until next week college football nation…
NATIONAL NEWS:
1. College football's mailbag
2. Robinson out at Michigan
3. Vols sack Troy, barely
4. Snap judgments of week 10
5. Penn State still slinging mud
OREGON NEWS:
1. Chip Kelly off to the NFL
2. #2 Ducks vs. #1 Stanford
3. Ducks win civil war
4. Barner's big day
5. More updates from Oregon vs. USC

Want to Watch Oregon Games on your computer?
If you do not get all the channels that have the Oregon Football games, or simply want to be able to watch the game over again as you don't have the space in the DVR to hold all the games?
Contact me by email: charles@fishduck.com and I can help.  We have fans across the nation and internationally watching the games 24/7/365 and I wish that for everyone.  Charles Fischer