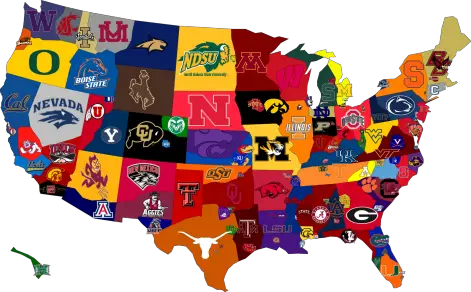 It has happened. BCS chaos is back and Notre Dame can be declared back (until USC whips them in LA next week). For the first time since 2007, the #1 and #2 team have lost on the same day. One loss was not pretty while another loss is going to sting for a very long time. To add onto the confusion and chaos of Saturday, we have more expansion rumor talks. We have the winner of the SEC Title game playing for a spot in the national championship game. This is going to be a hot mess of a finish for the end of the season. Now let's get into some more thoughts and news from around the nation:
Kansas State got smacked in the face, thrown down on the floor by Baylor and could never get up. Baylor came to play, and play they did. It was not even close. Baylor won 54-24 and exposed Kansas State all night. I feel bad because this was probably Bill Snyder's last chance to get a national title. Thank you Baylor for starting BCS chaos.
Speaking of BCS chaos, anyone catch that game in Eugene? For any Oregon fans who thought they had a tough team, sorry, cancel the trip to Miami. Pasadena is as good as it gets from here on out. Oregon just could not find rhythm all night and appeared to be manhandled all along the offensive and defensive line. Oregon was missing some key players along the defensive line and it showed. Stanford's Stepfan Taylor had his way running over the Ducks all night. 17-14 was the final score and we finally saw some defense in the PAC-12. I am sure Oregon fans will complain about the controversial touchdown catch by Stanford but just a word of advice…"never leave the game in the hands of  the refs"…but at least the refs gave Oregon a phantom pass interference call in the final minute in hopes of Oregon setting up a game winning field goal. Now the game vs. Oregon State is going to be huge for Oregon fans and their Rose Bowl hopes. Now Oregon will be cheering hard for UCLA to upset Stanford and allow them into the PAC-12 title game.
Notre Dame took care of business vs. Wake Forest and shut down  the Demon Deacons 38-0. With all the upsets we will now have Notre Dame at #1 and have to prepare to hear the "Notre Dame is back" talk for the week. Ugh!
The SEC dominance is illustrated in having teams #4-9 in the BCS standings.  Alabama and Georgia both took care of business to keep their title hopes alive while Florida and South Carolina do not belong in the Top-10 after lackluster performances vs. FCS opponents. Same goes for Texas A&M…you don't let an FCS team score over 27 points on you. As for LSU, once again another barn burner in Baton Rouge vs Ole Miss. After seeing all the upsets, it looks like a one-loss SEC team will find its way back into the title game, with the winner of the SEC title game playing for a spot in the national title game…the way it  should be.
Clemson beat NC State 62-48 to keep their BCS bowl hopes alive, while Florida State routed Maryland 41-14 to clinch a trip to the ACC title game. With all of these upsets FSU could find its way back into the title game. I would rather have Notre Dame go than see FSU get in…you do not deserve to go if you lose to a 6-5 NC State team. The ACC is such a joke and has no creditability for football…good thing for them basketball season has started.
Another barn burner as Oklahoma beat West Virginia 50-49. Oklahoma QB Landry Jones hit his WR on 4th  down with less than 30 seconds left in the game. Defense is also optional when you're playing in the BIG-12. West Virginia started 5-0 and is now 5-5…sad season finish for them. With Kansas State losing, Oklahoma needs Texas to beat K-State for them to clinch the Big-12. I am sure Sooner fans will secretly be cheering for their hated rival, the Longhorns, next week. That would not happen in my book. I would rather come in 2nd place than cheer for my rival.
Rutgers beat Cincinnati 10-3, and this now sets up a season deciding showdown with Louisville, in a winner-take-all game. Winner takes the BIG EAST (not a title I would be chasing after) and a BCS bowl game. The Big East deserves to lose any status with the BCS with how they have been handling their business on the field.
A shout out to the UTAH STATE AGGIES. They finally did what they previously could not do…finish a game (kind of). After  leading 41-17 over Louisiana Tech, Tech rallied to tie the game at 41 and send the game into overtime. Aggies got a key 4th down stop and won 48-41 and clinched the WAC title. If things went a little better for Utah State, they could be sitting at 11-0 right now with a possible at-large BCS bid. Aggies must be doing well this year thanks to all their sweet new Nike uniforms.
Here is some news: Maryland and Rutgers are in talks about joining the BIG-10. WHOA NELLY. The season is not even over and we are already talking about conference expansion? BAD MOVE! Maryland is overall awful most of the time, and Rutgers puts out a few good seasons here and there. They are nothing more than another Purdue to the conference. Beg Notre Dame to join or even look to Louisville. You get some good basketball with that school. I can get on some major rants about this, but I will stop right now. We have a whole offseason to talk about it.
More notes from around the nation: Miami still kept its ACC title hopes alive by beating USF 40-9. Miami is 6-5 and has a shot at an ACC title and a BCS bowl…the ACC is a joke.  Shout out to UCLA for finally beating USC 38-28 and clinching the Pac-12 South. UCLA is the top dog in L.A. this year. Vanderbilt beat Tennessee 41-18 and pretty much guaranteed Tennessee will be looking for a new coach in the off-season. Northern Illinois and Kent State both won, locking up bids to the MAC title game. Now there is some interesting football going on in the MAC this year. I guarantee at least two coaches will leave for BCS jobs after this season.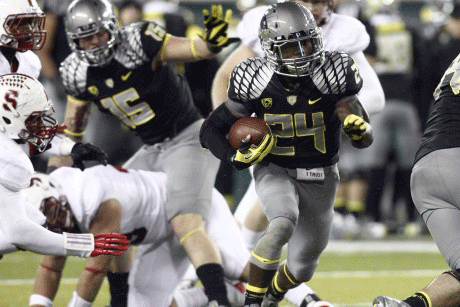 Another week is in the books and if you live in Eugene, Oregon or Manhattan, Kansas…then let me get you a box of tissues. BCS chaos ensues now and the argument begins for who is the best one-loss team in the country. I am always excited for the upsets and who knows; we might have a few more when Notre Dame plays USC next week. With the season winding down it looks like the SEC is back in the title game. We might get two SEC teams in the title game again at the rate all the tops teams are dropping. Only time will tell.
Until next week, College Football Nation!
NATIONAL NEWS:
1. BIG-10 expansion talks
2. College football mailbag
3. More weekends news
4. Michigan ready for big game
5. Ball breaking records

CAN YOU HELP US?
The pictures you see of the Ducks on FishDuck.com come from professional photographers that must be paid! Please donate through one click so we have pictures from all the games this fall to use through the year. All previous donations helped to pay our big Web Developing bills recently, and I do appreciate it.
Our staff and the photographers who have thousands of dollars invested into their equipment to provide the high quality pictures do sincerely thank you.   Charles Fischer