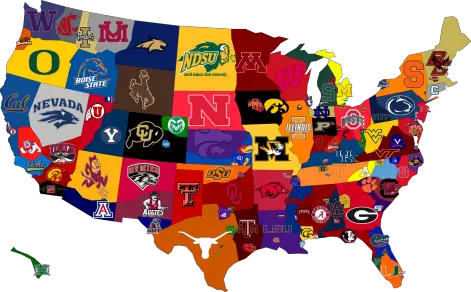 It's set. Thanks to some late game heroics, we will not be having an SEC vs. SEC title game. Notre Dame held on for the late win over their bitter rival USC. It was rivalry week, and boy, did we have some big games (UF vs. FSU, Clemson vs. South Carolina), and then we had some others no one even noticed (Auburn vs. Alabama, Georgia vs. Georgia Tech). The BCS Gods are also thankful that Notre Dame held on because TOTAL CHAOS would have ensued if Notre Dame lost and they had to choose between an all-SEC title game or pick from all the one-loss teams. Some news and thoughts from rivalry week:
1. Just went it seemed like it would be a ball game, the Notre Dame defense showed up and kept USC from pulling the upset. Notre Dame's defense will be talked about this week, and all the weeks to leading up to the title game. Watching the game, the prevailing thought was….if Matt Barkley were in, a lot more of those throws would have been completed, and we might have had the upset we all so deeply wanted. Well, another week of "Notre Dame is back" from Lou Holtz.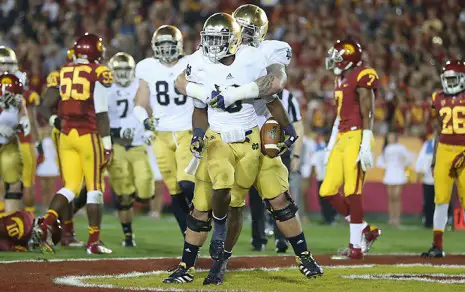 2. An intense rivalry week skipped over Alabama, who rolled Auburn 49-0 and guaranteed Auburn will most likely be looking for a new coach this offseason.  Georgia made rivalry week look like FCS opponent week by stomping Georgia Tech 42-10. I bet a lot of Oregon fans were mad at those scores, since they were in desperate need of an upset.
3. Sunshine Showdown turned into the Sunshine Smackdown in Tallahassee. Florida went right out and silenced a hostile FSU crowd with an early 13-3 lead at halftime. FSU woke up and made a ball game out of it, turning up the heat and scoring 17 straight points, taking a 20-13 lead over Florida. Florida then sat their little brother FSU down and said "that's nice, hope you enjoyed it, but you lost to NC State and now we are going to take over from here and show you how it's done" and boy, did the Gators take over.  After scoring 24 points in the 4th quarter to make it 37-20,  UF let their little FSU brother score a touchdown with no time remaining to give us the 37-26 final. After early struggles vs. no name opponents this season, Florida showed up and finished the season 11-1. A great season for Will Muschamp and the Gators. With a Notre Dame win, all the Gators can do is hope for a BCS bowl now; skipping the title talk despite having an impressive resume.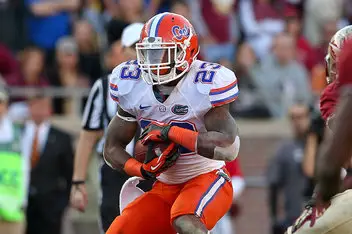 4. Nothing Civil about the Oregon vs. Oregon State game there. Oregon won 48-24 and I can not tell you a lick about the game. When we are in an era of media frenzies and coverage, the PAC-12 decided to make their marquee game available only to PAC-12 Network subscribers. I guess that means about 7,000 people watched the game while the rest of the country focused on other rivalry games being shown on local and ESPN television networks. Good move Mr. Scott….in a time where you need the Oregon brand out there for the world to see, you hide it behind your PAC-12 doors. Imagine the riots the South and most of college football would have had if the LSU vs Alabama game last year was a pay-per-view event? Mr. Slive of the SEC has a few tips for your TV schedule next  season.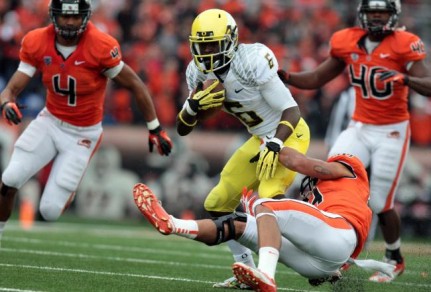 5. Stanford ended any PAC-12 title talk for Oregon by crushing UCLA 35-17. Did UCLA really want to win that game and have to face a mad Oregon team? Probably not. I am sure when Stanford got up by two scores, UCLA said they will try again next week and got some younger guys playing time this week. So here is to a rematch for the PAC-12 title. Depending who wins the Pac-12 and Big Ten, this could be one sad Rose Bowl match up this year.
6. Johnny Football was finishing up his Heisman campaign with a five touchdown performance vs. Missouri in a 59-29 rout. He has put up better numbers than Tim Tebow and Cam Newton did the years they won their Heismans. Should be interesting to see how voters go this time. Steve Spurrier not only won the war of words vs. Clemson, but actually won the game 27-17. That's four straight vs. Clemson, and might have knocked the Tigers out of BCS bowl contention.  The SEC could probably fill every BCS slot this year and have a great turnout if rules permitted. Spurrier defiantly is working wonders there at South Carolina.
7. We see that defense in still optional in the BIG-12 after Oklahoma beat little brother Oklahoma State 51-48 in overtime. Back and forth it went, with Oklahoma answering every time it looked like the Pokes were going to run away with it. Great win for Bob Stoops, and now they are "secretly" cheering for Texas to beat Kansas State next week so they win the BIG-12 and a BCS bowl berth. Speaking of Texas, FireMackBrown.com is now up and running after that embarrassing 20-13 loss to TCU. Mack Brown does not deserve $5 million a year to put up 8-4 seasons, and I am sure the Longhorn fans feel the same way. Brown could have fans "hook'em" out of a job if he loses to Kansas State next week.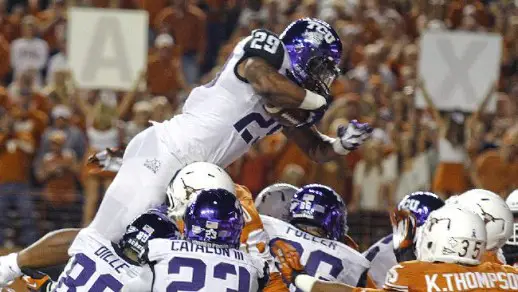 8. The BIG EAST is a mess. It could be a 4-way tie if Louisville beats Rutgers next week. In hopes the BIG "easy" has a team with a decent record in a BCS bowl game, I will call for Rutgers to win it all before the make their move to the BIG-10.
9. Props to Urban "liar" Meyer to keep his boys motivated and playing for something when really there was nothing. The Buckeyes completed an undefeated season by taking down hated Michigan 26-21 in "The Game". Braxton Miller is definitely going to be a front runner for the Heisman this year, and his remaining years in Columbus. Ohio State will be in BCS bowl contention next year and in the final four of the playoffs in 2014. With how good Miller is and how young he is, the sky is the limit,  unless the NCAA steps on the Buckeyes again.
10. Other game highlights and notes: Louisville lost in 3OT to UCONN 23-20 and is not sending out its resume for a new conference as the BIG EAST falls apart…again. Utah State beat Idaho 45-9 to clinch outright the final WAC title, finishing 10-2. Utah State could have been an undefeated team. Both losses were by a combined total of 5 points. Penn State's seniors went out on a high note and won with pride in overtime over Wisconsin 24-21. Virginia Tech avoided embarrassment by beating Virginia  17-14 to become bowl eligible. Not the season Hokie fans expected. BYU beat New Mexico State 50-14, but what is more impressive was the 5 TD catches BYU WR Cody Hoffman had. Now that is a dominant wideout.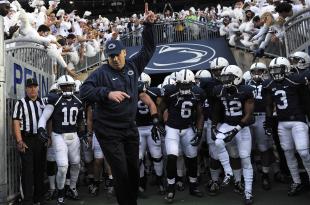 Rivalry week is over and now it is time to prepare for CHAMPIONSHIP week. All eyes will be on the SEC to see who is in vs. Notre Dame. (Isn't everyone always watching what is happening in the SEC?) The last time Georgia won a national title it was over Notre Dame….will history repeat itself? With only a few games remaining, we at least know of one team who will compete for the crystal trophy. We'll have to wait one more week to find out the other. What a great season it has been.
Until next week college football nation…
NATIONAL NEWS:
1. Ball sets record in loss
2. College football mailbag
3. Big-10 disrespects fans
4. Heart problems at Minnesota
5. Spartans end nightmare season

Want to Watch Oregon Games on your computer?
If you do not get all the channels that have the Oregon Football games, or simply want to be able to watch the game over again as you don't have the space in the DVR to hold all the games?
Contact me by email: charles@fishduck.com and I can help.  We have fans across the nation and internationally watching the games 24/7/365 and I wish that for everyone.  Charles Fischer