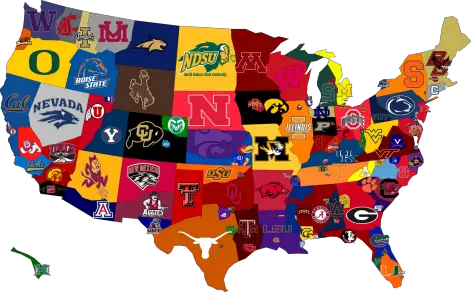 The College Football Gods have given us what we have all wanted this season. UPSETS! After the Aggies knocked off Alabama, it looks like we might actually have a title game without an SEC team in it. Will that even feel right to everyone? Louisville also fell from the ranks of unbeaten, but no one really cares about BIG EAST teams. What a crazy week of college football. It seemed most teams were not invincible after the games this weekend. One clear message was still sent out: Oregon will score over 50 points on whomever they are playing, no matter what. Now let's get onto some thoughts and news from this past week' action:
Way to go Aggies! Johnny Football and Kevin Sumlin got Texas A&M their first signature win in the SEC. Capitalizing on some early momentum, A&M took a 20-0 lead before Alabama woke up. Everyone talks about the Aggie offense, but it was actually the Aggie defense making the plays for the win. With this loss, it probably will knock an SEC team out of the title game unless two out of the three undefeated teams lose in the next few weeks.
They did not score their usual 50 points, but Kansas State took care of business. TCU is known for defense, but Kansas State still managed to win 23-10. Collin Klein was able to still play and continue his Heisman campaign and hopefully march his team to Miami for the title game. With TCU playing the rest of their season with a backup QB, I didn't expect them to win this one and don't expect them to really make any noise the rest of the season.
Everyone talks about the Ducks' rushing attack, but last night's 59-17 win over California shows Oregon is a complete team. Marcus Mariota's six passing touchdowns turned a close game into a rout. With that impressive showing, Oregon gets my vote as #1. Both Oregon's defense and offense appear to be clicking on all cylinders again. With Alabama's loss, and Kansas State and Notre Dame both struggling, I expect to see Duck fans in Miami.
Notre Dame and FSU both showed they still have a lot of work to do. Notre Dame needed to show voters that the overtime win over Pitt was a fluke and they are a dominant team. Lowly Boston College should be beat more than 21-6. 50 points should be the expectation against Boston College. Enjoy the Rose Bowl Notre Dame, because Oregon and Kansas State are going to the title game. As for FSU, the game vs. Virginia Tech was suppose to be the game of the year in the ACC, but Virginia Tech has really disappointed. The ACC has been so weak and FSU should be beating teams by 50 if they want national respect. You can't really respect a team that loses to NC State.
Speaking of odd games, let's talk about my Gators. What a crazy win. I should have not been cheering and dancing around my house for a Gator victory over Louisiana-Lafayette. The Gators did not deserve the win, but somehow pulled it out with scoring two last minute touchdowns. The best highlight came with 11 seconds remaining, and the score tied at 20. Gator Loucheiz Purifoy blocked the punt and Jelani Jenkins returned it for the game-winning touchdown to win 27-20, avoiding overtime with the upset-minded Ragin' Cajuns. It looks like Gators have given up on the season after that Georgia loss, with the way they have been playing since.
Georgia beat Auburn 38-0, but that does not say much vs. a very bad Auburn team. With the win, Georgia is going to the SEC title game to likely play Alabama. If another one or two undefeated teams lose, a one-loss SEC team could have a shot going to the title game. Georgia still has a lot to play for this season.
Without any title to play for, LSU beat Mississippi State 37-17, hoping to stay alive for an at-large BCS bid. South Carolina beat Arkansas 38-20, which was also playing for respect. It is hard for teams to get pumped up late-season games like this, when they know the results mean nothing more than a bowl game in Tampa or Orlando.
Louisville fell from the ranks of the unbeaten after Syracuse marched all over them, winning 45-26. It's the Big East…what do you expect? Nothing is consistent in that conference. The BIG-12 should be talking about adding Louisville, however. They would bring instant credibility with football and basketball to the conference.
Stanford helped pad Oregon's resume by holding off Oregon State 27-23. It looks like Oregon has their division wrapped up, thanks to the Cardinals victory, as long as Oregon wins next week. UCLA beat Washington State 44-36, thanks to a 30-point 2nd quarter outburst. I am predicting Oregon vs UCLA in PAC-12 title game. USC rebounded from last week's loss to beat Arizona State 38-17. This sets up the USC vs. UCLA game for a winner-take-all scenario, with the winner going to PAC-12 title game. It'll be interesting to see how the PAC-12 South finishes out, and I am still sticking with my saying that "defense in optional" when it comes to PAC-12 football. 
Now lets get into some all-around news and thoughts: Georgia Tech 68, North Carolina 50. They wanted to show Oregon and USC that they could have a high scoring game too. Wisconsin is headed to Big-10 title game after stomping Indiana 62-14. Miami dropped a heartbreaker as Virginia scored the last 10 points to win, 41-40. Guess no one wants to win the ACC Coastal division. I am still pulling for Duke. Northwestern gave up another 4th quarter lead and lost to Michigan 38-31 in overtime. Speaking of overtime, it took Missouri four overtimes to beat Tennessee 51-48. When does Dooley get his pink slip? Texas seems to be back on track with a 33-7 win over Iowa State. Texas needs to upset Kansas State for BCS chaos. Nebraska looks to keep a slim lead in their division after beating Penn State 32-23. Penn State has done a lot better this year than most thought after being handed ridiculous sanctions. Imagine where Penn State would be if those who jumped ship had stayed. West Virginia frustrates me. After showing such signs of promise, they drop another to Oklahoma State 55-34. I think they spend too much time teaching offense and not enough time doing defense at WVU. Louisiana Tech is still showing it could be a BCS buster with a 62-55 win over Texas State…thought that was a basketball game.
This past week has give us so many crazy results. You have to love college football for that one reason. You think you know what is going to happen. You think Alabama will be playing for the title, and the next minute you have a new contender in the #1 spot. I am now predicting Oregon vs Kansas State for the title game. Anyone playing for the national title but Notre Dame would be great. I also hope we have two teams finish undefeated so no one-loss SEC Team tries to sneak in. It's going to be a race to the finish. Your thoughts?
Until next week college football nation.
NATIONAL NEWS:
1. Johnny Football wins the big one
2. College football mailbag
3. SEC-less title game
4. Snap judgments from week 11
5. Another allegedly abused Leach player
OREGON NEWS
1. Mariota and other PAC-12 studs
2. Chip's take on Alabama loss
3. Ducks beat Arizona…again
4. Good start for Ducks basketball
5. Duck's run to an NCAA big

CAN YOU HELP US?
The pictures you see of the Ducks on FishDuck.com come from professional photographers that must be paid! Please donate through one click so we have pictures from all the games this fall to use through the year. All previous donations helped to pay our big Web Developing bills recently, and I do appreciate it.
Our staff and the photographers who have thousands of dollars invested into their equipment to provide the high quality pictures do sincerely thank you.   Charles Fischer