I have heard the mantra about the faceless opponent and that Chip never loses to a foe he shouldn't; baloney. The first time will come and this Saturday is the PERFECT Trap Game for Oregon to stumble. Remember the let-down after Stanford last year? It is natural that our team would be flat for this game after such an enormous effort against Troy last weekend. We let down last year after a big game and…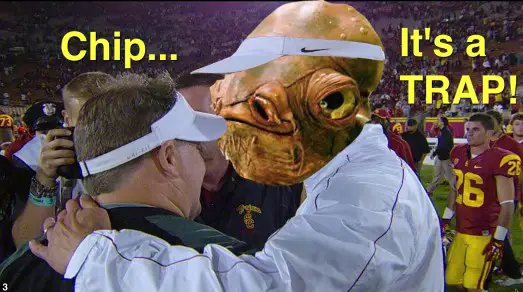 There is a track record at Memorial Stadium as the field is littered with the carcasses of prior Oregon losses.  Remember how we were driving for the winning points and our WR dropped an easy catch on fourth down in 2004 for 28-27 heartbreak?  How many of us fans needed anti-depressants after the ESPN 45-24 debacle in 2006 as we are intercepted on our opening play?  Dennis who?  Geez that was ugly!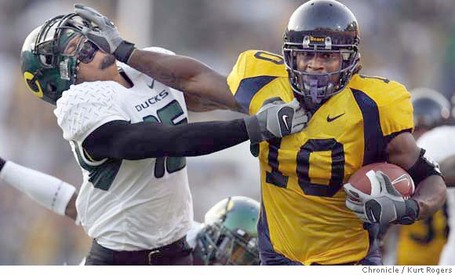 I hear the weather at Strawberry Canyon could be bad this weekend…as bad as 2008 when Masoli slid through four inches deep of water at times in that deluge of another (26-16) loss?  We just don't do well at Cal, and even when they have an inexperienced QB against one of our best teams ever in 2010…we escape with only a 15-13 win that left Lou Holtz sputtering about the Cal kicker.  There is something about that place…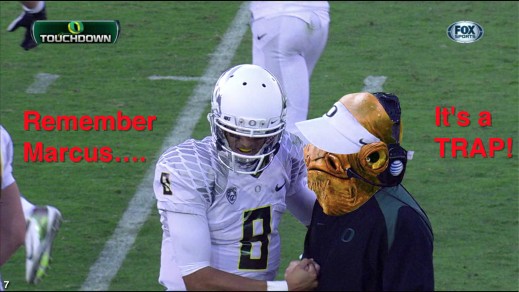 Everybody tells me the Cal QB is injured, yet remember when in 2001 Stanford had their starting QB Randy Fasani go down—and Chris Lewis comes in and throws lights out to give us the only loss of the that season 49-42?  Backup QBs can win as Bryan Bennett proved to us last year, and especially when they are at home.  This is NOT a good scenario.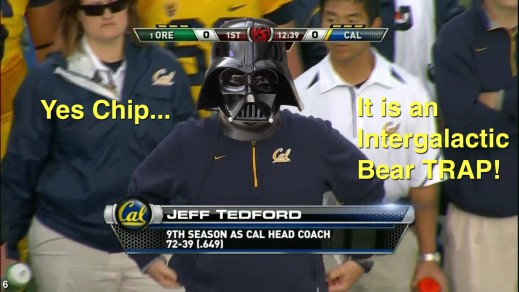 We have a bunch of injuries on defense?  Could that be the cure for the Cal offense?  They DID beat UCLA on this field and the Bruins are now in the BCS top twenty five?  I am NOT a chicken-little kind of guy, but the mood among Oregon fans is little too comfortable for me.  This is the classic TRAP GAME scenario, and unfortunately so many of our fans are so young as to not see the tell-tale signs.
So let me get this right….a night ESPN game against a team with nothing to play for—nothing to lose.  They can salvage some tremendous pride by beating the Ducks and the crowd will be liquored up and frothing for big hits.  We have a terrible track record there, and Cal HAS talent as many of us still lust for as half their team we recruited.  On a given night they can play extremely well, and if we are flat…our season is altered.  This is NOT good, as all the ingredients are present for a tremendous upset.
Remember….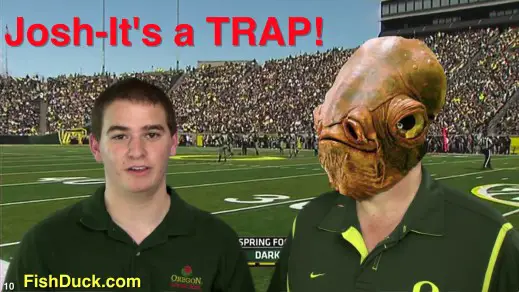 Want to Watch Oregon Games on your computer?
If you do not get all the channels that have the Oregon Football games, or simply want to be able to watch the game over again as you don't have the space in the DVR to hold all the games?
Contact me by email: charles@fishduck.com and I can help.  We have fans across the nation and internationally watching the games 24/7/365 and I wish that for everyone.  Charles Fischer