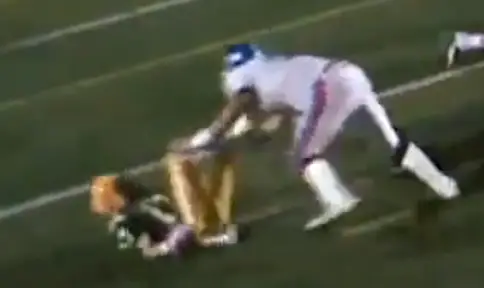 When Oregon offensive lineman commit Alex Redmond was considering what school he wanted to play for, he realized that in addition to hitting people, he also likes blocking out in space. So of course, when asked why he chose Oregon, Alex said "what better place to go?"
There are many things that make Oregon's offense go. Precise execution of the read option, downfield blocking by receivers, and of course the tightly-coordinated effort of the offensive line. Oregon has worked hard to find offensive linemen that are not just large, but also fast, athletic and versatile. At 6-5 and 303 lbs, Alex Redmond is the latest recruit that fits this mold.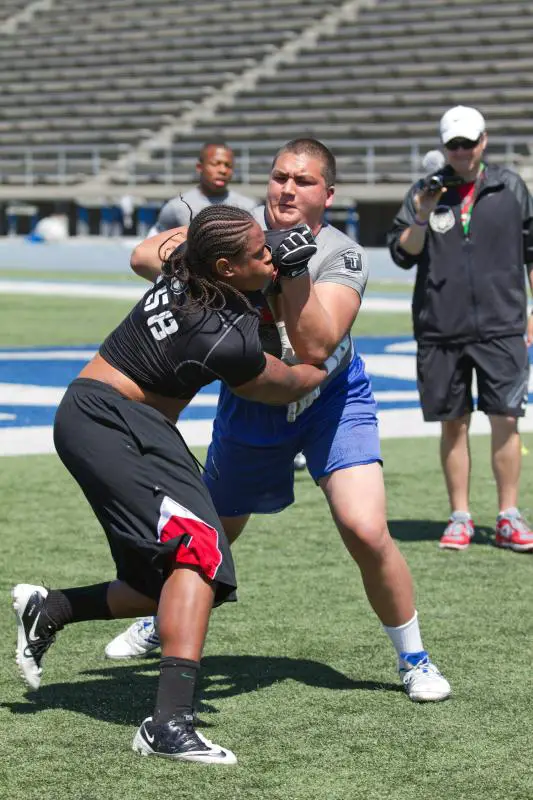 Alex drew attention for his work at left guard for Los Alamitos High School in California. Alex had offers from 10 schools, but after a trip in June to visit Oregon and Washington, he settled on the Ducks and formally committed to the Ducks on July 1st. Oregon has always done a very good job of spotting talent; For example, current Oregon QB Marcus Mariota was offered a scholarship by the Ducks before he ever started his first HS football game as a senior. Spotted in practice as the backup QB, Oregon instantly recognized his potential and moved to invite him to join the Duck family, while others scratched their head and said "Marcus who?"
Time will tell, but it appears that Oregon may have spotted Alex Redmond's potential before others. Alex accepted Oregon's offer of a scholarship shortly before attending The Opening at the Nike Campus. The Opening is a competition of 150 elite high school football players from across the country. Alex proceeded to turn heads as he more then held his own while battling top DL.
In fact, Scout National Recuriting Analyst Greg Powers listed Redmond as one of the top five lineman at The Open and had this to say of his performance.
"Had one of the more impressive plays of the weekend when he was able to drive DL MVP Eddie Vanderdoes into the turf — slightly injuring the defender's shoulder. The next rep after that he would control the technically sound and quicker Christian Lacouture, showing key hand placement, balance and quick feet. He has good technique, seems to show a high football IQ and shows surprising quickness for a large player. He was good on both days."
Alex should fit in well with Oregon's system of intense practices, telling John Crandall of the Los Alamitos Patch that a part of his philosophy is that "You've got to work for something or else you're not working for anything." He also mentioned that he plays, in part, for the "name on my back." This because he intends to make his family proud when he becomes the first in his family to attend college.
Between now and his arrival at Oregon, Alex intends to improve his footwork and build up his ankle strength. He also said that the coaches want him to work on his core strength and flexibility. His current plan is to study communications.
At a recent practice in early October, Alex had the misfortune of not only dislocating his elbow, but damaging some of the tendons as well. While he expects to have a full recovery, the injury has ended his high school football season. He is currently in a rehab program that should have him healthy by the end of the year. He still plans to participate in wrestling this winter continuing to develop his quickness, strength and agility.
Alex is one of three OL recruits who have made a verbal commitment to the Ducks. Formal letters of intent cannot be signed until next February. The other OL commits are Evan Voeller of West Linn, Oregon and Doug Brenner of Portland, Oregon. So far it looks like the next class of offensive lineman have a great chance to continue the tradition of moving Oregon's potent offense down the field.


Ted Werth is a long time Duck fan whose first game, at age 11, resulted in Bobby Moore (Ahmad Rashad) setting the Oregon single game rushing record against Utah. a record which stood for almost 30 years. A longtime season ticket holder, Ted writes the Life's Been Good blog found at Lbgtmsf.com.
For Greybeards … the EYES Have it!
Want to know a secret about web behavior? Readers don't like long stretches of sentences in comment posts without any breaks, and most readers don't even like long paragraphs.
Break it up! After every third sentence in your post…hit "enter" on your keyboard twice if your computer is a PC, or "return" twice if you have a Mac.
This creates natural breaks between scads of sentences, and so many of us thank you for making it easier on our "Greybeard-age" eyes!