A Kicking Savior?
When people look back on Oregon's special teams play this year, all that many will remember are missed field goals, and justifiably so. Oregon went 5 for 12 on the year, including two crucial misses against Stanford that led to the team's only loss. While the field goal kicking left a lot to be desired, the kickoff coverage unit was worse.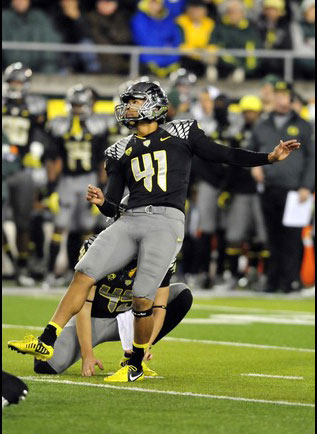 Nothing tells the story quite like the "long returns" statistic, which includes any opponent kickoff return of at least 30 yards. In this category, Oregon finished 116th in the country out of 124 eligible teams. Long kickoff returns are big plays that can swing not only field position, but also the momentum of a game.
What makes this stat even worse is the fact that most of Oregon's kickoffs were short. A 30+ yard return when fielding the ball from the 10 or 15-yard line is a big deal. Against a team with a good defense (like say, Stanford), where being backed up means more than just padding offensive stats, poor kickoff coverage leads to potentially game-changing field position. In close games, field position, and thus, kickoff coverage, directly and undeniably influences the outcome.
Now, yes, Oregon kicks the ball off more than any other team in the nation, but last year Oregon finished 29th out of 124 in the same category and in 2010 they were 41st. There's no excuse for what happened this year, no matter how many points the Ducks averaged. Some of the blame has to fall on scheme, some on the coverage team, and some on the kicker. Ok, a lot on the kicker.
When failing to give the coverage team enough time to get downfield, or not kicking it deep enough, there's not a scheme in the world that can fix the problem. A good measure of a kicker's leg is his touchback percentage (touchbacks divided by total kickoffs). What was Oregon's touchback percentage in 2012? 12.75%, good for 118th in the nation. The only teams worse than Oregon in this area are powerhouses: Bowling Green, Maryland, Western Kentucky, Louisville, Marshall and Eastern Michigan.
We can assume that the Oregon staff wasn't telling their kickers to avoid booming it through the end-zone, since 99% of college coaches would take a touchback every time. The fact is, Oregon's kickers weren't very good in 2012. Luckily, significant help is on the way.
Matt Wogan, a kicker out of North Carolina, committed to Oregon back in June. Wogan, who might be Oregon's most underrated commit, is an elite high school kicker who routinely makes 50+ yard field goals and has a touchback percentage of 90%. While Wogan was visiting Eugene, it's rumored that Chip Kelly told him he'd be offered a scholarship on the spot if he could make a 60-yarder. He nailed it. A kicker with a huge leg and ice in his veins is a luxury Duck fans can look forward to in the years ahead.
Chris Sailer, THE authority on prep kickers, ranks Wogan as the 2nd best in the country, saying "he has the strongest leg in the nation…he's ready for D1 ball right now." Wogan's no slouch in the weight room either; benching over 300 pounds.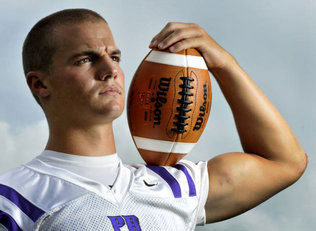 Wogan will be the starting kicker from the day he steps on campus, because there's not currently any competition to speak of.  He is already significantly better than anyone currently on the roster. While it's tough to say that Wogan's commitment is more important than those of Dontre Wilson and Thomas Tyner, both running backs with superstar potential, it's right up there. Look for Oregon's special teams play to be noticeably improved as a result.
Three Targets
Tier 1: Nico Falah OT
Falah is a big-time prospect with ideal size. He's very strong and noticeably athletic. Has no problem getting to the 2nd level, making him an ideal candidate for the Oregon offense. Already a dominant run blocker; he needs to add some weight, but once he does, he'll be a very good tackle.
Falah is committed to USC but recently visited Oregon. Earlier in the process, Oregon told him he would have to decommit in order to visit, but apparently changed their minds. While Falah has stated that Oregon is the only other school he is considering, it appears unlikely he'll decommit from USC, barring any major coaching changes.
Odds of committing to Oregon: 10%
Tier 3: Kani Benoit RB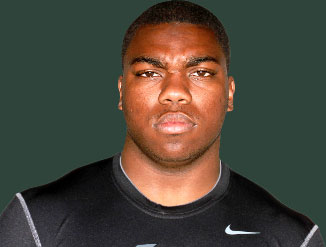 An underrated back out of Phoenix, AZ, Benoit is starting to turn some heads. The knock on him is his lack of great top-end speed. Nonetheless, he was very productive in high school, consistently breaking long runs. Benoit has great vision and patience, doing a great job of getting north/south as soon as possible. He also has very good balance, giving him the ability to break tackles consistently. If Benoit can add some weight, which remains to be seen, he could be a very effective short-yardage back.
With no major BCS offers, Benoit is holding out hope that an Oregon offer comes his way. The coaches seem to like him, and recently he had an in-home visit. If the Ducks miss out on higher profile guys like Derrick Green, Tarean Folston and Terrell Newby, look for an offer and quick commitment from Benoit.
Odds: 50%
Tier 2: Paul Harris WR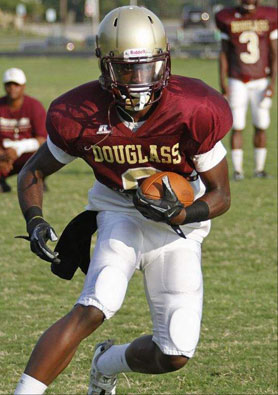 At 6'4″, 190 pounds, Harris is blessed with great size. Combined with his speed and leaping ability, the wideout from Maryland has the potential to be a playmaker on the outside at the college level. He's got great hands, almost never letting the ball get to his body. As is the case with most players his age, Harris could stand to improve his route running, but that seems likely given his body control and overall fluidity as an athlete.
Harris is committed to Tennessee, but with the coaching shakeup there, his recruitment has opened up a bit. It appears that Oregon is next in line if Harris decides to decommit. Right now, he maintains that he's committed to the Volunteers, and will remain so as long as the Tennessee's WR coach stays in Knoxville. However, in the event that the new head coach brings his own staff, Harris could very well end up a Duck.
Odds: 50%

CAN YOU HELP US?
The pictures you see of the Ducks on FishDuck.com come from professional photographers that must be paid! Please donate through one click so we have pictures from all the games this fall to use through the year. All previous donations helped to pay our big Web Developing bills recently, and I do appreciate it.
Our staff and the photographers who have thousands of dollars invested into their equipment to provide the high quality pictures do sincerely thank you.   Charles Fischer