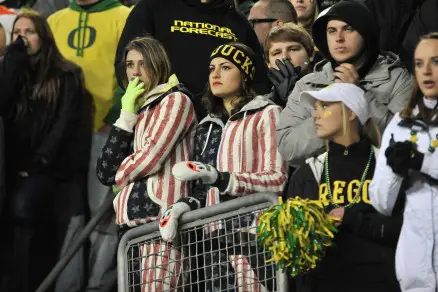 The #1 Oregon Ducks' national championship title hopes took a significant blow last night when they dropped their match with #14 Stanford, 17-14 (OT). In a game where statistics demonstrated how closely matched this contest was, small errors loomed large. What was particularly disconcerting to fans, however, was the fact that (losing notwithstanding) we did not recognize the team that played the Cardinal.
The game started as a slugfest and neither defense let up. It was a relief that there were no apparent physical injuries during this game, which was remarkable, as both sides were playing tough, physical football. Given the concerns going into this game about the health of the Duck defense, the defense played well enough throughout the game to keep it close. If the offense had shown up and held up their end then the final result would have been different. A lot of credit needs to go to the Ducks defensive coaches. They've successfully dealt with some unfortunate injuries and changes in starting personnel, and the defense played an excellent game last night. They kept the game winnable, which is all one can ask for.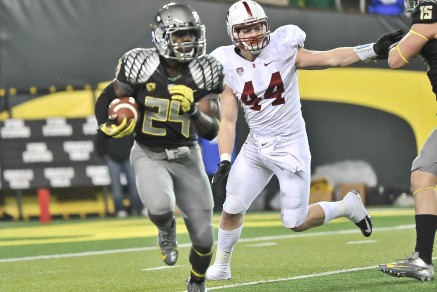 The Oregon offense we saw against Stanford was unfamiliar. It was not the runaway blur that we've come to know this season. This was an offense that struggled to move the ball. They had great difficulty, with a few exceptions, in getting in the red zone. When in the red zone, they could not convert to points. We saw 3-and-outs. We were even reminded that we have a punter! Unfortunately, we were reminded of that quite a bit. One can hardly blame fans for feeling like they were cold-cocked – the offense had an off night, and we're not used to that. Oregon became a victim of it's offensive success; seeing the offense struggle like it did only magnified the mediocrity of their play.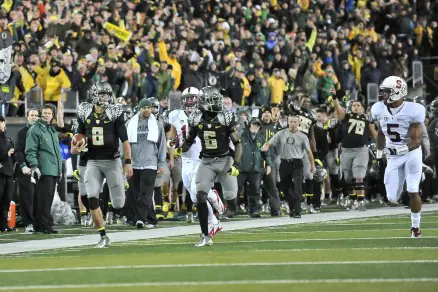 The inept nature of the offense was especially apparent in the 1st and 4th quarters. Were it not for a 77 yard run by Marcus Mariota, the 1st quarter statistics would be truly horrific. As it was, Mariota's stellar run was all for naught – it was only one of the 2 first downs Oregon managed in the first quarter, and the Ducks could not convert it into points. It was an ominous indication of what was in store throughout the game.
Midway into the 2nd quarter, the Ducks started to show an offensive pulse, even if it was fainter than we were used to or would have liked. In the first quarter, not including Mariota's run, Oregon had 20 total yards of offense. By the half, the Ducks statistically had pulled even with the Cardinal in rushing, passing, and total yards, and were pulling closer in first downs. One had a glimmer of hope that after some halftime corrections, the Ducks could come out, get some drives going, and wear Stanford down.
The team hoped for after halftime never entered the field. In hindsight, there were clearly dark clouds on the horizon at the half that led to feelings of unease. We were tied 7-7, but troublesome numbers jumped out – especially not being able to score from the red zone, converting only 2 of 8 third downs, and converting no fourth downs. Even so, aren't the Ducks always a better 2nd half team?
After trading punts, the Ducks put together their best quarter of the game in the 3rd quarter. They were having success on the ground. In spite of incompletions, Colt Lyerla and Josh Huff had drive-saving receptions. The drive was capped by DeAnthony Thomas' 6-yard run into the end zone. It was easy to feel better about the offense. We had 8 first downs to the Cardinal's two. We were better in rushing and passing. We managed to pull ahead. And yet…there were still those darned clouds. Oregon converted 2 of 5 3rd downs, but still had only converted 4 of 13 by the end of the 3rd quarter. Beyond that, there were two glaring problems that became apparent. First, the Ducks did not, could not, convert turnovers into points. Second, they still can't kick a field goal to save their skin – or the game. That special teams failure would come back to haunt them in overtime.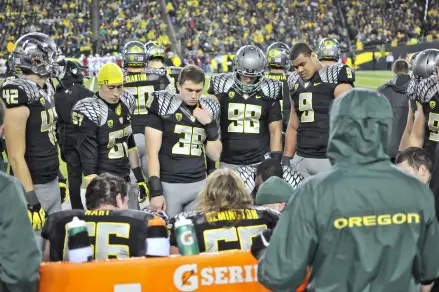 In the fourth quarter, the wheels came loose. Stanford ate up significant portions of the clock, and clearly they were able to get some offense going while the Ducks could not. Oregon did not convert 3rd downs. They did not make any first downs. The Ducks only gained a pitiful 20 yards of offense the entire quarter. When Stanford tied the game, the foreboding cloud of doom that hung over Autzen bore down painfully on all. One had the uneasy feeling that, given how badly the offense was playing, overtime was going to be a losing proposition.
Stanford won the toss to Oregon's first overtime since the 2007 season. After the flip didn't go our way, it was not surprising when the Ducks generated no offense, yet again. Time to kick a field goal. While it may be unfair to suggest that the loss of a game is due solely to having missed a field goal, it cannot be ignored that the Ducks' field goal kicking stinks this year. It is perhaps the most glaring weakness of this team. No one could have been surprised that Oregon missed the field goal attempt. With that miss, the sense that the Cardinal was going to come through with a field goal of their own to win the game was unavoidable. It felt like a foregone conclusion. Stanford did indeed make their kick, and then rushed deliriously on the field, having knocked off another #1 foe, and having deflated the undefeated hopes of yet another Oregon team. Autzen hushed immediately into silence, and stunned fans left the stadium, speechless.
---
"We don't make excuses. Stanford played better than us tonight, and they won the football game."
– Oregon Head Coach Chip Kelly
---
The loss, the suddenness of the conclusion to overtime, felt like the Ducks had lost it all. It will not be easy to shake the disappointment at seeing Oregon's national title hopes take what could very well be a terminal blow. When the disappointment has faded, and clearer thoughts form, we'll be able to rationalize the fact that not all is lost. Oregon could still be in the PAC-12 championship. Oregon still has a shot at a BCS game. The Ducks even have a shot, however slim it may be, to find their way into the title game. The first order of business is to defeat the Beavers in Civil War.
The rest is out of their hands. UCLA needs to beat Stanford for the Ducks to be in the PAC-12 championship game, provided Oregon can beat Oregon State. If USC can defeat Notre Dame next weekend, that has the potential to start the ball rolling that the Ducks need to find their way back into the national title conversation. It's a long shot, but not outside of the realm of possibility. Even if the Ducks land in the Rose Bowl or another BCS game, it would be a fact that they would be the only team to have made it to 4 BCS games is a row. That's something for this young team to hang their hat on and it would mean that the Oregon Ducks would have ended another very successful season.
We'll have to remind ourselves of that, though, because this morning it sure doesn't feel like the feeling of success. Consciously remind yourself that it's not the end of the world.
---
It was senior day at Autzen Stadium.
Oregon had 20 first downs and Stanford had 21.
Both teams were well matched on offense with Oregon having 405 yard total offense and Stanford with 411 yards of total offense.
Stanford had 3 fumbles, 2 recovered by Oregon, while Oregon had none.
Oregon had 5 players receiving with a total of 207 yards. Stanford had 8 players receiving with a total of 211 yards.
Both teams punted often with 6 punts for Stanford and 8 for Oregon.
Oregon rushed for a total of 226 yards with a average of 4.9 yards per play.
Stanford had a total of 216 yards rushing with a average of 4.3 yards per play.
This game is Oregon's 4th loss in 38 games. It was also QB Marcus Mariota's first loss as a starter.

Visit our Sister Site, the new Our Beloved Ducks Forum!
This new forum that is unlike anything you have ever seen between our civilized discussion, (NO TROLLS ALLOWED) complete directions available for easy usage and the delivery of all Oregon Sports News.  (That last part is a gradual transition up to Spring Football)
Go to the forum where we delve into today's article and so many more topics and the nuances within them over there.
We have a topic post begun over at the forum for today's article; it is a free site and offers more opportunity for the exchange of opinions on all the Oregon Sports subjects of the day. (And there are some very cool features!)
An introduction article about the new forum is right here.