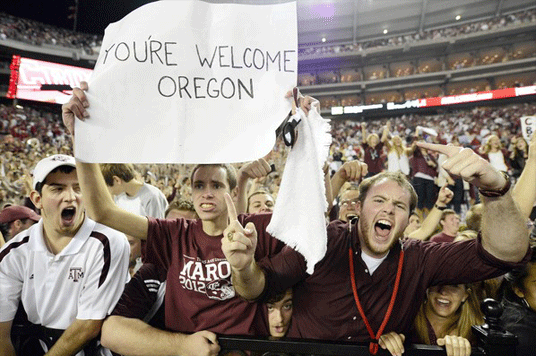 When the top-ranked Crimson Tide flopped at home against former UO commit "Johnny Football" and the Texas A&M Aggies, the BCS championship hopes (expectations?) of the entire SEC took a huge hit. After winning six consecutive national championships, the proud conference now has no undefeated teams, and appears to be on the outside looking in.
You would be hard pressed to find someone who would have projected the conference newcomer with an undersized freshman QB to be the one to knock off the reigning champs in their own house, but knock them off they did. That wasn't supposed to happen; not this season. Alabama's invincible aura was shattered, sure – but they also crushed the hopes of everyone who wanted to see the best two teams play for it all in Miami this year.
Meanwhile, Kansas State was disposing of TCU, with Heisman frontrunner Collin Klein returning from an injury scare to help the Wildcats remain unbeaten. When the BCS standings were released, Kansas St. had surged to the top of the polls at #1. It should be said that Kansas State is a fine Big-12 team. They have a likable Hall-of-Fame coach who has them playing an extremely disciplined and physical brand of football. If they win out, they will play for the title and deservedly so. But does anyone really think they're better than Alabama, even a one-loss Crimson Tide?
While an undefeated Oregon vs undefeated Kansas State matchup might be worthy and intriguing, it is also not exactly what most of the nation had in mind. I'm not so sure it's what Oregon fans should want either.
Don't get me wrong – a national title is a national title, and if a team earns the right to hold up the Coaches Trophy at the end of the season, that's all that truly matters. Your name is forever stamped in history, and 119 other teams would gladly trade places with you. Winning one would be especially big for a team like Oregon, who has been building momentum for decades, yet still doesn't have a national championship to their credit.
A theme for years now has been the perception that Oregon "doesn't play anybody" (despite half of the Pac-12 being ranked annually) or that "the Ducks can't beat an SEC team" (or at least one not named Tennessee or Mississippi State, I suppose).
The trouble with that is unless two teams meet in the National Championship, or are willing to schedule out of conference and travel across the country, the two conferences never play each other, and it's a shame. Who wouldn't want to see Stanford vs LSU or Florida vs USC this year? And I would bet that, say, UCLA vs Georgia might sell some tickets too.
Why don't we have a Pac-12 vs SEC Bowl? Without one, we rarely get to see each conference's best teams actually play each other. The games we do get are always a big draw, and seemingly everyone who follows college football wants to see more games involving the Pac-12 vs. the SEC.
Let's say that Oregon makes it to Miami and K-State or Notre Dame are waiting there for them. Oregon wins their first Crystal Football by two or three scores. Sounds pretty good, right? The only problem is that this year, the Ducks likely would do the exact same thing to Alabama, or any team for that matter. Now, they won't get a shot to prove it, because Alabama blew it by not holding up their end – choking away their unblemished record against A&M.
If Oregon wins the title, but doesn't have to knock off an SEC team to win it, the ridiculous criticism and speculation by some that they can't beat an "elite team" will rage on. The questions about Oregon, however silly, will still exist until they beat an SEC champion soundly. The Ducks vs. the SEC is clearly what most in the nation wanted to see. Beat KSU or Notre Dame, and would anyone really think that Oregon had just beaten the best team?
Of course, Oregon has some big hurdles still in front of them to get to the title game. KSU and Notre Dame do, too. If two of those three slip up, you can bet that a one-loss SEC champion would jump right back in the mix. There is a lot of football left to play, and anything can still happen. But right now, it feels like Alabama has robbed us all of the rare chance to watch the two best teams play for the national title.

Want to Watch Oregon Games on your computer?
If you do not get all the channels that have the Oregon Football games, or simply want to be able to watch the game over again as you don't have the space in the DVR to hold all the games?
Contact me by email: charles@fishduck.com and I can help.  We have fans across the nation and internationally watching the games 24/7/365 and I wish that for everyone.  Charles Fischer