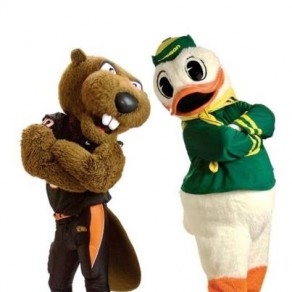 November 19, 1989: 
We had just beaten the Beavers in the Civil War.  Most seasons that would have been a good end to a season.  This year we had a chance for more.  I went to a local liquor store that I knew sold papers from around the country.  (Remember, this was before there was a computer in everyone's home.)  I wanted to see what people nationally were thinking about the Ducks and our chances for our first bowl game in almost three decades.  It had been a season where we had been on the fringe of bowl talk most of the year.  My hopes had been dashed when we lost in O.T. to BYU.  (I'm not a "the refs have it in for us" kind of guy but COME ON!)  Then, when we finished the regular season with two wins for a 7-4 record…maybe…do ya' think maybe?
November 21, 1989:  YESSSIRREEEE!  We had been invited to, what to me was, the greatest thing ever.  The Oregon Ducks were (to quote a quickly produced athletic department money-maker)  BOWL BOUND.  Who were we going to play in the Independence Bowl?  Tulsa.  Hmmm, okay.  A town and not a "University of_____" or "______ State".  Never mind.  We were (puff my chest out a bit) a team in a bowl.
November 23, 1989:  Tickets for the Independence Bowl went on sale at the Mac Court ticket office (the Moshofsky wasn't even a glimmer yet) at 8:00 a.m.  I was there at 7:30.  Wanted to make sure and not get shut out.  As it turned out there were puhllleeennnnttyyy of tickets available.  I thought it was just my thinking ahead when they said, "Where do you want to sit?  First row?  Sideline? Do you want to kick off?
I was selling insurance at the time.  I worked out of a kiosk inside the River Road Fred Meyer.  One of my co-workers was a big Duck fan as well.  The week after the invite we hardly did any work at all.  It was the bowl season and we were a part of it!  Property/Casualty Shmoperty/Shmality.  I got to work at 9:00 a.m., called him and we talked about the Ducks until noon.  Then we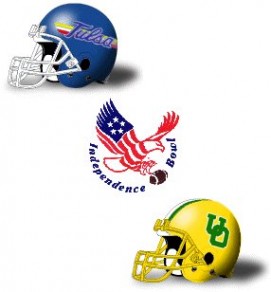 had lunch together because we needed to talk about the Ducks!  As the days went on, we wondered what the point spread would be.
November 27,1989:  Oregon was installed as a 12 1/2 point favorite.  My response, to my friend, on the phone:  "It's a good thing that we don't have to actually worry about winning the game our first time out."  Yikes!
November 30, 1989:  Plane tickets secured, it was time to think about how I was going to pack for this event.  Again, this took consultation with my traveling party.  Shreveport, Louisiana classifies as Deep South, right?  Of course it does.  I will need to take plenty of sunscreen for my Oregon winter pale skin.  Shorts, of course.  More shorts than usual because I was sure that it was going to be 70 degrees at kickoff in the Deep South.  Lightweight tees and shorts.  That's it.
December 1, 1989:  Still two weeks away?  It seems like forever since we beat OSU.  Oh well, this is the big time and this is how it works.
December 11, 1989:  I was driving in downtown Eugene late in the afternoon when the local radio broke into regular programming.  They only did that when something BIG happened.  It was a live remote from Mahlon Sweet Field.  The Duck's plane was leaving for Louisiana.  The announcer took a mike outside so we could hear the engine note rise!  How exciting was this?
December 14,1989: My own plane left, but from PDX.  We had a plane change in Dallas and then about an hour flight to Shreveport.  The four of us who were traveling together got our rental car and headed to the stadium first.  I was sure that it would be a beautiful place, not unlike the Orange Bowl in Miami.  After all, it hosted a bowl game and we would be lucky to play in it.  When we got to Independence Stadium I was a bit taken aback.  It was…Parker.
Okay, shake it off.  We're at a bowl game.
December 15, 1989: Pep rally.  Otis Day and the Knights!  Now we're talking.  Nothing like this happens at other bowl games.
December 16,1989:  Game Day:  Woke this morning to temperatures hovering in the mid-30's.  Agenda item to work on my Louisiana tan scrapped in order to go to K Mart with hundreds of other Duck fans and battle for long underwear like it was Christmas Eve the Year of the Cabbage Patch Doll.  Success!  Also bought purple and yellow LSU stocking cap.  Went to the stadium two hours before game time like always.  Since we figured to dispatch Tulsa rather easily I wanted to take in the pageantry.  Very nearly took in frostbite.
The Ducks trailed Tulsa almost all game including facing a 24-10 deficit late in the third quarter.  Led by a ball hawking defense and quarterback Bill Musgrave, we came back for the win.
I happily ran on to the field and walked near the end zone where Bill Musgrave had run a quarterback draw for the clinching score..  We were Independence Bowl Champions.  Was yelled at by a fellow Duck fan, forty yards away.  "Get that Husky hat off your head!"
I don't wish those days back again, but it was joyful in a different way .  There was an innocence and naivete' (at least on my part) that will never be the same.  It's part of being a Duck fan for going on four decades now.  It's been quite a journey.  Go Ducks!

Want to Watch Oregon Games on your computer?
If you do not get all the channels that have the Oregon Football games, or simply want to be able to watch the game over again as you don't have the space in the DVR to hold all the games?
Contact me by email: charles@fishduck.com and I can help.  We have fans across the nation and internationally watching the games 24/7/365 and I wish that for everyone.  Charles Fischer