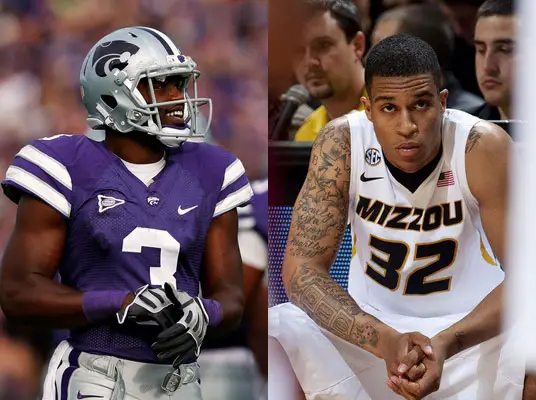 Normally, a reserve guard for the Missouri Tigers going 1-for-7 on three-pointers while playing twenty minutes in a Tuesday night non-conference game would elicit as little interest as any topic that could be written about herein.  However, the reserve guard in question isn't just anyone, but once the most celebrated recruit to have signed with Oregon in nearly a decade, one making his new team debut: Jabari Brown.
Brown originally chose Oregon in late 2010 in a nationally televised announcement, nearly a year prior to his arrival in Eugene.  After occupying a roster spot through a full recruiting cycle, Brown played two whole games before deciding he wanted out of Eugene. Despite pleas from head coach Dana Altman to stay, Brown quickly found a new home at Missouri, less than a month after leaving the Ducks.
Players come and go for varying reasons, and it is not for us to begrudge any of them for pursuing their career as a student-athlete in the way they see fit.  They have to find a situation that best fits them, and if they realize that the school they are at no longer is the best fit for their goals, they are within their rights to transfer somewhere more suitable. Transfers which should be granted to them no matter the circumstances.  (I'm looking at you, Randy Edsall.)
However, the circumstances of that player's exit will dictate the way that player is regarded by his former school for the duration of his career.  While some operate by the philosophy of "once a Duck, always a Duck"; the folly of that philosophy is that it is unlikely that many players who transfer out of the program would consider themselves "Ducks."  Even if the separation was amicable, players are more likely to align their identity with their new program, as we've seen so many others do who transfer in to Oregon.  While best wishes are extended if a player leaves on good terms, if their exit is detrimental to the program, it is difficult to imagine fans considering the player "one of us".
Short of bringing sanctions on the program, it's hard to imagine that Brown could have done less for the team in his time at Oregon.  His "career" in Eugene was the definition of detriment, abruptly followed by transfer: He tied up a scholarship for year prior to his first game, hindering Oregon's ability to recruit other players, then left suddenly for a better program without explanation – Brown had no issues with playing time or any public conflict with the coach, and being from Oakland, CA, chose a new school nearly 1,500 miles further from home than Eugene.
It is difficult to find any reason for a player to transfer so abruptly under otherwise seemingly acceptable circumstances.  He got playing time, was reasonably close to home, and based on Altman's pleas to say, found favor with the coach.  Short of assuming that such a player was flaky, selfish and irresponsible, and one lacking the conviction to stick with his decision for even the completion of a season, it's hard to determine why else he would leave.  Since Brown has never elucidated the reasoning behind his departure, leaving that responsibility to others close to him for his vague allusions to his motives, we can only assume his intent based on what can be gathered from what's been said publicly.
Don't get me wrong, I wish no ill will on Jabari Brown.  Quite the contrary, I hope he develops into a mature adult, one whose conviction and maturity offsets the lack of responsibility he has displayed thus far in life.  Yet for me, there were already plenty of redeemable, worthwhile human beings playing college sports whom I root against as opponents, simply for their choice of school and the uniform that comes with it.  Given that rooting hierarchy, slotting Brown far below those opponents shouldn't require too much effort.
While the circumstances of a player's departure are often a complex confluence of circumstances that do not fit into the black-and-white structure of that most fanbase's understanding, embracing Brown's departure has been the easiest transfer since another player left Eugene three years ago, one who will be on the same field has the team he transferred away from come January 3rd: Chris Harper.
Like Brown, Harper, a former Oregon wide receiver, ended up at a Big 12 program following a brief career at Oregon.  Harper was a player whose transfer was regarded similarly to Brown's, seemingly out of place, especially for a player of his talents.  He left 10-win Oregon for a 5-7 Kansas State; all while still playing wide receiver for the Wildcats, despite rumblings that he left Oregon because he was no longer able to play quarterback.
Most notably, in an interview with a Kansas newspaper shortly before his transfer, Harper referred to Oregon as "boring", calling Oregon his "worst recruiting trip", and was heavily critical of the school's female students:
"The girls at K-State and Kansas are way, way better than here [Eugene]," Harper said in 2008. "I don't know. There are so many different types here — environmental types, weird types. That's not attractive to me."
As someone who married one of those "weird Oregon girls", his transfer elicited a response of "don't let the door hit you on the way out."
Last week, the Register-Guard's Rob Moseley talked to Oregon's fifth-year seniors about Harper, the last remaining players from his time at Oregon.  They spoke highly of their former teammate, giving me pause to any previous assumptions made about him.  Had Chris Harper matured?  Was he misunderstood all along?
Harper spoke with the Kansas City Star this week, saying he has no ill will towards Oregon, validating reported connections with former Oregon teammates, mentioning his friendship with Kenjon Barner.  His transfer to a middling program, once a point of criticism for such a talented athlete, now looks like a leap-of-faith rewarded.  As for that comment about the girls?  Harper says it is his lone regret about his transfer:
"I was young. I was sad. I missed my family. It was around Christmas time," Harper said. "I wish I wouldn't have done that, but I say what I feel. … It was a lot of stuff that was said that was just relative to me not being around my family. Obviously, they have pretty girls out there."
At a time of the year when many travel home to be close to loved ones, it's hard not to sympathize with Chris Harper wanting to do the same.  Throughout that article, we see how much he values being close to home and how much those around him matter, something he missed it during his time at Oregon.
Yet for all of Harper's maturity, which has yielded an awareness of what and when he should make statements, if you read closely, he never retracted his original statement about the women at Oregon.  "I say what I feel."
There will be 105 players across the field from him in the Fiesta Bowl, players who have girlfriends and wives, family and friends who are those "weird Oregon girls".  I hope that despite "Win The Day" philosophy not allowing for bulletin board material, they find some small measure of motivation from such a remark.
As for Jabari Brown, I hope he finds the same maturity and peace in his time at Missouri that Chris Harper found at Kansas State.  And who knows?  Maybe at the end of Brown's career, he'll discover what Chris Harper will learn on January 3rd: He may have found a better place, but he left behind the better team.
Nathan Roholt is a senior writer and managing editor emeritus for FishDuck. Follow him on Twitter @nathanroholt. Send questions/feedback/hatemail to nroholtfd@gmail.com.
The Comments Below are CLOSED, as we are moving to the OUR BELOVED DUCKS Forum!
Comments below articles are now closed as we have moved all conversation over to the free Our Beloved Ducks Forum. It has been a big success already with many more posts than what we could fit into the comments below articles.
The Our Beloved Ducks Forum is where we we discuss the article above and many more topics, as it is so much easier in a message board format over there.  At the free OBD forum we will be posting Oregon Sports article links, the daily Press Releases from the Athletic Department and the news coming out every day.
Be a part of the forum and stay caught up!  When you wish to post there, do know that you are protected just as you were on FishDuck. Join us on the free forum right here!
Our 33 rules at the free OBD Forum can be summarized to this: 1) be polite and respectful, 2) keep it clean, and 3) no reference of any kind to politics. Easy-peasy!
OBD Forum members….we got your back.  No Trolls Allowed!