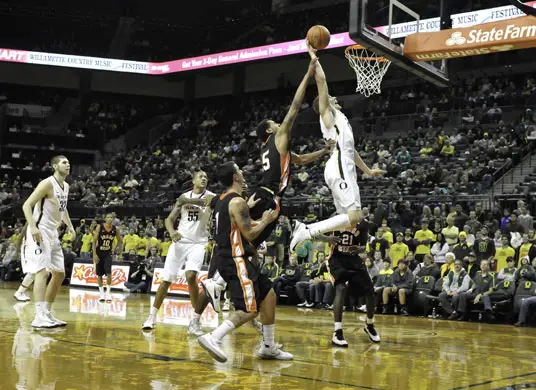 Going into Saturday's game against hapless Idaho State, Coach Dana Altman was concerned that his young Oregon team was making far too many mistakes in winning seven of its first eight games. Leading the Pac-12 in turnovers (17.3 pg) isn't a desirable stat, but with a week between games and a re-focused attention on improving giving the ball up, the Ducks committed a season-low seven turnovers in a dominating 87-35 victory Saturday over the Bengals.
Cutting down on turnovers was just one of many things the Ducks did right in trouncing ISU.  Shooting percentage, ball movement, rebounding were all areas that sparkled for the Ducks on Saturday. Altman said, "Idaho State isn't a very good team, but they're not as bad as we made them look today.  I was most pleased with our ball movement."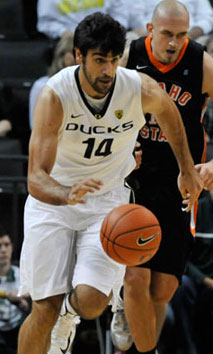 Altman credited E.J. Singler and Arsalan Kazemi for getting the Ducks going early in the contest with their unselfish and spirited play, leading to open looks for the Ducks. Oregon shot a blistering 64.5% in the first half, including 6 of 12 from the three point line in rolling to a 54-16 halftime lead. Kazemi had all 11 of his points and six of eight rebounds in that half.
A relentless man-defense for Oregon set the tone in forcing ISU into a dismal shooting display. The Bengals shot only 27.9% for the game,  certainly another dismal performance for a team ranked 304th in the country in FG%. The Ducks forced the Bengals into long scoring droughts, dominating the boards at both ends, and allowed only a single shot per possession the entire first half. Idaho State fell to 1-6 this season with the loss. It was Oregon's fifth win in six games all-time against Idaho State.
With the game over by halftime, the Ducks managed to maintain their intensity for much of the second half.  It was the "Dominic Artis and Damyean Dotson" show early in the second half, as the two special freshmen scored Oregon's first 14 points, stretching the Duck lead to 68-20 with 14 minutes to play.  From there, the Ducks played zone defense and emptied its bench. Every healthy player for the Ducks not only played, but scored.
Oregon dominated the rebounding battle 47-19, and limited the Bengals to just three offensive boards the entire game. Singler led the way with nine, Kazemi added eight boards, and Ben Carter came off the bench to grab another seven.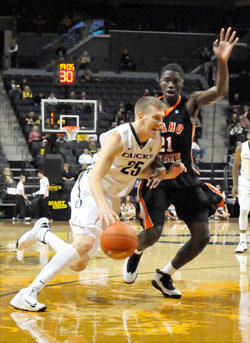 Four players scored in double figures, with Dotson leading all players with 12 points and Artis, Kazemi, and Singler each scoring 11. The Ducks were credited with 19 assists on 32 made field goals with Singler and Artis leading the way with five assists each.
Morgan Melvin was the lone Bengal in double figures with 11 points, and the senior guard was limited to 4 of 12 shooting for the game.
Altman said, "It's a critical time for us. We have to learn to play together and keep getting better. This is the stretch of time that we can make our biggest step in improving into the type of team that we want to be. We have until January 6 when we play the Beavers to really turn it up."
The Ducks have another week off before hosting Nebraska next Saturday afternoon.
Luke Roth is a retired teacher and coach who has lived in Eugene since 1977. He coached high school basketball for 34 years, including 26 years as Sheldon HS girls varsity basketball coach (1984-2010). Luke taught at Sheldon for 30 years, and in the International HS at South and Sheldon, for 20 years. He taught journalism and advised the school newspaper at Sheldon during his stint there. He is a long-time Duck fan and UO alum (MA 1985). Luke has been married to his wife Catherine for 36 years with two grown children and one eight-year-old grandson. In retirement, Luke spends his time hiking, gardening, and playing the stand-up bass in the Sorrel Way Jam.

CAN YOU HELP US?
The pictures you see of the Ducks on FishDuck.com come from professional photographers that must be paid! Please donate through one click so we have pictures from all the games this fall to use through the year. All previous donations helped to pay our big Web Developing bills recently, and I do appreciate it.
Our staff and the photographers who have thousands of dollars invested into their equipment to provide the high quality pictures do sincerely thank you.   Charles Fischer