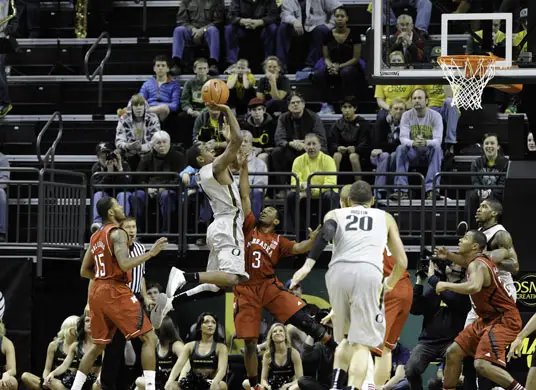 "This set basketball back a few years."
That's how Coach Dana Altman described Oregon's 60-38 thumping of Nebraska Saturday afternoon at Matthew Knight Arena.  He was speaking mainly about the dismal outside shooting for both teams.
The big win that improved Oregon's record to 9-1, over a Big-10 team with a winning record, one that could possibly propel the Ducks into the national rankings for the first time since 2007,  didn't do much to impress the coach.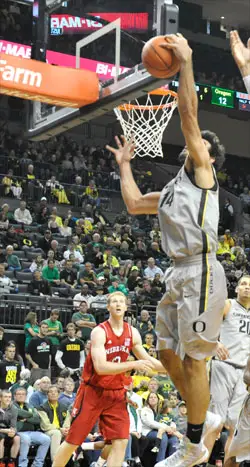 Other than some high praise for the rebounding ability of Arsalan Kazemi, who had 17 boards, and some positive words for moments in Tony Woods' offensive game, Altman wasn't pleased –  especially after a full week of good practices. "I was disappointed with our lack of energy. We didn't take the step I wanted to take," Altman said.
"We didn't get the tempo to what we wanted," the coach said. "Nebraska wanted the game in the 60's and we wanted it in the 80's."  He went on to say, "Our energy was okay on defense. We did some good things. But they also missed some open looks."
His offensive philosophy is based on sharing the basketball with good ball movement, leading to easy baskets. For most of the game, there was little evidence of it.
It was a good thing that the Ducks dominated the contest inside the paint, where they outscored the Huskers 40-12, because the Ducks were woeful shooting from the outside, especially beyond the 3-point line.  It wasn't until 7:22 left in the game, that EJ Singler made the team's first triple, after eleven consecutive Duck misses beyond the arc.
Altman said, "We're a better shooting team than what what we showed today. After missing a few, we seemed to tighten up."
But the Ducks did enough things well to lead from beginning to end. Oregon led 27-18 at the half, and the final score of 60-38 was also the largest lead of the contest.
For the second straight game, the Ducks dominated their opponents on the glass, outrebounding the Cornhuskers, 41-25.  Beyond Kazemi's 17 boards,  Singler and Woods each grabbed four.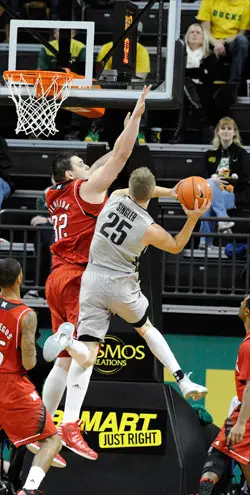 Asked about his rebounding prowess, Kazemi said, "You need a nose for the ball, but it comes down to two things: being in good position, and knowing where the ball will come off the basket."
Because of its success shooting inside, the Ducks' overall field goal percentage was a respectable 46.3%. Woods led all scorers with 14 points, including three thundering dunks.  Singler added 13, and Kazemi completed a double-double by getting 10 points.
Nebraska, which has lost two in a row, drops to 6-3 for the season. The Cornhuskers shot just 30.6% for the game, and were led by Dylan Talley with 11 points.
Next up for the Ducks is a road trip on Wednesday to El Paso to take on UTEP.  Altman said, "It's a tough place to play. We'll have our hands full."
Even with the best Oregon start since 2007-08,  Altman said, "We have a long way to go to be a good team."
Luke Roth (Basketball Analyst) is a retired teacher and coach who has lived in Eugene since 1977. He coached high school basketball for 34 years, including 26 years as Sheldon HS girls varsity basketball coach (1984-2010). Luke taught at Sheldon for 30 years, and in the International HS at South and Sheldon, for 20 years. He taught journalism and advised the school newspaper at Sheldon during his stint there. He is a long-time Duck fan and UO alum (MA 1985). Luke has been married to his wife Catherine for 36 years with two grown children and one eight-year-old grandson. In retirement, Luke spends his time hiking, biking, gardening, writing, and playing the stand-up bass in the Sorrel Way Jam. Follow Luke on Twitter: @luke_lukeroth
Articles EVERY DAY Again on FishDuck!
Our focus is now on this wonderful Oregon Sports Community, and we will have at least a short article every day to begin the Duck Discussion.
You are also welcome to post other current events or items about Our Beloved Ducks in the comments as well.
Our 32 rules can be summarized to this: 1) be polite and respectful, 2) keep it clean, and 3) no reference of any kind to politics. Easy-peasy!
Take note though, there are NO STRIKES, NO WARNINGS, and NO SLACK given. Violate the rules and you are gone, as this is what the 99% who post superb comments want. (The Ban could be for weeks, months or permanent)
For the 1% out there who do not have impulse-control … as you write your comment that violates our rules, ask yourself, "is this worth getting banned over?"
FishDuck members….we got your back.  No Trolls Allowed!
New at FishDuck? Learn about the site right here!