The Stanford loss, like most of our losses over the last few years (Auburn, LSU, USC) seems to boil down to getting beat in the trenches. We've had some great players on both lines through the years, but we rarely seem to land commitments from the elite players at DT or on the O-line that USC, Ohio State, and even middling SEC schools get consistently.  Is it geography?  Chip's system? Do we have any hope of landing an elite lineman this year? What about in the future? Do we really need them?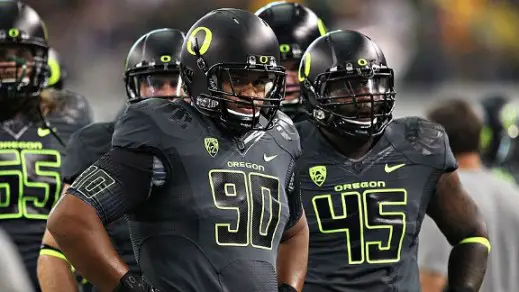 This is a great train-of-thought question. Let's camp out here for a while since this is a common and controversial topic in Oregon football circles. This reader isn't alone with these questions.
I'll start by refuting a counter-argument to the question's original premise. People can point to a number of different reasons that explain the losses to Stanford, USC, LSU and Auburn. Some will even say, emphatically, that we didn't lose any of those games because of lackluster O- or D-Line play. Well, sorry but that's hot garbage.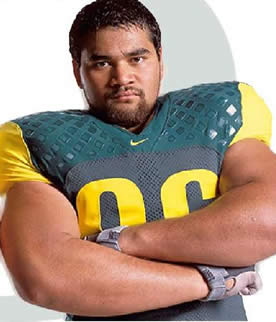 Football is a team sport so no loss can be solely pinned on one play, player or unit, and that explains the difficulty in assessing a losing effort. The fact is, all of Oregon's losses over the past three years have come against teams that have challenged Oregon up front, on both sides of the ball.
Against Washington State or Colorado, Oregon can make numerous mistakes and still win. Against USC or Stanford, the margin of error is smaller because those teams are comprised of better players. The key, as everyone is aware (at least unconsciously), is to try and widen that margin of error as much as possible. The only way to do this is by evaluating, recruiting, and developing talent at a high level. The "recruiting" piece of that trio is by far the most important, at least when trying to "widen the margin" at the highest levels of college football – where almost everyone is already good at evaluating and developing talent.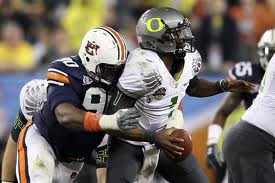 Let's try and look at all of this in another way. In 2010, against Auburn in the National Championship Game, Oregon was held to only 20 points. A big reason why was the play of a he-man named Nick Fairley. He dominated. Oregon's offensive line couldn't contain him. They couldn't take him out of the game. In a contest where the margin of error for either team is so small, a player like Fairley can and did make all the difference. If Oregon had an elite offensive lineman up front, the result may have been different.
Now, was there ANY interior lineman in the country in 2010 that could stop Fairley? I don't know. Maybe not, but you get the point: having elite players on your team helps widen (or lessen, in some cases) the talent gap, which is critical to consistently winning. No team is going to play great week in and week out. Sometimes, you need talent to take over. There's a reason that Oregon has lost to the teams that it has and it DEFINITELY starts in the trenches.
Moving on to the questions asked, let's tackle the O- and D-lines separately. On the offensive side of the ball, the challenge lies in Oregon's system. There aren't many elite offensive linemen who are interested in playing in a non-pro-style system. That's just the way it is. Right or wrong, most elite recruits believe their best shot at the NFL is playing in a pro-style system. That's why you see schools like Stanford, Wisconsin and Alabama consistently churn out high quality linemen.
This isn't to say that recruiting is impossible. Oregon's 2011 class included Tier-1 players Tyler Johnstone and Andre Yruretagoyena, along with a Tier-2 guy named Jake Fisher who started as a true freshman. The coaches would surely love to land three highly touted offensive linemen every year, but right now a haul like that is an outlier.
Once Oregon has a couple of linemen selected high in the NFL draft, they'll be able to refute the negative recruiting tactics of other coaches who tell recruits that "Chip's system won't prepare you for the NFL."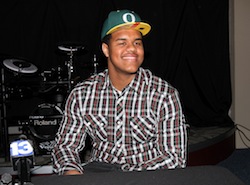 On the defensive side of the ball, Oregon's recruiting has been considered, by many, to be sub-par — until last year, that is. There's no doubt that the 2012 class haul of Arik Armstead (Tier-E), Alex Balducci (Tier-1), and DeForest Buckner (Tier-1) excited many Oregon fans. It remains to be seen whether that, like the O-line class of 2011, was an outlier or the beginning of a trend. Looking at the landscape going forward, calling it an outlier is probably the safest bet.
So, why doesn't Oregon have more consistent success recruiting defensive linemen? Simply put; geography. The overwhelming majority of elite defensive linemen come from either Texas or the Southeastern United States, where it's very hard (i.e. nearly impossible) for Oregon to recruit. According to Scout, this year 19 of the top 30 defensive tackles and 16 of the top 23 defensive ends reside in Texas or the Southeast. Since almost none of those players leave the region, that doesn't leave many blue chips for teams outside the region to fight over. With powerhouse programs like Ohio St., Michigan, Notre Dame, and USC picking up most of the remaining talent, there just aren't many more elite players for Oregon to pursue. This is typical.
Last year, Oregon got a little lucky. Balducci is from Oregon and Armstead came to Eugene after options at USC and Cal fell through. Don't expect that kind of D-line recruiting production on a consistent basis.
As far as this year's class, Oregon already has a commitment from Tier-1 OG prospect Evan Voeller out of West Linn. The Ducks just lost a commitment from Tier-1 OG/OT Alex Redmond, which really hurts. Redmond cited the Oregon system as the primary reason behind his de-commitment. It appears unlikely that Oregon will add another elite talent (Tier-1/E) on the offensive or defensive line in 2013.
In the future, I expect more of the same. Oregon will continue to pull in Tier-3 guys along the lines and the coaches will do a great job of developing the talent they have to work with. With the help of occasional outlier classes (O-line in 2011, D-line in 2012), Oregon's offensive and defensive lines will continue to be very good, although not elite, units.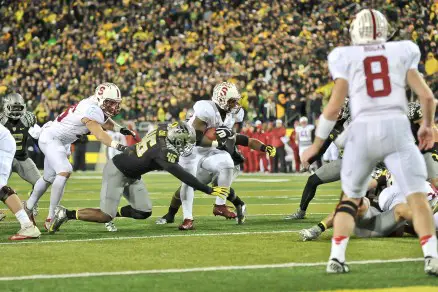 Finally, does Oregon really "need" elite linemen? It depends on what your goal is. If the goal is to be a good team that can compete for ten wins every year, Oregon probably doesn't NEED many elite linemen, given they've still got elite talent everywhere else. However, if the goal is to consistently compete for a National Championship and be a top-tier program, then yes, Oregon "needs" as many elite linemen as they can get. Those players are often the difference between barely winning and losing.
Hopefully, Oregon can continue developing the talent it does land and begin shortening the distance between the "outlier" recruiting classes. They will probably need to if the Ducks want to remain among college football's elite.

CAN YOU HELP US?
The pictures you see of the Ducks on FishDuck.com come from professional photographers that must be paid! Please donate through one click so we have pictures from all the games this fall to use through the year. All previous donations helped to pay our big Web Developing bills recently, and I do appreciate it.
Our staff and the photographers who have thousands of dollars invested into their equipment to provide the high quality pictures do sincerely thank you.   Charles Fischer