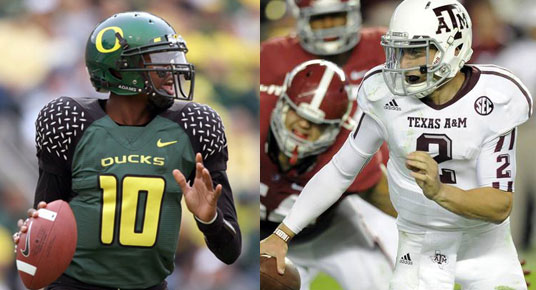 In 1970, Notre Dame's publicity man, Roger Valdiserri, convinced the school's starting QB, a senior named Joe Theismann, to do something drastic to increase his chances of winning the Heisman Trophy.  Valdiserri suggested to the QB, who pronounced his Austrian surname "thees-man", that he should change the pronunciation to "thies-man", to rhyme with the name of the sport's most prestigious award.  The gimmick failed, as Theismann ultimately finished second to Stanford QB Jim Plunkett, though the pronunciation has stuck ever since.  (Plunkett, meanwhile, remains the conference's most recent Heisman winner who didn't attend USC.)
Fast forward to 2012, where Texas A&M QB Johnny Manziel didn't need a name gimmick to help him win the Heisman.  His moniker came naturally, given by his teammates early on in his days with the Aggies, when the nickname "Johnny Football" meant little to anyone outside of College Station.  Manziel's nickname won't be why he wins the Heisman tomorrow, though it certainly doesn't hurt him, either.  Instead, he'll have earned it by having the best statistical season by a QB in SEC history (4,600 total yards, more than previous Heisman-winning SEC QBs Cam Newton and Tim Tebow), punctuated with a national landscape-shifting win on the road, over then-#1 Alabama.
While Manziel's freshman season has been terrific, it wasn't transformative in the way that, say, Herschel Walker's season was in 1980, one that would have forced Heisman voters to abandon their anachronistic biases of refusing to vote for a freshman.  Rather, his likely claim to the award (presently, he has 1/6, or -600 odds) is a product of years of eroding the ridiculous artificial benchmarks created by stodgy old sportswriters, demanding that upperclassmen be the only players eligible to win.  More specifically, it is no longer seems absurd to give the Heisman Trophy, an award whose criteria for defining its recipient is "the most outstanding player in college football", and give that award to the most outstanding player in college football, regardless of his age.
It was only five years ago that Florida QB Tim Tebow became the first sophomore to take home the Heisman, breaking the underwritten expectation that the winners of the award had to be juniors or seniors.  Yet as statistically remarkable as Tebow's season was (and how his campaign was magnified by his force of personality), his attainment of the Heisman was also attributable to an untimely late-season injury to that season's leading Heisman candidate: Oregon QB Dennis Dixon.
Dixon's run at the Heisman Trophy in 2007 emerged in much the same way that Manziel's did – by going into one of college football's most venerable stadiums and thrashing a highly-ranked, historically elite program on the road, and using a wide-open offense not previously seen within its walls to do so.  Both of them even had a goal-line play that would serve as the signature highlight in placing them atop the Heisman voters' ballots.
Unlike Manziel, Dixon would unfortunately never get the chance to finish his Heisman-worthy season, for reasons that require no description here.  (And even if I needed to, how would I get the words out?)  Dixon was the leading Heisman candidate following the heart of Oregon's schedule, with only three stat-padding games, two against sub-.500 teams, between him and hoisting the Trophy in New York.  Make no mistake; Dixon would have won the Heisman if had he stayed healthy.  In doing so, his win would have sent ripples through the award's history, ripples that could have jeopardized Manziel's chances at winning the award this week.
Just look at the impact Dixon's injury had on the legacy of the Heisman Trophy since: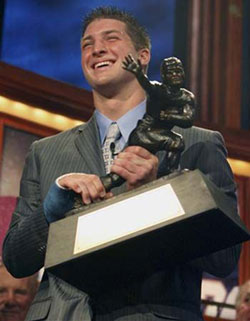 2007:  Tebow's celebrity in the years since winning the award has led to a revisionist history about the circumstances of his victory.  While the stories in Gainesville for ages will be of Tebow seizing the award valiantly atop a white horse, he actually won largely through a process of elimination. Dixon got hurt, Matt Ryan, Pat White and Chase Daniel all had their losses at the worst possible time, while Tebow had the worst record of any Heisman-winning QB since Notre Dame's Paul Hornung in 1956.  (Hornung having the distinction of being the only Heisman winner in history, and likely ever, to do so on a losing team.)  It was the perfect storm of timely losses, injury or otherwise, and Tebow's star power, that combined to make him the first sophomore ever to win the award.
2008: For the second consecutive year, a sophomore won the Heisman trophy, this time it was Oklahoma QB Sam Bradford.  However, Bradford only beat Tebow by 151 votes, with Tebow's campaign hindered by another unwritten rule of stodgy old Heisman voters: no player will ever be a repeat Heisman winner again.  If Tebow were Heisman-less and had not already won the award the year before, it is likely, as QB of the nation's #1 team, that he would have been able to siphon off the necessary votes from Bradford to win the award…as a junior.
2009: Alabama RB Mark Ingram makes it three-in-a-row for the sophomores, by winning the Heisman Trophy in the closest race ever. He defeated Stanford RB Toby Gerhart by a mere 26 votes, largely due to entirely no campaigning from the Cardinal program.  In a year devoid of a dynamic candidate, Ingram fit the "best player on the best team" description, while Gerhart had as anonymous a "28 TD, 2,028 yards from scrimmage" as a player could have.
Gerhart was recognized with the Doak Walker award, the award for the country's best running back, which just happened to be the position that Ingram played.   Would Heisman voters have broken from tradition to make Ingram the first ever sophomore to win the Heisman, if he wasn't even the best player at his own position that season?
2010 and 2011: Newton and Robert Griffin were juniors.
That's three sophomores whose single-season awards might have ended up in different hands, if not for that injury.  To review:
The last five Heisman Trophy winners: Tebow, Bradford, Ingram, Newton, Griffin
The last five Heisman Trophy winners if Dixon stays healthy: Dixon, Tebow, Gerhart, Newton, Griffin

Former Oklahoma RB Adrian Peterson has said that he's rooting for Johnny Manziel, and he should.  In 2004, Peterson rushed for a (still-standing) NCAA freshman record 1,925 yards, while leading his team to an undefeated regular season.  Despite those numbers, Peterson claims to this day that the only reason he didn't capture the award was because of his age.  183 of those yards that season came in a week three matchup against Oregon, in the same game that Dennis Dixon completed the first pass of many in his legendary career.  It was a career that should have ended by changing the history of Oregon Football.  Instead, it changed so much more; forever altering the legacy of the Heisman Trophy.
And for that, Johnny Football should be very, very thankful.

Nathan Roholt is a senior writer and managing editor emeritus for FishDuck. Follow him on Twitter @nathanroholt. Send questions/feedback/hatemail to nroholtfd@gmail.com.
For Greybeards … the EYES Have it!
Want to know a secret about web behavior? Readers don't like long stretches of sentences in comment posts without any breaks, and most readers don't even like long paragraphs.
Break it up! After every third sentence in your post…hit "enter" on your keyboard twice if your computer is a PC, or "return" twice if you have a Mac.
This creates natural breaks between scads of sentences, and so many of us thank you for making it easier on our "Greybeard-age" eyes!