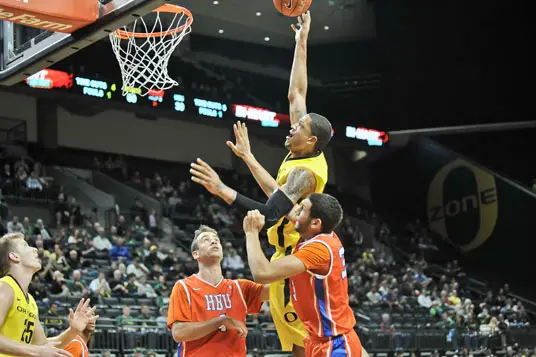 After a long flight back from Texas Wednesday night, the Ducks basketball team was looking to put the triple-overtime loss suffered at UTEP in the rear view mirror as soon as possible.
With a home game scheduled Saturday against Houston Baptist, the hangover from the disappointing defeat wouldn't last long. Oregon jumped on the young Huskies early and cruised to its 10th win of the season, 91-50.
There would be no drama like in the UTEP game, as the 10-2 Ducks raced out to an early lead behind excellent ball movement and defensive intensity, resulting in a 17-4 lead by the 14:40 mark. Senior transfer Arsalan Kazemi dished out four assists in that time span.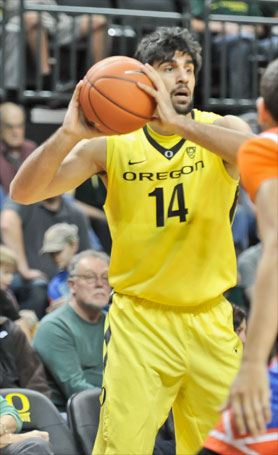 Coach Dana Altman was pleased with the early ball movement. The team got everyone on the floor involved, leading to easy inside shots and open threes with the inside-outside game.
Altman said, "We shot better from the three-point line because we took better threes. I've been very disappointed early in the season with our three-point shooting. Last game, we took open threes, but too quick."  He added, "Today the ball movement was good, especially early."
E.J. Singler, who had been held to two points in the UTEP game, came out on fire. The most experienced Duck knocked down his first five shots, three of them triples.
Singler said, "I had a rough game against UTEP.  I wanted to come back and redeem myself." He finished with 13 points and three assists in under 20 minutes of play.
The Oregon lead ballooned to 28 points with 6:12 left in the first period when freshman Damyean Dotson found Singler open for a three-pointer and a 40-12 Duck margin.
Singler said, "Damyean has been great for us. Really unbelievable. It's great that he has the confidence he does. He's been key for us in the preseason. Hopefully he will keep it going in the Pac-12."
The Ducks' leading scorer at 11.8 points per game, Dotson continued his solid overall play as he scored ten points on five of six from the field, hauled in eight rebounds and had two assists. He was the only Oregon player to play more than 20 minutes in the game.
Altman said, "He's a talent. He's going to be a real good player."
By intermission, the game had become a yawner, most players had played, and the Ducks led 51-30. When Oregon held the visitors scoreless for more than six minutes of the second half, the only question left was whether the Ducks could hold their concentration and not start thinking of their four-day Christmas break too early.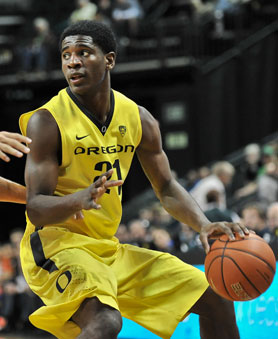 Tony Woods, who led the Ducks in scoring with 14, said, "It's easy to lose focus with a big lead," but went on to say, "We still have a long way to go. Today was a step, but we have a long way to go."
Houston Baptist, 4-7, was not as big as Oregon and it showed, getting outrebounded 52-39, but they scrapped long after the final outcome had been determined. As a result of grabbing 18 offensive rebounds, the Huskies had nearly as many second-chance points as Oregon (18-17).
But their shooting, poor in the first half (32.4%), was miserable in the second. The Huskies managed only 20% in the final period to leave them at 26.1% for the game. Brazilian Art Bernardi led the Huskies in scoring with 14 and Tyler Russell added 12.
Altman noted that Johnathan Loyd came in and did an excellent job of getting after it defensively.  The coach said, "Our defensive communication needs to get better, and at times it was today. Johnathan really helped with that."
Two key stats: the Ducks converted 20 points off 17 HBU turnovers, and Oregon's bench outscored the Huskies 46-18.
The game turned sloppy after the early good Duck ball movement.
When Oregon swings the ball from side to side, good things generally happen. More players become involved, and Oregon normally gets a reasonably open shot. When players go one-on-one and shoot too quickly, things often break down for this team.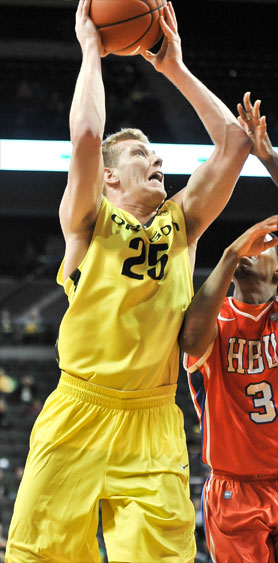 Oregon had ten first half turnovers, a number that is too high against a team that didn't press. The Ducks finished the game with 15 turnovers.
Altman said, "On offense, we're all aggressive. We need to get that same aggressiveness on defense and the boards."
Transfer Waverly Austin showed aggressiveness on the boards, grabbing nine to lead the Ducks. He also scored eight points, and showed some good footwork on a number of moves to the basket. His attacking style got him to the free throw line, though he only converted four of eight attempts.
In assessing Oregon's progress at this point in the season with Pac-12 play looming, Altman said, "We were struggling this time a year ago and we really made a big jump over Christmas break. I hope it happens again."
Altman said, "It's a big learning curve for this team. We step forward, and then take a step back.  We take two steps forward, and then one back."
He continued, "It's been kind of hectic for all of us. We all need a break."
The coaching staff will return the day after Christmas to prepare for Nevada, Oregon's next opponent. The team returns a day later.
Altman said, "We need a sense of urgency when we return. We need to sharpen up in a lot of areas."
Nevada comes to Matthew Knight Arena on New Year's Eve for a 4:00 pm contest. It's the final game before conference play begins at Oregon State on January 6th.
Luke Roth (Basketball Analyst) is a retired teacher and coach who has lived in Eugene since 1977. He coached high school basketball for 34 years, including 26 years as Sheldon HS girls varsity basketball coach (1984-2010). Luke taught at Sheldon for 30 years, and in the International HS at South and Sheldon, for 20 years. He taught journalism and advised the school newspaper at Sheldon during his stint there. He is a long-time Duck fan and UO alum (MA 1985). Luke has been married to his wife Catherine for 36 years with two grown children and one eight-year-old grandson. In retirement, Luke spends his time hiking, biking, gardening, writing, and playing the stand-up bass in the Sorrel Way Jam. Follow Luke on Twitter: @luke_lukeroth
Articles EVERY DAY Again on FishDuck!
Our focus is now on this wonderful Oregon Sports Community, and we will have at least a short article every day to begin the Duck Discussion.
You are also welcome to post other current events or items about Our Beloved Ducks in the comments as well.
Our 32 rules can be summarized to this: 1) be polite and respectful, 2) keep it clean, and 3) no reference of any kind to politics. Easy-peasy!
Take note though, there are NO STRIKES, NO WARNINGS, and NO SLACK given. Violate the rules and you are gone, as this is what the 99% who post superb comments want. (The Ban could be for weeks, months or permanent)
For the 1% out there who do not have impulse-control … as you write your comment that violates our rules, ask yourself, "is this worth getting banned over?"
FishDuck members….we got your back.  No Trolls Allowed!
New at FishDuck? Learn about the site right here!